For a Better Bayou is a new community organization for environmental justice formed in Lake Charles in 2023 to fight for a better world in Southwest Louisiana, where air quality and local waterways are heavily polluted by oil and gas refineries. "We are trying to invite people to reimagine what a healthy and sustainable community can look like here without this suicidal fossil fuel dependency," For a Better Bayou founder James Hiatt says.
The pollution from such operations has gotten so bad that a coalition of environmental groups including Healthy Gulf have sued federal regulators over their failure to set safe limits on the harmful chemicals pouring into waterways from oil refineries, including eight facilities in Louisiana considered to be among the nation's top polluters. These include the Phillips 66 refinery in Lake Charles ranked seventh for releases of nickel, a toxic metal that can cause mutations in fish, harm reproductive systems and travel up the food chain to people. The lawsuit alleges the EPA has never set limits for a number of common refinery pollutants, including selenium, benzene, mercury and cyanide.
As a former worker at one of the regional refineries, Hiatt has an insider's perspective on the damage being done to the environment by the relentless pollution of the petrochemical industry. Inspired by the Louisiana Bucket Brigade — a regional ally in New Orleans — Hiatt decided that Southwest Louisiana (SWLA) was overdue for its own non-profit organization to work for a transition away from fossil fuels and toward a healthier world.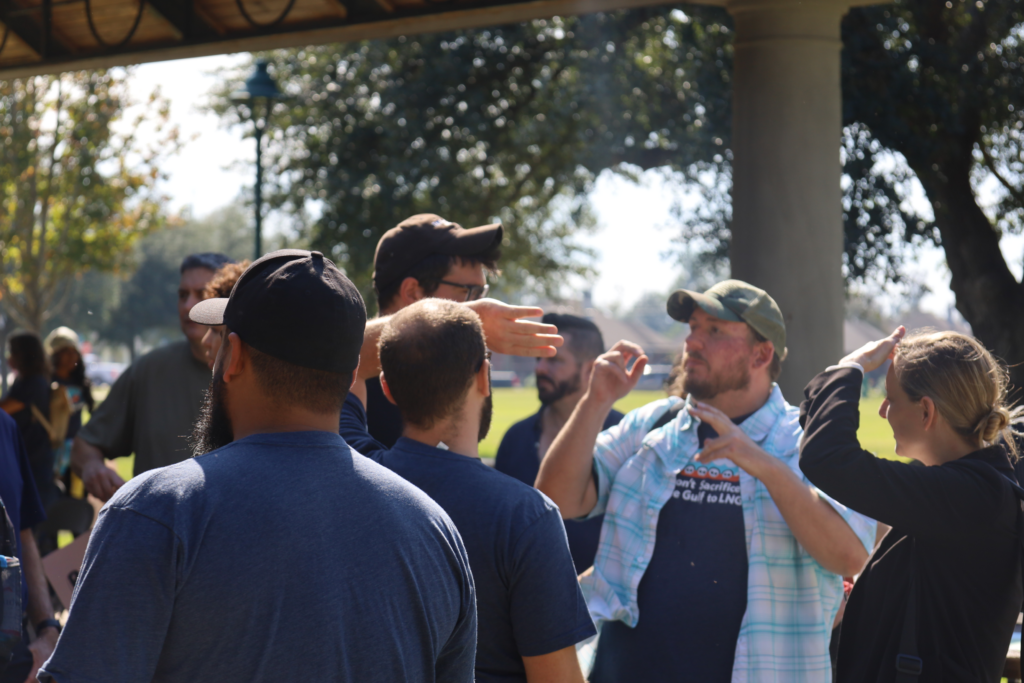 For a Better Bayou is working to build a movement that recognizes people have power in numbers and that the fossil fuel-based status quo is not all that's available to Louisiana. "The 'All of the above' energy policy is really just more of the same," Hiatt laments. One of the strategic solutions For a Better Bayou advocates for is renewable energy.
Hiatt says citizens of the region are often convinced that industrial tax exemption programs for fossil fuel companies help create their local economy, but that many people don't realize how their tax dollars are subsidizing every one of those jobs with money that could be spent on local infrastructure, community services, and a greener economy. For a Better Bayou is working with Together Louisiana to spotlight this concept by promoting an economic transition program to install solar panels and solar power storage units on churches. The idea is to demonstrate how climate resilience can work to mitigate the impacts of flooding and heavy weather from hurricanes that knock out electric systems and show people how it can be done. "It shows that solar power is not a pipe dream, it's doable," Hiatt says.
Lake Charles is also home to the largest Liquified Natural Gas (LNG) terminal in Southwest Louisiana. Yet It's only one of three and industrialists are aiming to build eight more in the region. The LNG terminals represent a double whammy with local pollution and being significant contributors to global heating and climate change. Another environmental coalition has urged President Biden to resist global pressures to expand public investments in LNG production.
"Communities living near these dangerous facilities face extreme health risks due to the high amounts of harmful pollutants released by LNG production and export terminals," Friends of the Earth said in a statement. "Moreover, investments in LNG threaten global commitments to reduce emissions and keep global temperature rise below 1.5°C… Every LNG terminal that comes online risks locking in decades of avoidable climate pollution and environmental injustice," the coalition of 116 public interest groups added.
For a Better Bayou's research indicates the problem with LNG terminals goes beyond their pollution, with significant amounts of the gas produced being exported and leading to an increase in domestic electricity prices due to global market volatility. Hiatt says even the conservative trade group Industrial Energy Consumers of America has recognized that exporting so much LNG is driving up costs and making them less competitive. "It's a race to the bottom problem, maximize profit margin at all costs," Hiatt says of how about 25 percent of the liquified natural gas produced in the USA is exported and driving up costs for domestic consumers.
For a Better Bayou is also working to fill the gap on the current lack of data about exactly what toxins and how much of them are polluting the environment in Southwest Louisiana by collecting data on air monitoring. "These streets should be paved with gold at this point, how come Louisiana remains at the bottom?" Hiatt wonders, citing low rankings in the region for life expectancy and education.
For more information:
VIDEO – First episode of the four-part "Facing Down the Fossils" series, a co-production of Nexus Media News and Peril and Promise, a public media initiative from The WNET Group.
Global South issues in the Global North? A fossil toxic tour through Texas and Louisiana – Part 2, EnergyTransition.org, August 2023
Meet the Fathers Teaching Their Children About Preservation, Sustainability and Energy Independence, Medium, June 2023
Gulf Groups File Petition To Correct Louisiana and Texas' Violation Of Air Pollution Permitting Standards, EarthJustice.org, May 2023
Groups Pressure Japan, Biden to Oppose Global LNG Expansion + Stop G7 Push for Fossil Finance, Oil Change International, May 2023
Climate Movement Implores G7 Leaders to Ditch Fossil Fuels for Good, Common Dreams, May 2023
Climate advocates rally outside Goldman Sachs shareholder meeting, Sierra Club Press Release, April 2023
Senegal gas deal drives locals to desperation, prostitution, Toronto City News CA, March 2023
James Hiatt
Executive Director
Flooding, Heat, Hurricanes
Environmental Justice Concerns
Air Pollution, Fighting Development/Destruction of Wildlife/Extinction of Species, Fracking/Oil and Gas Development/Pipelines, Groundwater Contamination, Incinerator/Dumping/Landfill, Superfund Sites
Art Activism, Community Organizing, Fighting Industrial Contamination, Green Infrastructure, Nature-Based Solutions, Policy Reform, Renewable Energy