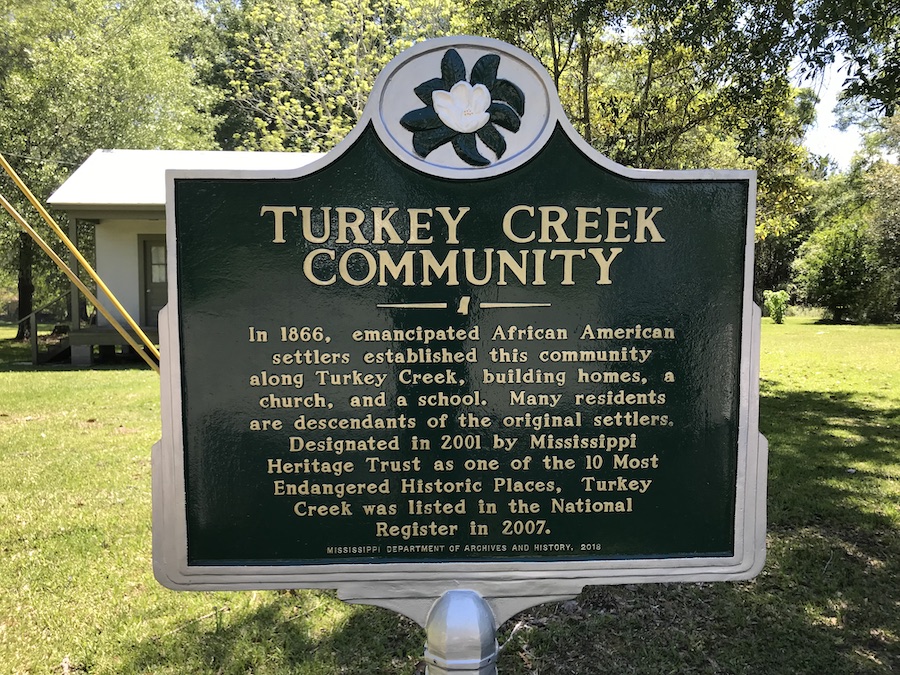 Hurricane Katrina — one of the five deadliest hurricanes to ever strike the U.S. — changed everything for Katherine Egland of Gulfport, Mississippi. Her home was severely damaged and her community left devastated.
"It was the drowning deaths of two of our dearest family friends to the rapid surge waters of Katrina that caused me so much anguish. Even climbing into their attic wasn't a high enough refuge to save them," she said. "That was the moment I took off my earrings," Egland said of her propulsion into environmental justice activism.
Stephen F. Eisenman, co-founder of Anthropocene Alliance, speaks to community leader, Kenneth Taylor, and resident Ms. Bobbie Maxwell, in Forest Heights, MS.
From tragedy sprang Education, Economics, Environmental, Climate and Health Organization (EEECHO) in Gulfport, co-founded by Egland who is also Chair of the NAACP's Environmental and Climate Justice Committee.
The group has brought impressive pressure in their fight to keep their community safe. Currently, they focus on halting development on critical wetlands that protect from flooding two historically-important African American communities, Turkey Creek and Forest Heights. The proposed development would sit on contaminated soil from a former fertilizer plant, placing vulnerable nearby communities at further risk.
Anthropocene Alliance's partnership with EEECHO aided in securing pro bono legal representation, and bolstered by volunteer scientific experts supported through a partnership with the Deep South Center for Environmental Justice (DSCEJ), an appeal hoping to stop any future development has been filed.
As well, EEECHO led the effort of the Coalition to Protect and Preserve Forest Heights, in opposition to a proposed connector road that would destroy over 600 acres of wetlands and exacerbate flooding in the historic Turkey Creek Community. They are supported by organizations and individuals with an outreach of over 7 million. Their work resulted in the City of Gulfport's inclusion of a long-awaited and much-needed levee in its recent budget.
EEECHO collaborated with residents and the Thriving Earth Exchange to develop the Assessing Flood Risks for Community-Led Actioncurriculum project on engineering with nature, importance of wetlands, and sea level rise. Students from Gulfport High School benefited from the lectures and wetlands site visits. The goal of this project was to bring objective scientific evidence and understanding to the questions and priorities of residents around flooding and air quality, so the community can use that science to make decisions and take action alongside elected officials.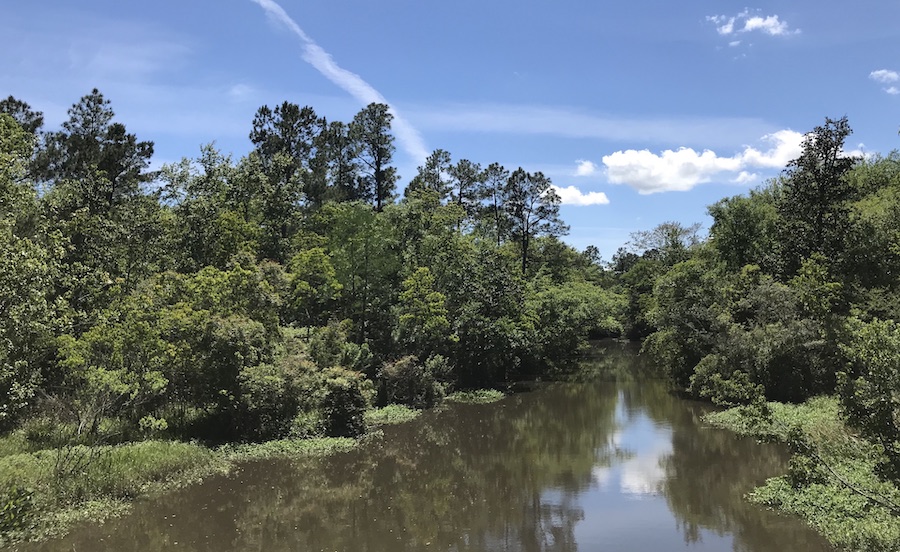 Also gratifying for Egland and EEECHO is the community garden and fruit orchard on nine acres situated on a former neighborhood that flooded on a regular basis. After the federal buyout, all the homes were demolished and slabs were removed. The city owns the property and was instrumental in providing irrigation and support for the project.
America's Most Endangered Rivers® Designated Turkey Creek One Of The Top 10 Most Endangered Rivers Of 2021, stating that new proposed developments could harm the creek, undo recent restoration efforts, and perpetuate injustice to Black communities.
Written by Kerri McLean
Links
On Mississippi's Gulf Coast, a Local Advocate Works to Protect Underserved Communities and Wetlands, Pew Trusts, June 2023
In the Mississippi Gulf and Beyond, Katherine Egland Advocates for Environmental Justice, Tides.org, March 2023
Inspiring African Americans of Hattiesburg (featuring Katherine Egland), Historic Eureka School, Feature, March 2023
Gulfport Highway Project Endangers Historic Black Communities, Environment, Mississippi Free Press, by Greg M. Schwartz, December 2022
Historic Black communities join suit against Pete Buttigieg over Gulfport road project, Sun Herald
City, historic Black community divided over Gulfport's $45M road plan. Here are the maps.
The Transformative Power of Water: Flood Survivor/Activist Katherine Egland Fights the Struggle for Human Dignity
'We need these roads.' Gulfport project moves forward to ease traffic at I-10, US 49
Ida flooded a historic Black community on the Coast yet again. Will anything change?
Gulfport MS residents fear pollution from port development
Black MS community opposes Gulfport development on wetlands
Gulfport organization takes students out of the class and into nature
Port of Gulfport's construction plans on hold after opponents file appeal
The Transformative Power of Water
Thriving Earth Exchange Project
Turkey Creek named among America's Most Endangered Rivers
'Systemic racism' plagues neighborhoods near endangered MS Coast waterway, group says
Air Pollution, Flooding, Water Contamination
Community Farm/Gardens, Fighting Industrial Contamination, Halting Bad Development, Nature-Based Solutions