It has been quite a challenge fighting against these powerful corporations and the elected officials and agencies that put corporate profits over the interests of public health.

– Cherokee Concerned Citizens
Barbara Weckesser and Karen Kilbern officially formed Cherokee Concerned Citizens (CCC) in 2013 to protect the health and well-being of their community from exposure to industrial pollution, but their alarm bells rang well before that. Seeing family, neighbors, and friends grow increasingly sick, they recognized their Cherokee subdivision in Pascagoula, Mississippi was becoming anything but idyllic. They were convinced that the noise, dust, and odor pollution was the cause, and it was time for action.
The fence-line community is near several polluting facilities, including a Chevron Refinery (11th largest in US with its own power plant), a BP/Amoco/Enterprise gas processing plant (one of the nation's largest), First Chemical/Chemours (going out business as of 2021), Gulf LNG, Mississippi Phosphates (now a Superfund site), VT Halter (large shipbuilding and repair operation) and Halter Marine (formally Signal International/World Marine/Vision Technologies). The closet facility is about 1500 yards from some of the neighborhood homes, and all are less than half a mile away. All releasing over 2 million tons of toxins into the air annually.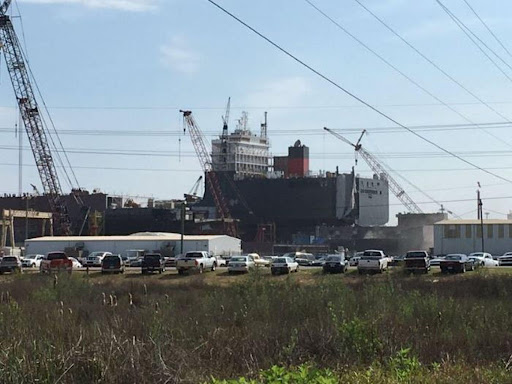 The watchdog group has been documenting pollution and raising those concerns with state and local officials and their industrial neighbors for years. In 2014, spurred by Cherokee Concerned Citizens' complaints, Mississippi's Department of Environmental Quality found Halter Marine guilty of 44 violations, mostly involving airborne dust and paint. The shipyard was ordered to pay a $144,545 fine to the MDEQ and pledged to hold down dust and fully curtain any sandblasting and painting.
When the neighborhood didn't see improvement, Cherokee Concerned Citizens urged the MDEQ to test area air quality in 2016. The agency found "all the samples well below any applicable health-based exposure threshold" for hazardous air pollutants, while allowing that short-term sampling provides only an initial screening of air quality. Weckesser, co-founder of CCC, was skeptical and had the report analyzed.
"I know what's in the report that they don't want us to know. Every one of those chemicals causes cancer," Weckesser told WLOX News in 2017.
Besides the MDEQ, they've met with the Environmental Protection Agency, the Mississippi Department of Health, the Pascagoula City Council, the Jackson County Board of Supervisors, Mississippi Emergency Management Agency, the local Emergency Planning Commission, as well as every large industrial facility.
Residents say not much has changed. Wary of governmental findings, they are taking their own samples to be tested in independent, private labs. Data collection, a large part of the all-volunteer group's effort, includes conducting health surveys; collecting soil and air samples; engaging with media, elected officials, and state and federal agencies; reporting incidents; and participating in the permit process.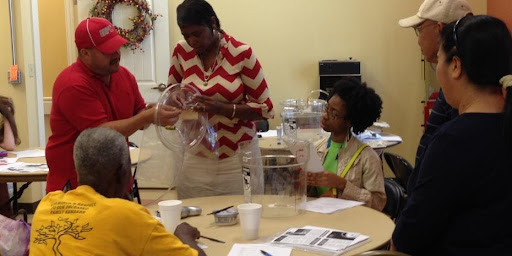 Advocacy partners have been invaluable to the group. Dr. Wilma Subra with Louisiana Environmental Action Network provided technical support in design and analysis for a community health survey project. Public Lab connected CCC with technical experts and provided soil testing equipment. Denny Larson and the Community Science Institute provided training, equipment, and analysis for air testing projects.
Recently, CCC has signed on with 12 other conservation and public-health groups to petition the Environmental Protection Agency to protect communities and the environment from radioactive phosphogypsum stacks and wastewater. The petition asks the EPA to begin overseeing the safe treatment, storage and disposal of phosphogypsum and process wastewater, as required under the Resource Conservation and Recovery Act and Toxic Substances Control Act.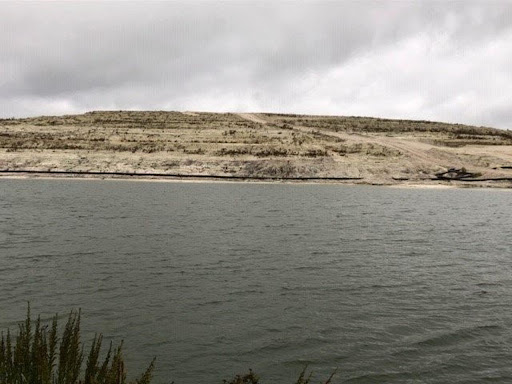 Cherokee Concerned Citizens continues to fight for their beliefs: the human right to life, clean air, water, and a healthy environment. Yet they find their homes are no longer safe and now seek buyout opportunities for the community.
"We have a house we can't live in, we have a house we can't rent, and we have a house we can't sell," CCC co-founder Weckesser said.
Written by Kerri McLean
Learn more:
Episode 13, Part I: Protecting the People – a Fenceline Community's Fight for Environmental Justice, Politics under the Microscope – Podcast, July 2022
Pascagoula's Cherokee Concerned Citizens plea for air quality help from Jackson County – gulflive.com
Mississippi Phosphates puts emergency bypass in place as citizens discuss pollution at Pascagoula town hall meeting – gulflive.com
Pascagoula's Cherokee Concerned Citizens say smells, dust, noises continue despite company fines – gulflive.com
Pollution fears persist in Pascagoula neighborhood (wlox.com)
MDEQ testing shows clean air in Pascagoula's Cherokee Forest neighborhood | Biloxi Sun Herald
Residents Near Bayou Casotte Industrial Complex in Pascagoula Want to Know What They're Breathing | Bridge The Gulf Project
Jennifer Crosslin
jennifer@gcclp.org
citizensbuyout@gmail.com
Air Pollution, Water Contamination
Fighting Industrial Contamination, Halting Bad Development