A New Initiative Helps Flooded Communities Get Federal Aid
Story by Kerri McLean 
Photographs by Harriet Festing
The following story follows up on our broader study of environmental injustice in Port Arthur, written by Anthropocene Alliance co-founder, Dr. Stephen F. Eisenman. 
Kerri focuses her attention on one historic Port Arthur neighborhood plagued by flooding and contamination—and A2's efforts to bring significant human and financial resources to bear.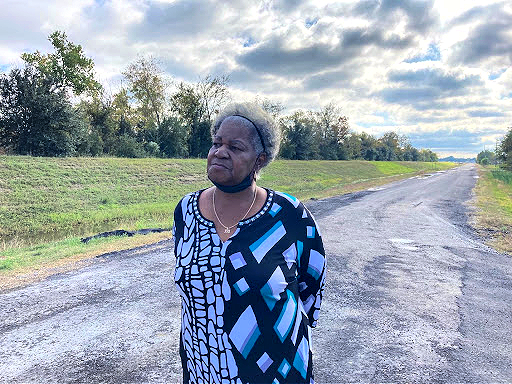 From her front porch in the Montrose neighborhood of Port Arthur, TX, Beatrice Sanders has seen a lot. On marshland once used for farming, Montrose developed into a close-knit community, providing two generations of African American families a pleasant and peaceful life. Street names echo families who lived, and still live there. Residents support their neighbors and their vulnerable community, despite daunting challenges.
Port Arthur sits among dozens of petrochemical plants and hazardous waste facilities, releasing some of the worst air pollution and toxic stormwater runoff in the country. Less than three feet above sea level, the city has been ravaged by storms and hurricanes, including Hurricane Rita in 2005 and Ike in 2008, both of which brought significant flooding. When Hurricane Harvey hit in 2017, 80% of homes were affected, many of them flooded with contaminated water.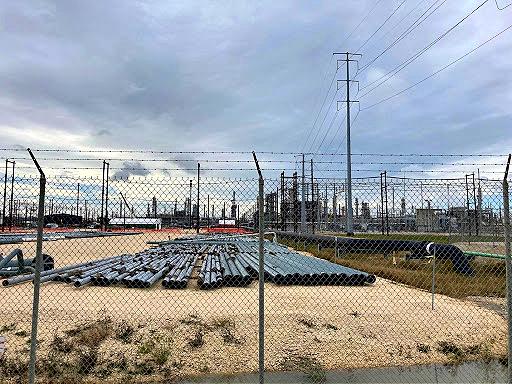 Low income and otherwise marginalized communities are often the first to flood, yet the last to receive federal aid once flooding occurs. Conversely, homes in wealthy communities are generally less impacted, but the first to receive government support. Two reasons for the disparity are clear: leaders of lower income communities are often invisible to policy makers, and their towns and cities have fewer resources with which to apply for support. 
Beatrice Sanders knows the struggle first-hand. Living in a FEMA trailer a year after Hurricane Harvey destroyed her home, Sanders was frustrated—she couldn't get permits to make necessary repairs to her home, she couldn't bear watching her neighbors languish in unsafe conditions, and no one seemed to listen. That's when the affectionately dubbed "Mayor of Montrose" called Hilton Kelley, founder of a local non-profit, Community In-Power and Development Inc., and member of Anthropocene Alliance. Sanders shared with him her present anguish as well as her hopes for the future.
Kelley and CIDA directed their full attention to Montrose, interviewing Sanders in a Facebook Live broadcast. The exposure was intended to encourage the Texas General Land Office to allocate a portion of the Federal funding they received for Port Arthur, to help people rebuild their homes. And it worked. CIDA's Michelle Smith recounts: "After A2 posted Mrs. Sanders' video, she received numerous calls and requests directly for interviews from various media, which hugely helped bring attention to the issue."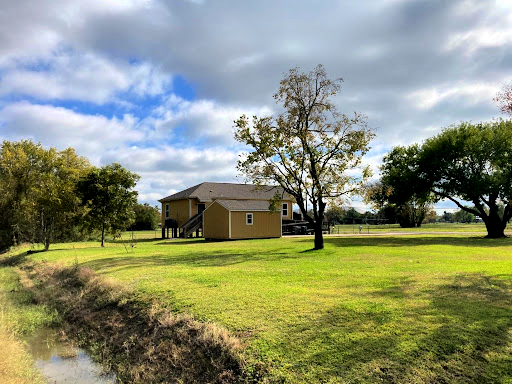 Sanders now greets neighbors on the front porch of her new elevated home, funded through the Land Office, and she's grateful for the support she received from CIDA and A2. But the process of getting her house rebuilt wasn't easy or quick. For frontline communities like Montrose, necessary resources often seem unattainable.
Several structural impediments prevent federal and foundation funding from reaching those most in need. Disaster ravaged communities need money—tens and even hundreds of thousands of dollars—just to produce the preliminary studies necessary for them to apply for infrastructure or rebuilding grants. They need grant writers who understand the complex mechanics of state, federal, and foundation applications. And they need visibility and connections—the social capital essential for success in the competitive world of community rebuilding and flood mitigation. 
Those are the reasons Anthropocene Alliance initiated Vision/Action 2025*, a program to channel at least $60 million in federal, state, and foundation funds to 30 or more low-income, Black, Latinx, and Native American communities in support of One Water solutions to reduce flooding and water contamination. By also providing communities with grant writing, organizing and communication support, VA25 will help to build the national movement for environmental and water justice. Other grassroots organizations in line to benefit from VA25 are Biloxi NAACP in MS; Citizens Committee for Flood Relief in De Soto, MO; Un Nuevo Amanecer, Inc. in La Playa (Ponce), PR;  L.E.A.D. Agency in Miami, OK; and Reidsville Georgia Community Floods.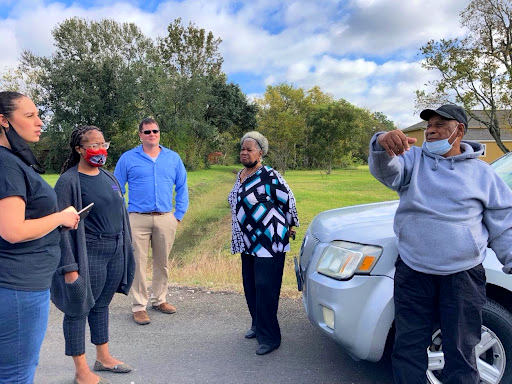 Back in the Montrose section of Port Arthur, Beatrice Sanders, Hilton Kelley, and Michelle Smith of CIDA are developing a robust plan to protect the neighborhood. They are working with Dr. Galen D. Newman and Dr. John T. Cooper, Jr., Associate Professors in the Department of Landscape Architecture and Urban Planning at Texas A&M University to design green infrastructure to reduce flooding and protect homes. CIDA is the recipient of $300,000 in funding—obtained with grant writing support from A2—to implement a green infrastructure pilot and to plan future improvements. The expectation is that collaborative work—the turning of vision into action—will make a profound difference for underserved communities in Texas and become a model for other communities across the country.
*Vision/Action2025 is made possible by generous support from the Pisces Foundation, the Doris Duke Foundation, the Kresge Foundation, the JPB Foundation, and the Walton Family Foundation.  Essential in-kind resources are provided by the Thriving Earth Exchange, Earth Economics, Climigration Network, and Buy In.
If you would like to support our work moving forward, you can donate here. A2 is also recruiting volunteers for its First Ever Grant Writing Slam to help grassroots leaders and their communities access federal funding and resources.  Learn more.