Photographs by Terri Straka
The following story is about home buyouts and climate migration in one South Carolina community. For more on this, please see our statement, "The Great American Climate Migration" and our "Ten Point Platform on Climate Change."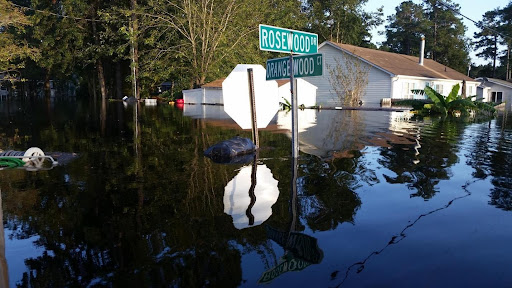 Flooding in Rosewood, South Carolina, 2017
In 1993, Terri Straka bought what she called her "forever home" in the Rosewood neighborhood of Socastee, SC, near Myrtle Beach. Rosewood was a tranquil haven where everyone knew their neighbors and looked out for them. Homes were affordable and since the area was not in a flood zone according to FEMA maps, homeowners were not required to buy expensive flood insurance.
"Flooding in the U.S. is both common and destructive, but the flood maps that are supposed to prepare us are badly outdated."
Everything changed for Terri in October of 2015 when heavy rainfall and flooding—dubbed a "fluke of nature" by local authorities, and "a 100-year occurrence"—inundated the area. Her dream house was ruined by floodwaters that reached four feet in her living room.
"Flooding in the U.S. is both common and destructive, but the flood maps that are supposed to prepare us are badly outdated," says Harriet Festing, Executive Director of Anthropocene Alliance (A2). "What's more, development in flood plains is far too common, many states lack flood disclosure requirements, and flood mitigation efforts are paltry at best. FEMA guidelines need a reboot!"
The Federal Emergency Management Agency was created by President Carter in 1979 to coordinate responses to natural disasters that overwhelmed local and state authorities. Since that time, the number and severity of disasters has grown almost exponentially, the consequence of climate change, environmental degradation, and decades of disinvestment in protective infrastructure. But the National Flood Insurance Program (NFIP), FEMA's core mechanism for mitigating disasters, has not been comprehensively updated in more than forty years.
Since 2015, Rosewood has flooded eight more times and Straka's home has been rebuilt twice. Terri recalls: "After Hurricane Matthew in 2016, I took out a loan and rebuilt my entire house. Two years later, we flooded a third time. This time we had flood insurance, but the costs—not just monetary ones—have been high. They will never be recouped."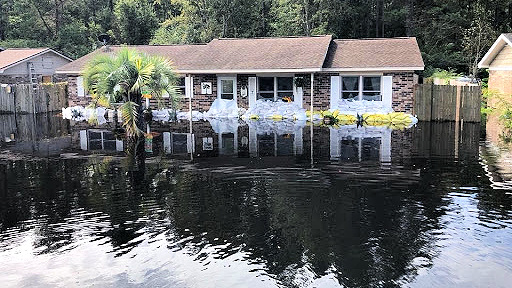 Frustrated by lack of action to protect wetlands and halt damaging development, Straka co-founded Rosewood Strong to demand action to protect her neighborhood. Soon after that,  A2 reached out to Terri, who told us that she and her co-founder, Melissa Krupa, wanted to relocate. We connected them to expert scientists through the Thriving Earth Exchange, set up meetings with county and state agencies, funded a street protest, and coordinated a Twitter storm. In March of this year, Horry County, SC received nearly $15.6 million in federal grants to buyout homes in Socastee that were repeatedly flooded and repurpose the vacated land for flood mitigation.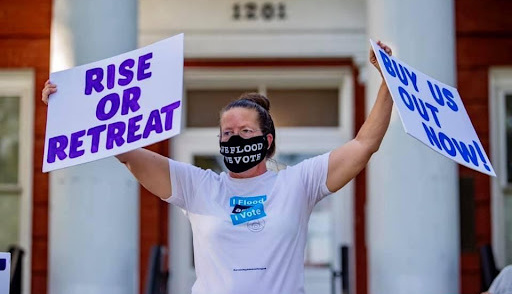 Terri Straka outside Socastee City Hall advocating for buyouts in 2020 with Rosewood Strong
"Our neighbors are starting to feel like they are being victimized all over again."
"I was so pleased for our community to finally be receiving this help," Terri explained, "but the process has been fraught with problems. There are unexplained delays and communication breakdowns. The screening process is invasive and home appraisals are lower than most of us expected. In fact, they are way too low for people with mortgages and on fixed incomes." Straka adds: "For flood survivors wanting to elevate their homes, the NFIP offers only $30K, when home elevation typically costs $80K. Our neighbors are starting to feel like they are being victimized all over again."
"FEMA needs to recognize these problems, and update its rules and programs," Straka said.
YOU CAN HELP
For the next month, flood survivors will have a chance to share their stories with FEMA. The agency has issued a Request for Information seeking public comment about how they can best align floodplain management with known flood risks; improve resiliency standards to make communities safer; and better protect threatened animal species and critical habitats.  Public comments matter. They inform FEMA's rule-making process and  influence Congressional appropriations. Moreover, FEMA is ambitious to make progressive changes to help vulnerable people and protect ecosystems.
If you or anybody you know has been harmed by flooding, please go to this page and tell your story to FEMA. It doesn't have to be long or fancy: Just say what happened to you or your neighbors, and ask FEMA to:
1) update their flood maps;
2) prevent developers from building where it floods; and
3) increase money for buyouts, home elevations and wetland protections.
And ask them to pressure Congress to provide more money to make that possible!
Click here for an example from Rosewood Strong leader, Terri Straka.
To receive future newsletters, please visit here.
Newsletter Sign Up
Don't miss any of our newsletters! Click the button to sign up!