Vessel Project
Lake Charles, Louisiana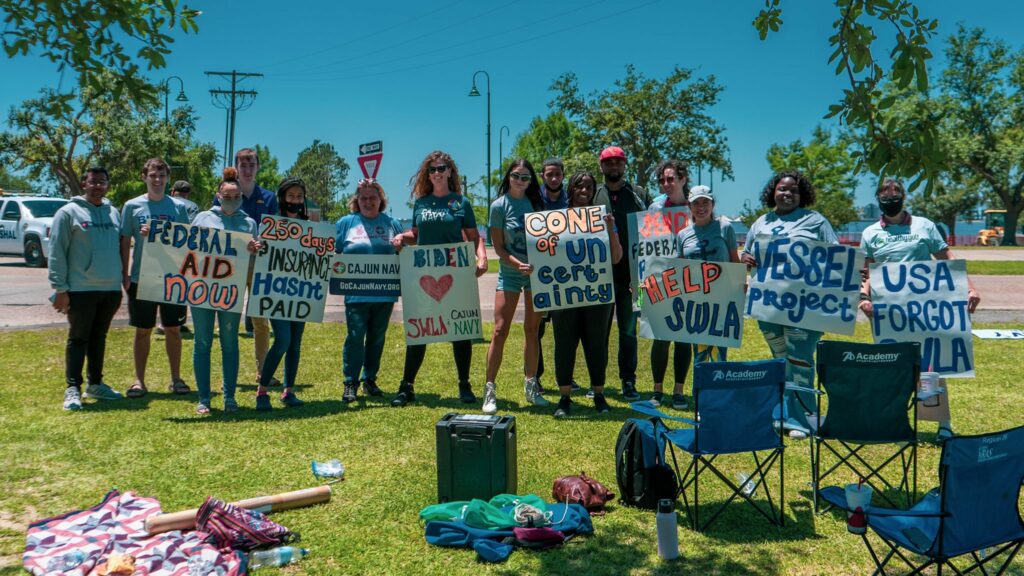 2020 was a year marked by so much turmoil, no one was left untouched. For the people of Lake Charles, Louisiana though, it wasn't just a pandemic and a teetering economy. It was the year two hurricanes made landfall on their coast, within 6 weeks of one another.
August 27, Hurricane Laura, Category 4, made landfall in Cameron Parish, with 150 mph winds. It demolished Lake Charles, killing at least 28 people and bringing severe flooding to the 80,000-person community. Governor Edwards reported, "Hurricane Laura destroyed over 10,000 homes across the state and brought major damage to 35,000 homes, moderate damage to 38,000 and minor damage to 58,000." 18,000 people were in hotels or shelters.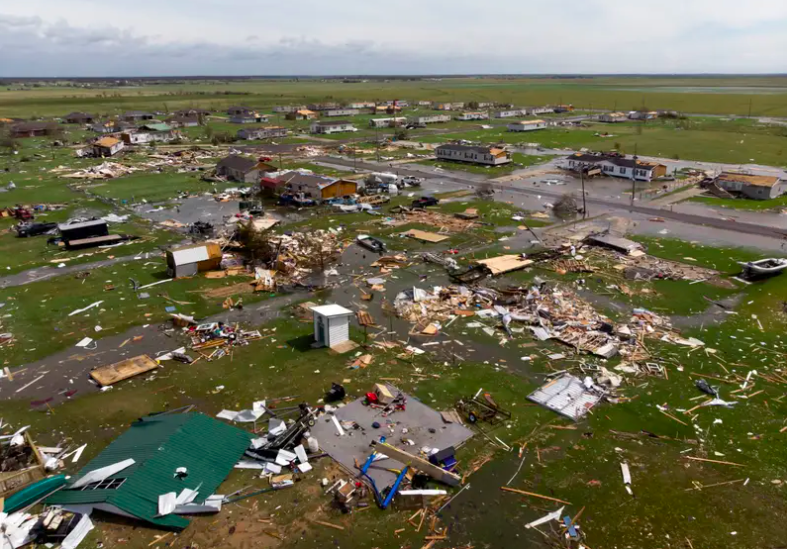 Six weeks later, a traumatized Lake Charles looked on in disbelief as Hurricane Delta grew stronger and with 100-mph winds, came aground a Category 2 storm, 13 miles from where Hurricane Laura had made landfall. It proceeded to dump more than 15 inches of rain, with 9,000 Louisianians still in shelters from Hurricane Laura.
Roishetta Sibley-Ozane lost everything to the storms. A single mom with six children, she began to look for aid to rebuild and restore. She applied to FEMA several times, and though she kept getting denied for assistance, she appealed, again, and again. Finally, she received a payment—only $6,000.
Knowing she could not be the only one having trouble getting assistance, she began to help her neighbors fill out FEMA applications. Roishetta knew the people most at risk were other single mothers and the elderly, and that 90% of the homes destroyed by the storms were in low income neighborhoods.
Then came the unimaginable. In February, a very deep freeze unexpectedly hit the Gulf Coast. For people living in homes still badly needing repair or worse, living in their vehicles due to losing their apartments, it was punishing.
Roishetta recalls, "During Hurricane Laura, I was helped by a fellow mutual aid organization called Forever Calcasieu. During the ice storm, I saw so many members of our community in the same situation I was and I knew I had to help in some way."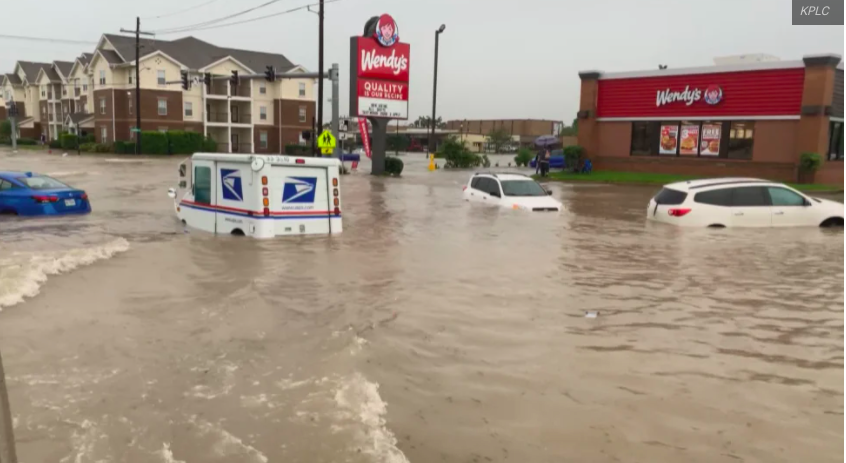 She started to see several social media posts a day from people looking for resources and shelter from the winter storm. "Knowing the demand was so high, she began contacting the social media users to ask how she could help."
Roishetta started paying out of her pocket to put people in hotels and when the effort grew, she reached out to her Facebook Community. Her efforts "caught the attention of Dominique Darbonne, lead singer for the acclaimed local band, the Flamethrowers. 'Dominique began sharing my efforts with her friends and family and she even reached out to me directly on how she could help,' says Sibley. 'That's where our friendship started and we have been partners ever since.'"
That partnership yielded a fundraising campaign that brought in $30,000 enabling the team to provide direct cash and hotel rooms, water, food or other supplies to well over 1,000 people.
Recently, while President Biden was visiting Louisiana, the Vessel Project made sure he would know that all of Southwest Louisiana still needs help. The President was greeted with signs and waves as his motorcade rode by.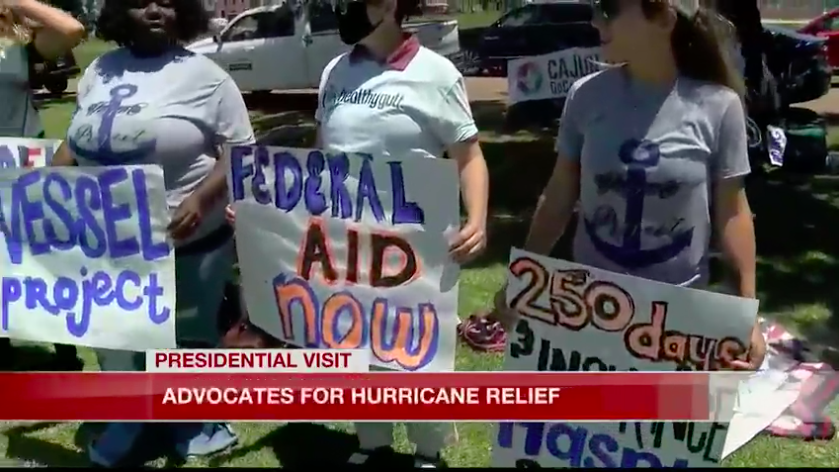 Dominique Darbonne commented in an interview "Our community is resilient. But we're tired and resources are limited. And at this point, everybody in our community has been affected by this in some way. Really, everybody in our community at this point has lost property, has lost belongings, has lost, you know, just a lot."
Roishetta and Dominique are working now to advocate for federal disaster funds, acquire payouts from insurance companies and for their neighbors to be able to come home. Dominique feels something special happening with the Vessel Project; "It's a reminder that our purpose is to take care of each other."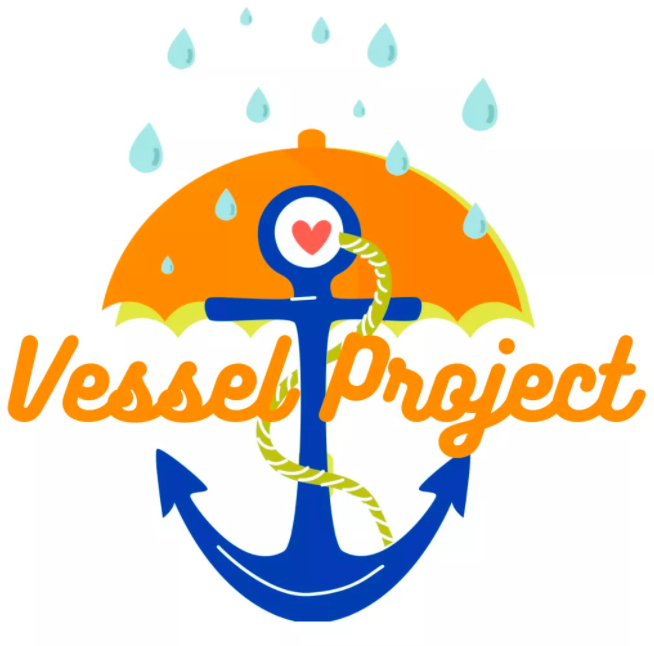 Roishetta has also received the 2021 She Leads Fellow for the Power Coalition. She is the first one to be recognized for this award in Southwest Louisiana.
Written by Michele Gielis
Links:
On Louisiana's Gulf Coast, the fossil fuel industry is planning a massive expansion of LNG exports. One woman is determined to stop them, Sierra Club, by Antonia Juhasz, Dec. 13, 2021
In Deep: One City's Year of Climate Chaos, The Water Main, by Lauren Rosenthal, August 27, 2021
A year after Hurricane Laura, southwest Louisiana 'still in limbo', Southerly Magazine, By Carly Berlin, August 27, 2021
'People are wiped out': Costs pile up as hurricane season begins, SoutherlyMag, June 23, 2021
Help has arrived in Lake Charles – again, KATC 3, Acadiana's News, By: Kendria LaFleur, May 24, 2021
Lake Charles community gathers to send message to President Joe Biden during Louisiana visit, Beauregard Daily news, by Lauren Blankenship, May 7, 2021
Advocates ask for hurricane relief during Pres. Biden's visit to Lake Charles. KPLC TV, by Rania Kaur, May 6, 2021
Earth Day 2021 highlights issues from climate change to personal responsibility, by Theresa Schmidt, April 22, 2021
Calcasieu Police Jury encourages public input about long-term hurricane recovery, KPLC TV, by Jade Moreaum, March 31, 2021
Residents voice concern over flooding, fraud and homelessness, American Press, by John Guidroz, March 31, 2021
Good Deeds Change Lives, McNeese State University, March 15, 2021
How southwest Louisiana mobilized to shelter unhoused people during the winter storm, Southerly Mag, By Carly Berlin, February 26, 2021
Two women team up to help vulnerable residents amid the freeze, KPLC News, By Rania Kaur, Feb. 21, 2021
Local volunteers secure hotel rooms, supplies for homeless, American Press, by John Guidroz Feb 21, 2021
After 2 Hurricanes, Lake Charles Fears Its Cries for Help Have Gone Unheard, New York Times, By Rick Rojas, Oct. 20, 2020
Contact
Roishetta S. Ozane and Dominique Darbonne | Co-founders
Website/social media
Climate impacts
Flooding
Air Pollution
Water contamination
Strategy
Community farm/gardens
Affordable housing
Elevation or relocation of homes
501c3 tax deductible
No
Accepting donations
Yes – donate here.