Together for Nature is an nonprofit organization with a mission to equitably empower the communities of northeastern Illinois to improve their social and environmental conditions through education, leadership, and advocacy. This agenda includes a focus on improving the reciprocal relationship between people and the environment, while working to advance the equitable impacts of sustainability. The organization also recognizes and honors the values and perspectives of Indigenous relationships with ecology as essential for improving social and environmental conditions.
Key organizational values include diversity and inclusion to generate self empowerment for everyone; creativity and expression as a pathway to healing and wellbeing; connection and transformation through bringing people from different backgrounds together; community and solidarity in working for a greater vision; empowerment and education to advance social conditions; equity and social justice by challenging historical oppression of underserved people; and sustainability and environmental justice by working to conserve the environment for current and future generations.
Programs include Education for Nature with lessons for both children and adults on sustainability and environmental topics like identifying native plants, watershed ecology, and the importance of native animals in the region. The related Community for Nature program takes this education a step further by organizing public events in areas of conservation and recreation. This includes nature-based topics like native plant landscaping and watershed restoration. The Mentorship for Sustainability program works with partner organizations to equip high school and college students with the skills and knowledge needed to get involved in local sustainability efforts and help create a green future. The Commitment to JEDI project teams up with Equity and Sustainability Consulting to ensure that all programs advance the key concepts of Justice, Equity, Diversity, and Inclusion.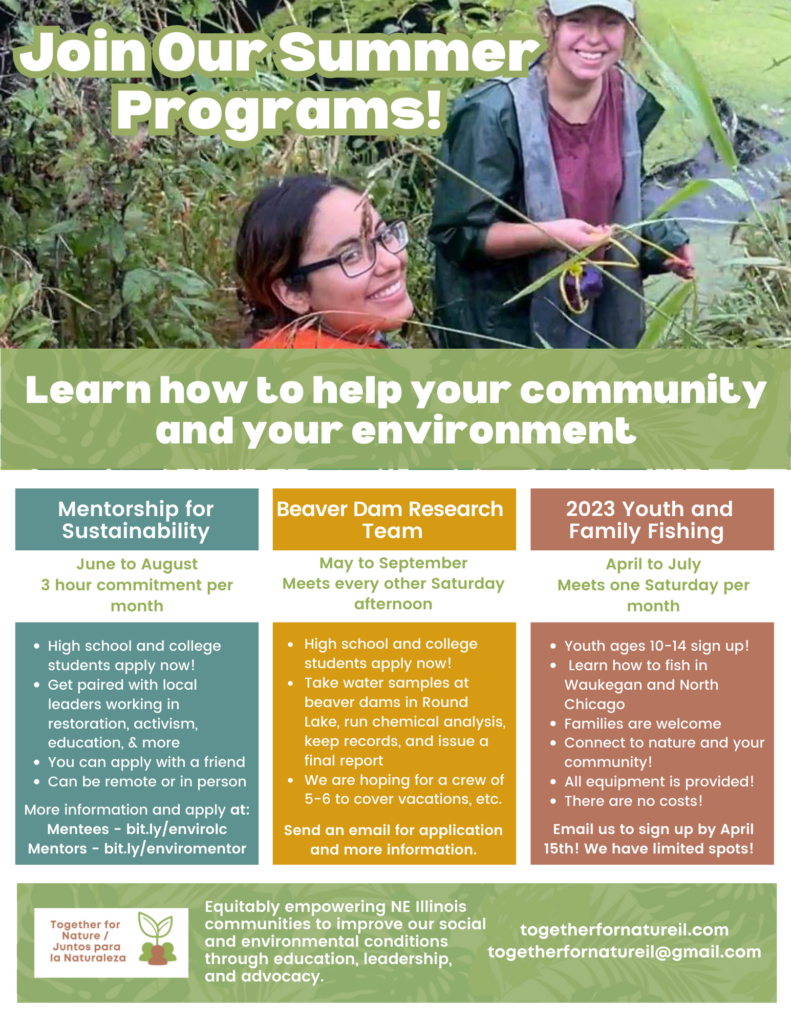 "Ironically, Western sustainability is starting to realize that the solution to many current environmental problems is to recognize the reciprocal relationship between people and nature, and it is being largely inspired by Indigenous practices without crediting them appropriately," Together for Nature acknowledges at their website, speaking to the ongoing significance of Indigenous wisdom in a materialistic society that too often prioritizes corporate profits over environmental protection while marginalizing America's Indigenous peoples.
Together for Nature emphasizes acting locally, but also keeps an eye on how regional sustainability issues can be affected by state and national policy. Thus they also seek to raise awareness about big picture news topics, such as the controversial Willow Project to allow more oil exploitation in Alaska.
"If the Willow Project gets approved, it will release 287 million metric tons of carbon dioxide into the atmosphere over the span of 30 years. Not only will this impact the animals in Alaska, but it will also affect climate change. This could speed up the rate at which the glaciers are melting. This is an issue for humans because 3/4ths of the earth's freshwater is stored in glaciers, which makes glaciers the second largest reservoir of water on Earth. The change in glacier melt will impact our freshwater supply," Together for Nature warned on Instagram.
Together for Nature also uses social media to celebrate victories, such as a spring 2023 post congratulating co-founder and board member Gloria Charland for winning the Illinois Lakes Management Association's Dick Hilton Watershed Stewardship Award for significant contribution to stewardship of Illinois waters.
Katia Carranza
Founder/Board Member/Organizational Director
Environmental Justice Concerns
Air Pollution, Coal/Coke Plants and Emissions, Incinerator/Dumping/Landfill, Industrial Agriculture/Animal Waste, Lead Contamination, Nuclear Power Plants, PFAS/PFOS, Superfund Sites
Art Activism, Community Farm/Gardens, Community Organizing, Direct Relief and Aid, Green Infrastructure, Nature-Based Solutions, Policy Reform