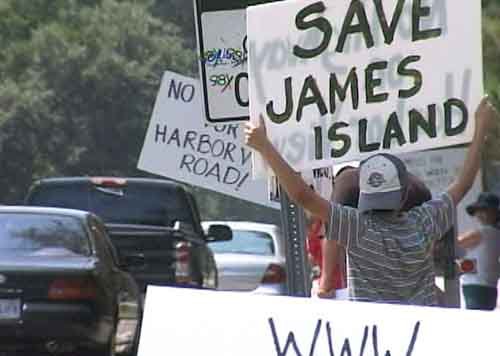 James Island, South Carolina is an uncommonly beautiful place, rich in history and lore. It provides residents with quick access to downtown Charleston and on the other side, the beach, which would ordinarily be ideal. Moss-draped live oaks line scenic byways and although suburban in nature, much of James Island's history has been built around. The problem is that in recent decades the beauty attracts development and with development comes increased flooding and waste-water system overflows.
In a commentary piece for the Post and Courier, residents Theodosia Wade and Julie Hallman describe what it's like:
"Imagine donning a pair of knee-high rain boots before entering your kitchen for your morning cup of coffee.

That is the reality for one of our neighbors here on James Island. He has to endure water standing in his house about once a year, and he repeatedly tears out sheetrock and replaces flooring due to flooding damage."
Save James Island opposes the massive development threatening the island's character, history, beauty, wildlife, not to mention its quality of life. They consistently hold city officials and agencies accountable for plans that simply defy logic. Frances Henty, a real estate agent living on the island states is plainly, "It doesn't make sense to add more development to such a fragile water table, it just doesn't make sense."
To Frances's point, the flooding problem in Charleston is getting increasingly worse. Last year, Charleston exceeded a previous record for the number of flood days with 89 days in 2019, compared to the previous record of 58 days in 2015.
Two developments currently being proposed, Central Park Cluster and Riverland Oaks, are the source of the organization's current concern. The problem rests around drainage systems that are old, poorly maintained and essentially failing, causing flooding damage to people's homes and lands. One resident even crawled into some drainage pipes to find another one joined to it and both blocked, without any public works department remembering how or why, by a pile of rocks.
In April 2020, Save James Island had its first meeting with our partner, Thriving Earth Exchange. With an increasing number of residents near the newly proposed developments joining the team, the group worked with the South Carolina Coastal Conservation League to commission a report by stormwater expert, Dr. Steve Emerman, about the state of the current stormwater system and its ability to accommodate further development. When logic alone isn't enough, science can provide understanding and develop solutions.
Dr. Emerman's report makes the situation clear: "I documented 22 flooding events over the past five years in the neighborhoods where two new developments are proposed. By comparing flooding with rainfall amounts, I showed that the stormwater infrastructure can't be relied on to prevent flooding if more than a half-inch of rain falls in 24 hours."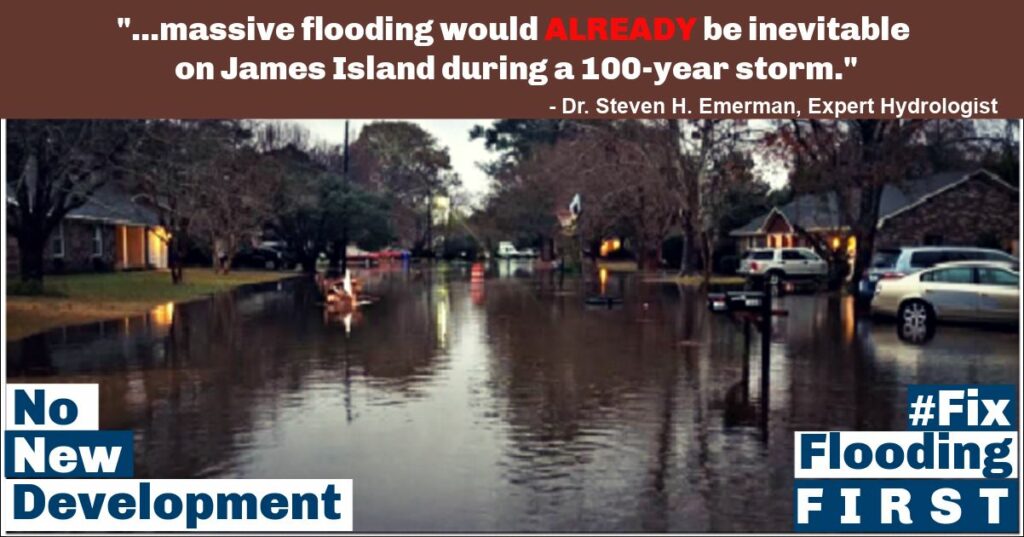 Another wrinkle involves the timing of submission of the stormwater management plans for the two developments; the Central Park Cluster development is being evaluated under the City of Charleston's older Stormwater Design Standards Manual (2013), while the Riverland Oaks proposal is being evaluated under the newer City of Charleston's Stormwater Design Standards Manual, which became effective on July 1, 2020.
Ironically, the city and the county are currently doing a $400,000 drainage study in the same area. The study is projected to be complete this year. The residents do not understand why the city would approve the two developments before that study is completed, given the obvious risks.
Dr. Emerman has a pointed recommendation: "I say first we understand the current drainage infrastructure, then we try to improve it. If that works, great. Then we can start talking about new developments. I'm not anti-development by any means, but the Central Park and Riverland Oaks are the most ill-considered development projects I've ever encountered.".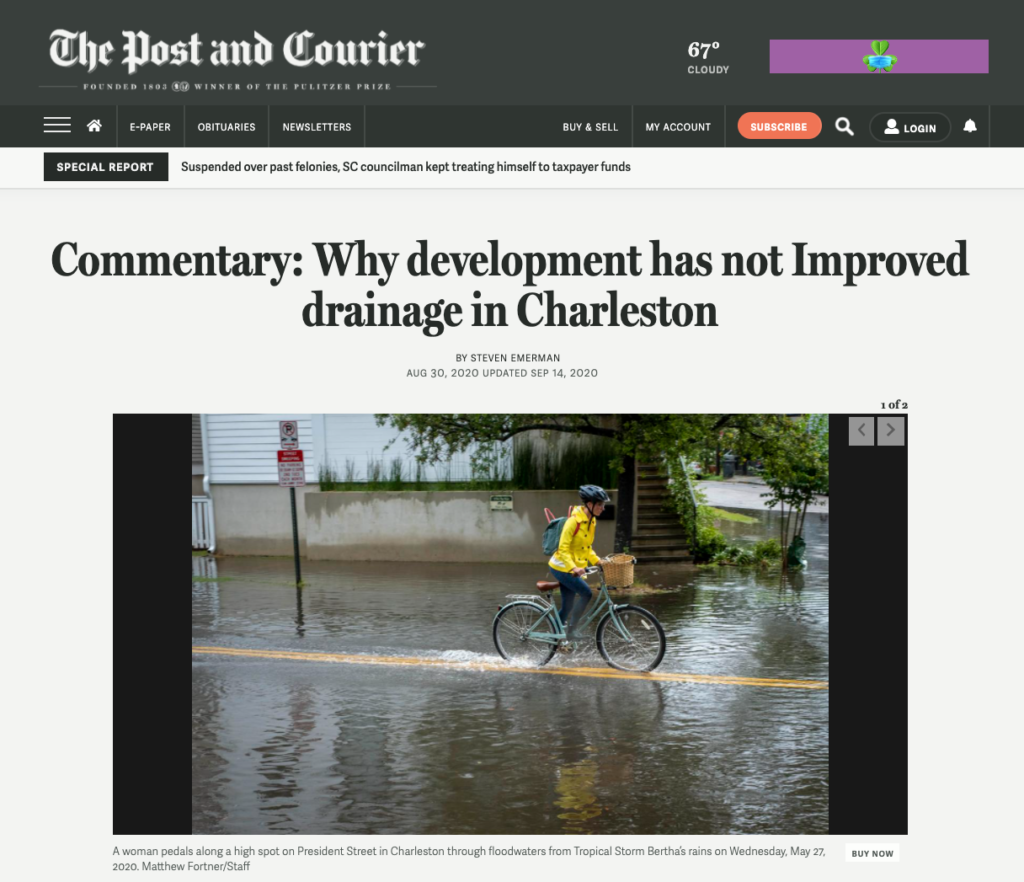 Save James Island is continuing their advocacy for a common sense approach to new development as well as to:
– Preserve and Protect the Green Spaces, Trees, Waterways and Marshes of James Island;
– Advocate for appropriate zoning, infrastructure improvements, stormwater management, and building design standards tailored to our unique community; and
-Advocate for a bike and pedestrian friendly James Island, with increased public transportation and affordable housing options for residents.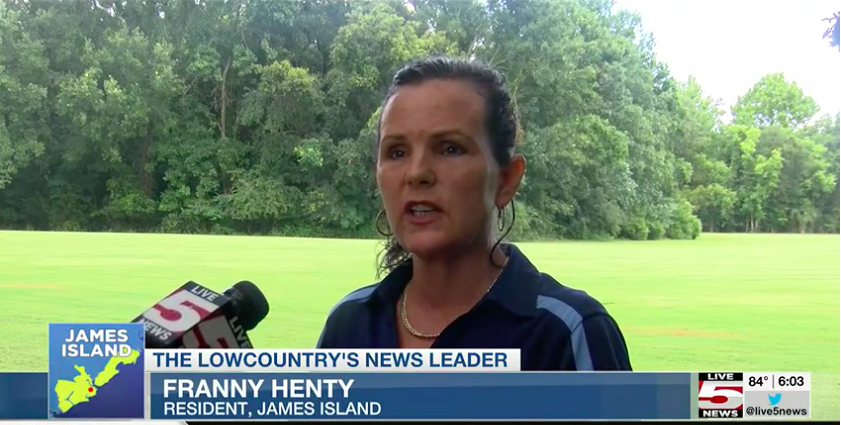 Written by Michele Gielis
Links
City of Charleston and county to review applications to cut down more than 70 grand trees, Live 5 News, July 28, 2021
Residents concerned about James Island development, Live 5 News, July 13, 2021
Assessing the potential impact of new urban development on flooding, Thriving Earth Exchange – partnership
Controversial development on James Island getting an extension on plans, WCSC Live 5 News, November 18, 2020
James Island homeowner files suit against City of Charleston, WCSC Live 5 News, October 29, 2020
Commentary: Why development has not Improved drainage in Charleston, Post and Courier, September 14, 2020
Behre: Charleston tackles a tricky task: making development improve drainage, Post and Courier, August 22, 2020, updated December 11, 2020
Commentary: There has to be a better way to handle flooding on James Island, Post and Courier, August 20, 2020
Flooding on James Island: Webinar and Q&A with Dr. Steve Emerman, August 18, 2020
Consultant hired by neighbors recommends halting James Island development, WCSC Live 5 News, August 6, 2020
Emotions run high in fight over proposed townhouse development, WCSC Live 5 News, May 29, 2020
James Island neighbors waiting for flooding solutions, WCSC Live 5 News, May 12, 2020
James Island residents ask for federal help after concerns over James Island Creek, WCSC, Live 5 News, January 22, 2020
Neighbors concerned about new James Island development plans, WCSC Live 5 News, January 9, 2020
James Island residents deal with several feet of flooding after Saturday storms, WCSC Live 5 News, July 7, 2018
Halting Bad Development, Nature-Based Solutions, Rights of Nature