In 1887, seventy years after its founding, the city of Memphis was desperate for clean water. Mosquitos bred in household cisterns and shallow wells, spreading Yellow Fever in deadly waves. More than 5,000 residents died from the disease in 1878 alone. Then, unexpectedly, a local ice maker dug a hole almost 400 feet deep and struck an artisanal well: the Memphis Sands Aquifer.
Ever since, city residents and neighbors across seven adjacent states have enjoyed some of the purest drinking water in the nation. Communities in Tennessee, Arkansas and Mississippi draw nearly half a billion gallons of water from the aquifer per day. Hydrogeologists estimate the aquifer holds enough water to supply millionsmore days at the same rate. For many who live and work in the region, the water seems endless. Under the surface, however, all is not as it seems.
"We've been treating the aquifer like it's our own big Brita filter, but you can't just throw it out and get a new one."

– Sarah Houston, Protect Our Aquifer (The Guardian, 11 Apr 22)
Protect Our Aquifer is a community organization founded in 2017 to halt new drilling for water to cool the Tennessee Valley Authority's new gas-fired Allen Combined-Cycle power plant in Memphis. Quickly recognizing an array of contamination dangers and a paucity of protections from them, POA has since launched a holistic mission "to protect, conserve, and preserve the Memphis Sand Aquifer." Adopting a forward-facing posture long held by the region's indigenous peoples, POA "envisions the sustainable management of groundwater resources" to sustain livelihood for "the next seven generations" who draw on aquifer water.
"Our drinking water aquifer belongs to us and is a unique community asset that can and should be used as an economic development tool. So why should we allow TVA management, who live in Knoxville, not Memphis, decide the fate of our aquifer?"

– Ward Archer, POA co-founder
In all their efforts, POA prioritizes inclusion of diverse local communities, scientific integrity in aquifer protection, fierce advocacy in public decision-making and celebration of the aquifer's model stewards and good neighbors.
Memphis' watershed—the source of aquifer water—is tens of millions of years old. Located beneath eight states in alternating layers of clay and sand, it sometimes plunges hundreds and thousands of feet deep. At other points, it breaks at the surface, opening sandy layers to replenishing rain. For millennia, rain seeped through fine sediments that gradually purified the water in massive quantities under a giant clay containment layer. The clay protects the pure well from contaminants directly above—at least, it did.
Punctures in clay containment, like those planned by TVA to cool its plant, endanger contamination of ancient artesian water. Industrial, commercial and residential development on recharge zones—where rainwater enters aquifer sand—also threatens to reduce the aquifer's volume, containment and purity. After learning of TVA's plans, Ward Archer, POA co-founder, and leaders at the local Sierra Club confronted the utility for endangering containment integrity for purely financial savings. Archer and his collaborators argued that TVA created further opportunity for contaminated groundwater to seep into aquifer stockpiles at an alarming rate.
"Beneath Downtown Memphis, the age of the Memphis aquifer water is between 2000-3000 years old. But in two Memphis Light, Gas and Water Division well fields near TVA and Presidents Island, we see water as young as 23 years old. How is that possible and what does it tell us?"

– Brian Waldron, Center for Applied Earth Science and Engineering Research (CAESER at UMemphis)
TVA's size and influence has also compromised the integrity of local community ownership of its water. To shield its well development from scrutiny, TVA and city officials refrained from review of the project and insisted publicly on the integrity of containment layers. In response, Archer and POA launched their first campaign to educate the public and politicians on aquifer threats and to demand change. They insist on community input in water management, and they support legal challenges to TVA's anti-democratic maneuvers. After an extended period of public exposure and debate, POA claimed victory in July of 2018: TVA amended its cooling plans to obtain water from more distant, less potable sources.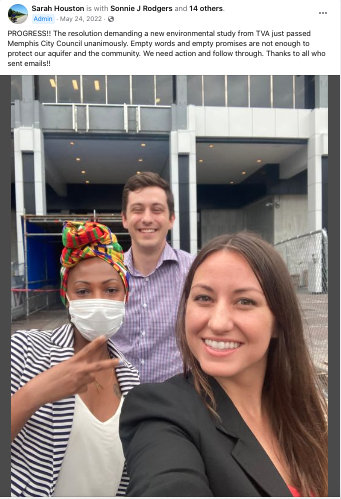 Since then, POA has since successfully challenged numerous other threats to aquifer health. In late 2022, POA-led public pressure on TVA culminated in the city's rejection of a new contract with the utility. Previously, POA challenged TVA's storage of coal ash in open pools at its defunct Allen Fossil plant—a site ranked 10th-most contaminated in the country with arsenic levels 300 times legal limits alongside other toxins like boron, molybdenum and lead. After long public denials, TVA was ordered to clean up its sites.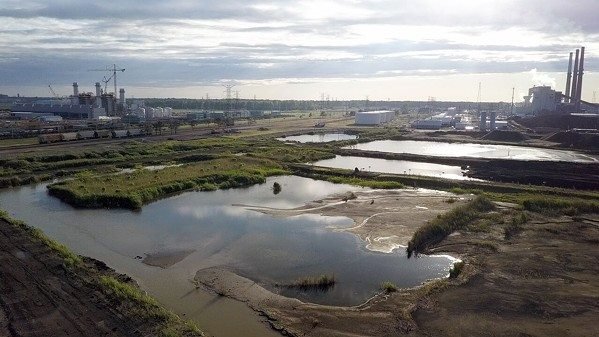 Just outside Memphis in Collierville, POA organized public hearings to challenge the Carrier corporation's plan to inject treated water back into the aquifer. Facing public pressure, Carrier dropped its proposal.
Crucially, POA's work exposes again an epidemic of environmental racism that enables polluters to harm most those already harmed in American society. Memphis is 64% black, and its poorest neighborhoods—shaped by discriminatory housing practices—are routinely closest to the region's most dangerous polluters. Shelby County fares no better. Majority black residents across the county earn on average 50% less than minority white counterparts.
For poor people—black or not—in Memphis, Shelby and the broad midsouth, industrial poisons compound problems of routine poverty, food scarcity, housing shortages, education disparity and inaccessible healthcare. Despite this fact, TVA now transports its coal ash on freeways designed intentionally to pass nearest black communities. TVA trucks deliver their coal ash to a new TVA landfill built nearest predominantly black residents of South Memphis. Already home to dangerous polluters, South Memphis residents face "abnormally high" cancer rates, per a Washington Post report, and life expectancies twelve years shorter than county averages.
POA continues to challenge TVA's callous racism by coordinating researchers to measure environmental impact. Its inclusive care for black residents has attracted enthusiastic support from racial and environmental justice groups like Black Millennials for Flint and the Memphis chapter of the NAACP.
"We feel that it's disingenuous for you all to go to the state and get permission to dump coal ash in our community while you simultaneously want a [new] contract. You haven't been a good community partner and this is just an example of possibly how you're going to be moving forward…."

– Pearl Walker, Memphis NAACP, to TVA (Tennessee Lookout, 2022)
To challenge environmental abuse, POA pursues five objectives: (1) to build community advocacy for and ownership of aquifer water; (2) to improve water management in local state agencies; (3) to promote remediation of pollutants; (4) to protect aquifer "recharge zones" from destructive developments; and (5) to sustain these efforts for decades to come. In sum, POA engages common people, government officials and corporate powers to secure aquifer health for generations to come.
POA's values-based activism can serve as a model for present and future battles over clean drinking water quality across the United States. As one example, POA's successful fight with TVA proves that local, democratic and community-based organizing can defeat corporate power and municipal indifference. Given Supreme Court decisions that may rewrite a century of federal protections for groundwater, POA's mission can serve further as an essential bulwark against new legal threats to public ownership of healthy drinking water.
POA aims to return the water to the people. At the same time, they promise to care for it as model stewards of an essential resource. A2 has supported POA by matching them with expert scientists at the Environmental Protection Network. In 2022, A2 also awarded POA a community organizing grant to help subsidize their important work.
For more information:
POA media links (YouTube Videos)
POA wins TVA-contract rejection
Sarah Houston, ED in the Guardian
Timeline of initial TVA well challenge
First POA/Sierra Club press release
TVA's never-ending contract rejected
Joint statement on coal ash transport/landfill construction
Mersadies Burch
https://www.protectouraquifer.org/contact
Erosion-Subsidence, Superfund Sites, Water Contamination
Fighting Industrial Contamination, Green Infrastructure, Halting Bad Development, Nature-Based Solutions, Policy Reform