"Access to affordable, reliable transportation is essential for our education, our health and nutrition, our employment opportunities, and our participation in community life."

– OPAL Environmental Justice Oregon
For many worldwide, the advancing environmental crisis is now a crisis of mobility. In 2020 alone, natural disasters displaced over 1.7 million US residents, according to the World Bank. Another half a million were displaced in 2021. Globally, the problem was far more dire — over 23 million more individuals outside the US were displaced by natural disaster in 2021. And the problem will get worse. Per the United Nations, climate disaster alone will relocate an estimated 143 million people worldwide by 2050.
The scale of the coming climate movement surpasses imagination, but it can also obscure the present reality of climate disaster. In the US, low-income working people are most often shuffled into neighborhoods closest to toxic pollutants — especially low-income BIPOC communities. At the same time, the working poor face radical disinvestment in their neighborhoods, compounding a dearth in resources that determine individuals' freedom of movement. Most families lack the resources to move out; many lack even the resources necessary to take the bus to work. Poisoned neighborhoods become traps that spring slowly and quietly — a crisis of immobility often unseen and unheard by those who do not live it daily.
OPAL Environmental Justice Oregon (OPAL—Organizing People/Activating Leaders) was founded by a group of passionate individuals in 2005 to build power for Portland's frontline communities by organizing low-income, BIPOC residents to advocate for their rights and needs. By providing tools and resources to these communities, OPAL sought to amplify their voices and empower them to drive change from within. This grassroots approach to community organizing enabled OPAL to foster a sense of solidarity among frontline communities and to develop a shared vision for a more equitable and just future.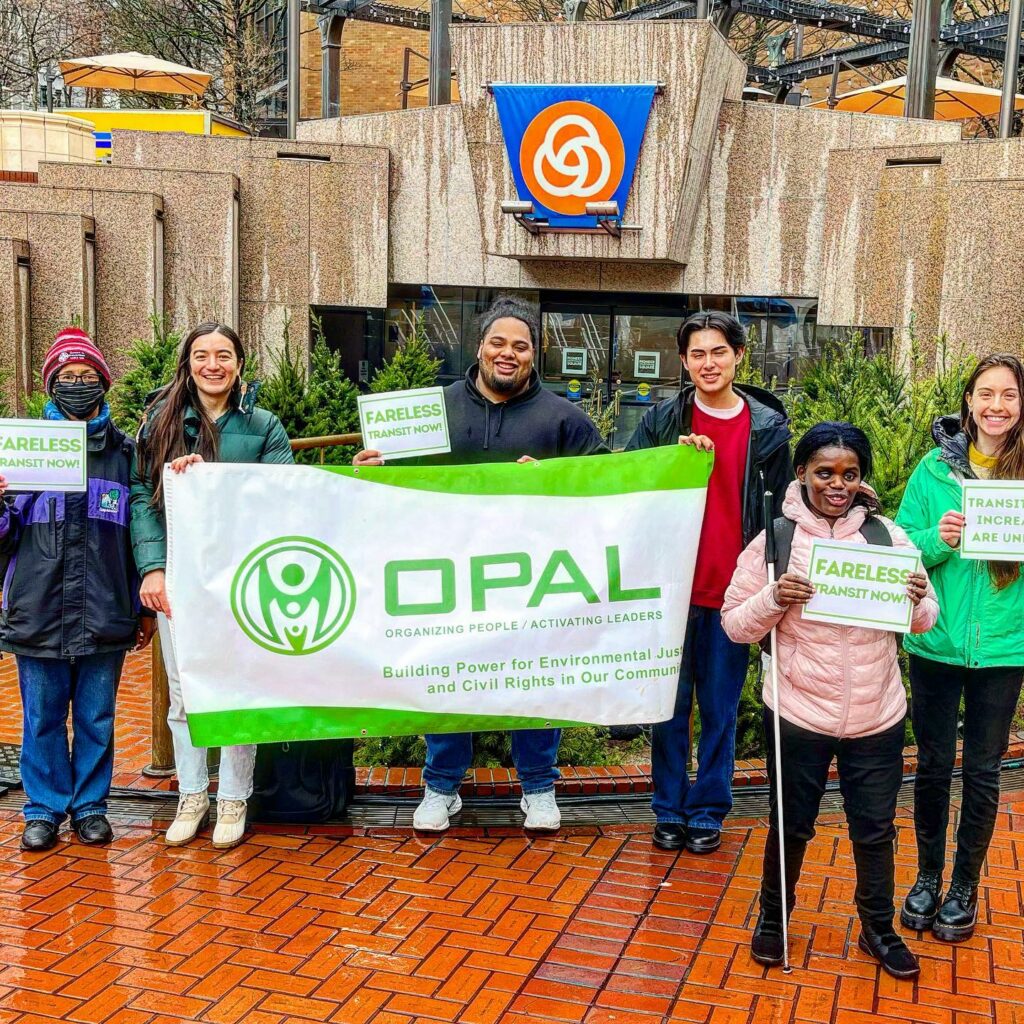 At first, OPAL focused its attention on air quality and asthma rates in BIPOC neighborhoods of north Portland. As OPAL gained recognition for its efforts, neighborhood residents shared feedback to highlight other urgent issues related to OPAL's cause, including access to equitable resources and reliable transportation in their communities. Thanks to these insights, OPAL expanded its scope to encompass civil rights, transportation and housing as part of their ongoing mission to promote justice for all.
OPAL centers frontline leadership, self-determination and solidarity in environmental justice activism, and they sustain the Principles of Environmental Justice first stated by the First National People of Color Environmental Leadership Summit in 1991. Similarly, they practice the Jemez Principles for Democratic Organizing that prioritize inclusivity, bottom-up organizing, community voice and solidarity. These principles guide OPAL's approach to organizing, and they ensure that community voices and needs are prioritized.
OPAL organizes people by cultivating and following community leaders who give voice and urgency to frontline peoples' everyday needs. OPAL and its broad constituency demand racial justice, gender justice, accessible spaces, climate justice, transportation justice and housing justice as necessary components of holistic environmental justice for all.
"We believe that it is necessary for community members who are most impacted by these issues every day—particularly BIPOC, low-income, youth, and transit-dependent folks—to organize and be heard."

– OPAL, "Our Work"
In 2005, OPAL focused on air quality problems in north Portland along the I-205 corridor. In the nearby Piedmont neighborhood, especially, majority-BIPOC residents suffered asthma rates significantly higher than the general population. Working with county officials and local groups, OPAL aimed to improve the situation. As more frontline residents became involved, transportation access arose as a major issue. Many low-income working families and BIPOC residents lived in areas with poor transit access, making it difficult for them to access job opportunities, healthcare services, and recreational activities. Their lack of mobility only worsened the cycle of poverty, further limiting access to vital community resources.
Recognizing the importance of accessible transportation as a basic human right and key to environmental justice, OPAL pivoted its focus towards transportation justice organizing. In 2011, OPAL founded Bus Riders Unite! (BRU), a union of transit riders, to promote transparency and affordability in public transportation projects. With a focus on those most impacted by transit issues, including low-income people of color, OPAL and BRU worked towards reducing fares for low-income riders, improving safety on bus and train lines, and demilitarizing the police presence on public transit.
In addition to these efforts, OPAL has worked to ensure that communities have access to safe, reliable, and affordable transportation. Through its Organizers In Training program (OIT), OPAL provides education and support for high-school aged students to pursue activism on a broad swathe of social justice issues. In 2015, an OIT cohort founded OPAL's Youth Environmental Justice Alliance (YEJA) to fight for transportation justice in East Portland schools and their broader communities. YEJA cohorts have organized around community-based social justice issues, including campaigning for free transit for all Portland students. By these efforts, OPAL is working towards a future where all communities have equitable access to transportation, an essential component of holistic environmental justice.
"We believe transportation justice is environmental justice, and housing justice, and that high quality and accessible transit and housing are civil and human rights!"

– OPAL, "Our Work"
OPAL's success in transportation advocacy has sustained and reinvigorated its first purpose: to cultivate robust environmental justice in Portland's most polluted neighborhoods. They now work to apply their advocacy model to environmental justice leadership. Recently, OPAL launched Seeding Our Liberation (SOL), a community leadership development program that focuses on local and statewide environmental justice policies. SOL members will support OPAL campaigns and participate in nonviolent direct action to catalyze change in Portland, in Oregon and across the nation and globe.
OPAL achieves its goals through community and collaboration, and its environmental justice organizing has been expansive and impressive. In 2017, OPAL launched the Oregon Just Transition Alliance (OJTA) and served as a founding member of its steering committee. Like OPAL, OJTA advocates for environmental justice with public pressure to change policy. Recently, OJTA supported three successful legislative wins in the state, including the Environmental Justice for All Bill and Emergency Heat Relief Bill. OPAL also partners with national thought leaders in the Climate Justice Alliance, Grassroots Global Justice Alliance, the Environmental Justice Leadership Forum and the Getting There Together coalition.
OPAL joins another coalition of environmental activists in 2023: Anthropocene Alliance. A2 will support OPAL's programs with connections to expert science and support for client relationship management systems. Together, we hope to build a future where working-class BIPOC neighborhoods are safe for all—and where they are not, to cultivate dignified mobility for those who want or need to leave.
For more information:
OPAL Environmental Justice Oregon, Patagonia Action Works, Volunteer Recruitment
Activists rally at TriMet offices to demand better, cheaper transit, Bike Portland, Feb.2022
Can the "whitest city in America" deliver green living for all?, Grist, May 2015
Brian Liu
info@opalpdx.org
Air Pollution, Heat, Wildfires
Environmental Justice Concerns
Air Pollution, Port/Transit/Highway Contamination/Noise
Affordable Housing, Policy Reform