Ohio Valley Environmental Advocates (OVEA) in Follansbee, West Virginia thought their community's air quality was finally getting a reprieve in 2022, when the Wheeling-Pittsburgh coke plant was shut down after a century of operation. The plant was part of the industrial development in the region that has included extraction, transportation, and burning of coal, as well as the development of natural gas drilling and processing facilities. Like many communities in the region, Follansbee and neighboring towns have faced severe environmental justice concerns from air and water pollution, soil contamination, and the health risks associated with exposure to hazardous substances and pollutants including respiratory problems, lung cancer and chronic obstructive pulmonary disease.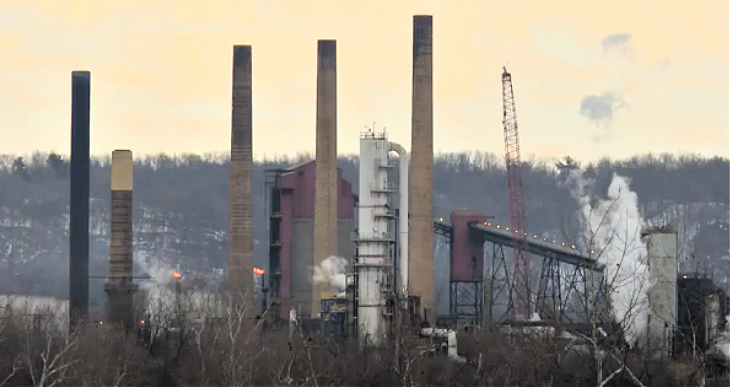 The closure of the Wheeling-Pittsburgh plant left the community with its cleanest air in generations as it pondered revitalization for the region along the Ohio River, where designated fossil fuel industrial zones have long polluted towns on both sides of the river in West Virginia and Ohio. But then developers proposed a medical waste facility for Follansbee that claimed to be a zero-emissions operation. Residents were skeptical.
OVEA's founder Frank Rocchio obtained information from the West Virginia Department of Environmental Protection, which confirmed engineers' analysis that the project's emissions numbers had been underestimated. Rocchio shared this information with the public and the Department of Environmental Protection held a town hall hearing for the air quality permit, which was attended by more than 300 people (out of a population of 2,800). In March of 2023, OVEA was able to get the City of Follansbee to join in their opposition campaign. The city announced it would file an appeal against the air quality permit that had been approved by the Department of Environmental Protection. Shortly after, owners of the facility announced they were terminating pursuit of a permit for medical waste processing.
But while the medical waste facility plans were dropped, OVEA has remained wary since the DEP conveyed that discussions were still taking place regarding a potential permit modification. "The opposition to the facility is by no means over and the community needs to remain vigilant," warns Rocchio.
"Protecting the environment and public health while advancing equity and a better economic future" is OVEA's motto as they aim to assist the underserved communities in the region. The environmental health impacts of so much industrial activity has disproportionately affected low-income and minority communities, with many in the Ohio Valley region being classified as underserved communities of low socio-economic status that often lack the resources and political power to protect their health and the environment from industrialists and developers.
OVEA's mission includes data collection and analysis of air and water emissions, as part of working for a better economy and improved public health by advancing initiatives for environmental justice and protection. OVEA has been active in this regard by working to introduce eco-industrial opportunities better suited for their populated communities, such as green energy solutions, fossil-free manufacturing, bioplastics, and hydroponic farming facilities.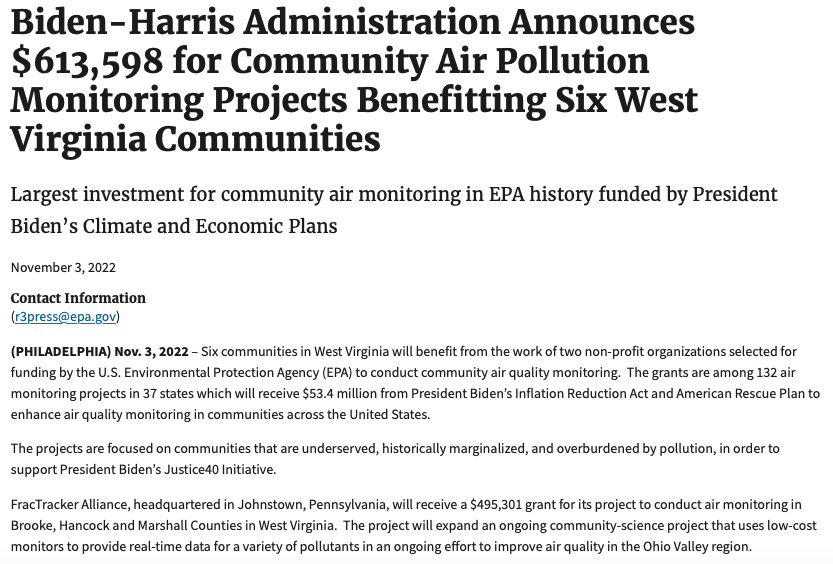 The organization is promoting legislative advocacy for brownfield remediation, infrastructural improvements, accredited youth education and development, and eco-industrial development. OVEA assisted the Fractracker Alliance in winning a grant for a project to install air monitors in the six counties where it operates across West Virginia and Ohio. These currently include Hancock, Brooke, Marshall, Belmont, Monroe, and Jefferson Counties. OVEA is aiming to be even more proactive for the community by mapping Title V facilities and providing links to permits to fight against dirty industry.
The risk of developing cancer from air pollution in the Ohio Valley region is higher than the national average, with the EPA's Air Toxics Cancer Risk Assessment estimating cancer risk of 100 incidents per 1 million people. This correlates with the concentration of industrial facilities in the area, as well as the prevalence of older, more polluting technologies and the lack of sufficient regulation of many hazardous air pollutants.
OVEA co-founder Leatra Harper is also managing director for the statewide nonprofit FreshWater Accountability Project, (also a member of Anthropocene Alliance) which is dedicated to protecting and preserving Ohio's fresh air and water for future generations against hydraulic fracturing, the planned petrochemical buildout on the Ohio River, and the impacts of climate change.
For more information:
Food and Water Watch Pennsylvania zoom presentation: "Today on the PA Update we have Frank Rocchio to give us some more information on the proposed pyralysis facility in Follansbee, WV."
Follansbee city manager, fire chief in heated exchange, The Weirton Daily TImes, April 2023
Follansbee leaders take no action on permit for proposed medical waste facility, WTOV 9, Jan. 2023
Frank Rocchio
contact@oveadvocates.org
Environmental Justice Concerns
Air Pollution, Coal/Coke Plants and Emissions, Fracking/Oil and Gas Development/Pipelines, Groundwater Contamination, Hazardous/Toxic Sites, Incinerator/Dumping/Landfill, Industrial Agriculture/Animal Waste, Mining, Noise/Light Pollution, PFAS/PFOS, Port/Transit/Highway Contamination/Noise
Art Activism, Community Farm/Gardens, Green Infrastructure, Nature-Based Solutions, Policy Reform, Renewable Energy