Native Conservancy is devoted to the protection and restoration of Native ecosystems for coastal communities in Alaska, with a focus on indigenous food sovereignty and cultural revitalization. Formed in 2003 to empower Native peoples to protect and preserve endangered habitats on their ancestral homelands, the organization aims to preserve and secure titles to Native lands in conservation trusts to guard and strengthen indigenous rights pertaining to subsistence and spirituality. Efforts include working for community resilience against climate change through regenerative-based economic activities and social enterprise programs, preservation of indigenous subsistence tradition, land conservation, and habitat restoration. As the first Native-led and Native-owned land conservancy in the United States, Native Conservancy provides a support system for the Indigenous peoples of Alaska to preserve their way of life and generate a sustainable future.
Established as a 501(c)(3) nonprofit, Native Conservancy works with Indigenous peoples and supporters to preserve the pristine habitats of Alaska against the industrial depredation of the modern age. Moved to action in the ongoing aftermath of the 1989 Exxon Valdez oil spill that devastated subsistence resources, salmon markets and fisheries, the Conservancy has been able to tap into resources from the Exxon Restoration Fund to purchase land, development rights, and conservation easements. Native Conservancy has helped preserve more than a million acres of wild salmon habitat along the Gulf of Alaska coastline to grow a movement for building resilient communities and regenerative economies to protect endangered species and cultures that depend on conservation of the wild. Partners include NDN Collective, Honor the Earth, GreenWave, Waterkeeper Alliance, the Chorus Foundation, Ashoka, White Earth Land Recovery Project, Future of Fish, and the Native Land Trust Coalition.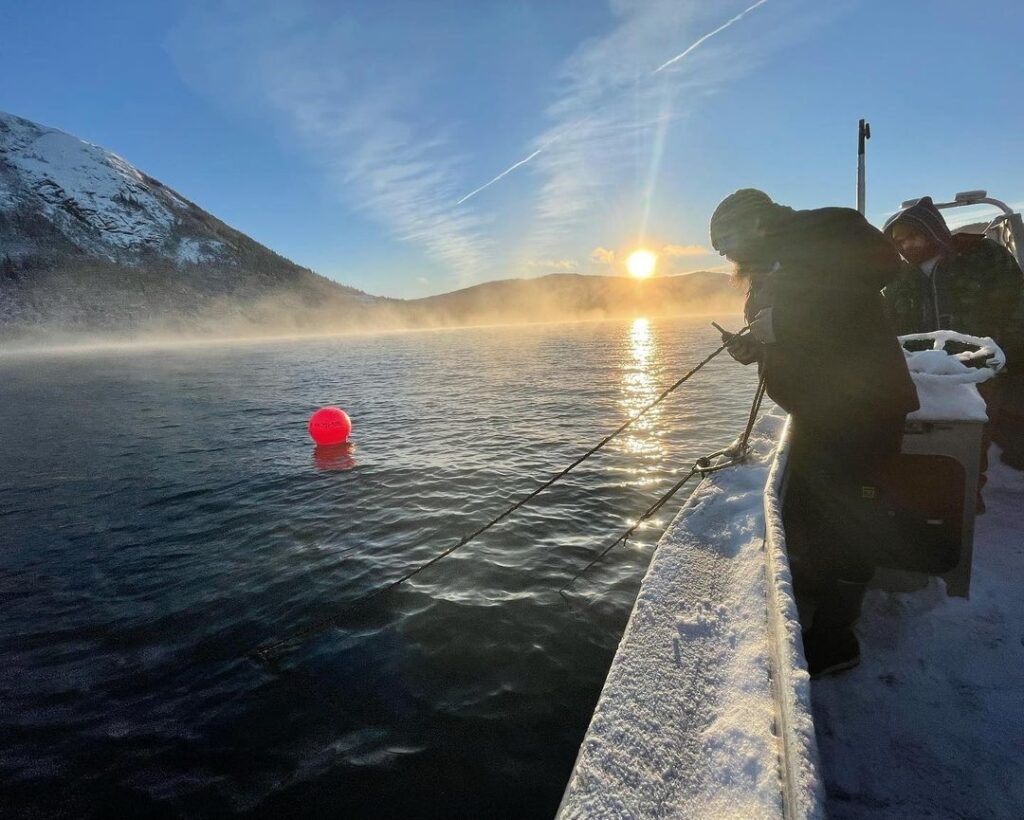 A program for community resiliency works with a network of local leaders to build out a regenerative economy. One strategy is the incubation of a kelp fishermen's collective to form Native owned kelp farms to create raw food, restore kelp in Prince William Sound, and empower indigenous ocean farmers. A related effort has been creation of a Community Kelp Seed Nursery to scale up cold storage and meet demand throughout the state. Kelp farms are also seen as a vital tool in the battle against climate change, since they can potentially sequester billions of metric tons of carbon per year according to research from the nonprofit Energy Futures Initiative.
The Landback & Land Conservation program is working to form an Eyak Community Land Trust for preservation of Eyak lands. The Conservancy is also working to protect all 3.5 million acres of the lower Copper River Delta through permanent preservation of the 11,000 acre Bering River Coalfield region, with the goal of permanently retiring these coalfields. The Oceanback & Habitat Restoration program provides immersive technical training assistance to Native kelp farmers, while also working to conserve more than one million acres of critical habitat in the Copper River Watershed and the Exxon Valdez Oil Spill Zone. The program is also working to preserve traditional Eyak lands and rivers from corporate entities targeting resource extraction.
A Boat, Land and Building Fund aims to start up a boat company to design and build high speed aluminum Landing Craft Marine vessels as multi-purpose service vessels for rescue missions, recreational trips, and commercial fishing purposes. The Conservancy is also working on forming an Indigenous Ocean Farmers fund to help future kelp farmers enter into the kelp mariculture space with grants for equipment and low interest deferred loans for business financing through the Spruce Root Loan Fund.
For more information:
Opinion: Indigenous-led mariculture and traditional economies set an example for our future – By Dune Lankard and Skye Steritz – 11/21/22
Finding our way back to the land, Grist, 5/3/22
From biblical farming practices to ancient wayfaring, these communities are reviving their cultural traditions to sustain body, mind, and planet. – 5/3/22
Indigenous climate efforts vital to fight against environmental destruction
The Land Back movement has become a climate justice tool for activists – 4/8/22
How to source, support, and scale grassroots climate solutions – 3/22/22
Seaweed Farming Has Vast Potential (But Good Luck Getting a Permit), 3/7/22
Cultivating Food Sovereignty Through Regenerative Ocean Farming – 10/8/21
Environmental Justice Concerns
Fighting Development/Destruction of Wildlife/Extinction of Species, Logging/Biomass
Art Activism, Community Land Trusts/Land Conservation, Community Organizing, Legal/permit challenges to development, contamination, pollution, etc, Nature-Based Solutions