Move Past Plastic (MPP) is on a mission to help society move away from wasteful single-use plastics and toward a regenerative economy that's more in harmony with nature. Founded in 2021 in central Pennsylvania by Tamela Trussell, MPP is a conglomeration of individuals, organizations and businesses that offer education and resources aimed at getting companies and consumers to better understand and reduce their plastic usage. MPP members also work to change ordinances and create legislation to provide alternatives to single-use plastics, while decreasing consumption and waste. As a leader in helping people understand the complexities of the single-use plastic crisis and the need for new regulations to solve this vexing pollution problem, MPP is helping Pennsylvanians generate a healthier and more sustainable world.
MPP is a grassroots organization sponsored by the TLC Foundation. The organization holds regular monthly meetings and tables at local events to educate people about how they can get away from single-use plastics and the toxic dangers of PFAS (poly-fluoroalkyl substances). This includes education about the entire plastic life cycle, as well as the environmental health threat resulting from the chemical toxicity of single-use plastics in addition to the pollution. Campaigns include asking consumers to calculate how many single-use plastic items they buy when grocery shopping and accept a challenge to reduce the percentage of single-use plastic items purchased; encouraging voters to write to Congress to urge opposition to exemptions and special treatment for so-called "chemical recycling"/plastic burning technologies and plastic waste; and asking the EPA to ban vinyl chloride after the horrific chemical disaster in East Palestine, Ohio.
MPP is also working with public officials and legislators to support the Break Free From Plastic Pollution Act. Other solutions offered include online marketplace stores with plastic-free packaging, plastic alternatives for the bathroom and kitchen, and a variety of campaigns to raise awareness about how consumers can make alternative choices to plastic for a healthier lifestyle. MPP cites one report indicating that the average person consumes and inhales five grams of plastic per week, which is equivalent to consuming a credit card. MPP also works to debunk the myths of recycling, which is deemed a false solution to plastic pollution in shifting much of the burden onto consumers while failing to promote consumer responsibility.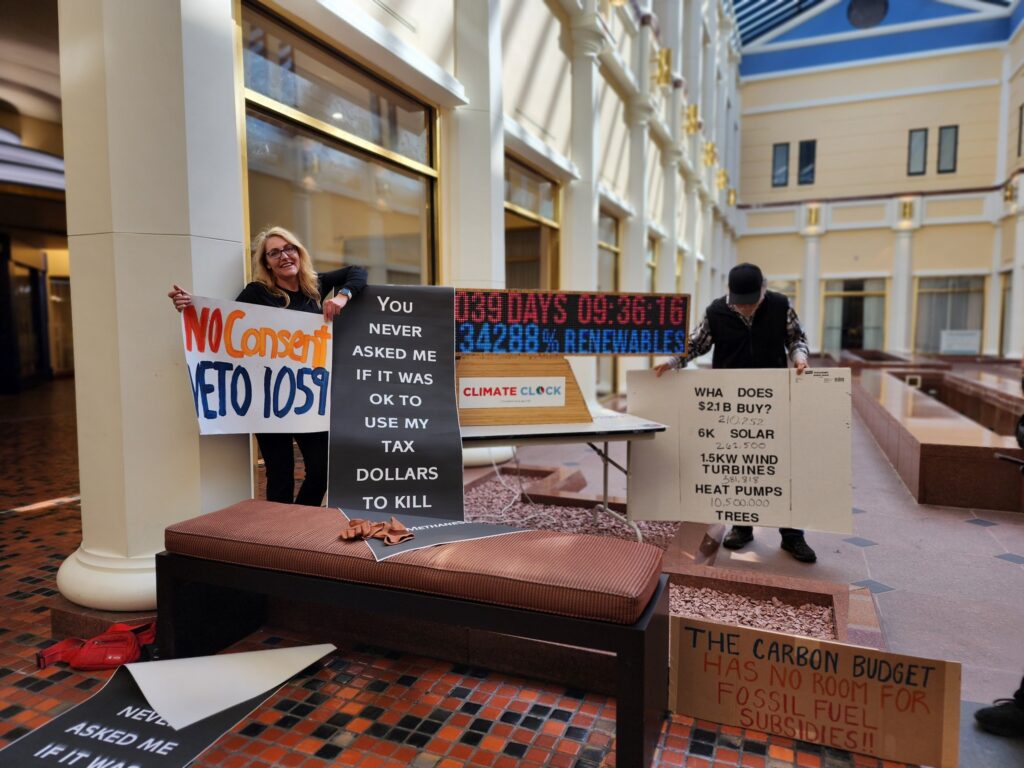 Accomplishments in 2022 included more than 30 petition campaigns; three published letters to the editor in local news outlets on protecting youth from artificial turf, understanding bag reduction ordinances, and the need to stop using plastic bags; a PFAS campaign with more than over 150 partners engaging municipalities in testing of drinking and wastewater for PFAS in 15 states and six countries; and spearheading a "Plastic Take Back" letter writing campaign to Walmart and Giant Stores asking them to take actions to reduce single-use plastic packaging.
MPP has also helped lead a "Climate Clock" campaign with 60+ partners to raise awareness about global warming and Pennsylvania's role in energy production that impacts climate change. This includes how solving the plastic pollution problem can help mitigate climate change, with MPP noting that researchers from the Intergovernmental Panel on Climate Change have estimated that plastic production and disposal resulted in 850 million tons of greenhouse gas emissions in 2019 and could be responsible for up to 2.8 billion tons by 2050.
MPP partners include the Conodoguinet Creek Watershed Association, the League of Women Voters of Pennsylvania, Artists 4 Earth, and Beyond Plastics, a nationwide project launched at Bennington College in Bennington, Vermont that connects environmental policy experts and grassroots advocates to advance the movement to end plastic pollution.
For more information:
Plastics recycling plant proposed for Susquehanna shoreline – Bay Journal, April 2023
Action needed to combat plastic life cycle – The Daily Item, March 2023
In Pennsylvania, Home to the Nation's First Oil Well, Environmental Activists Stage a 'People's Filibuster' at the Bustling State Capitol – Inside Climate News, March 2023
STREAM OF CONSCIOUSNESS: Moving Past Plastic – The Shippensburg News-Chronicle, November 2022
Taking Plastic Packaging BACK to the Store to Push CEOs to Skip Single-Use Plastic – Beyond Plastics, August 2022
Drought, Earthquakes, Erosion-Subsidence, Flooding, Heat, Hurricanes, Superfund Sites, Water Contamination, Wildfires
Environmental Justice Concerns
Air Pollution, Fighting Development/Destruction of Wildlife/Extinction of Species, Fracking/Oil and Gas Development/Pipelines, Groundwater Contamination, Hazardous/Toxic Sites, Hypoxia (Oceanic Dead Zones), Incinerator/Dumping/Landfill, Industrial Agriculture/Animal Waste, PFAS/PFOS, Sewage/Sewage Treatment, Superfund Sites
Art Activism, Community Farm/Gardens, Community Organizing, Legal/permit challenges to development, contamination, pollution, etc, Policy Reform, Risk mapping and/or monitoring e.g. flooding/contaminants etc