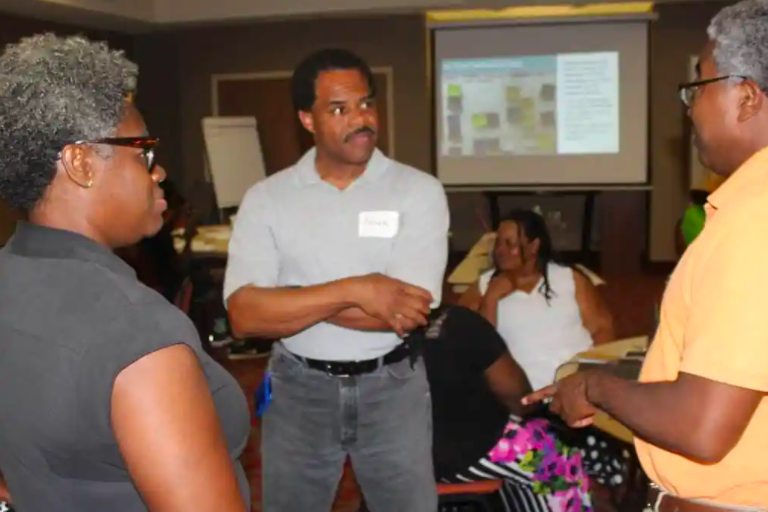 For decades, flooding in Duck Hill, Mississippi was considered a horrible inevitability, according to lifelong resident Shernell Everett. "This whole front street here, when it rains it would just be like a river," she said.
The small, predominately African-American community got used to their antiquated drainage system leaving up to 15 inches of rainwater on street corners for days.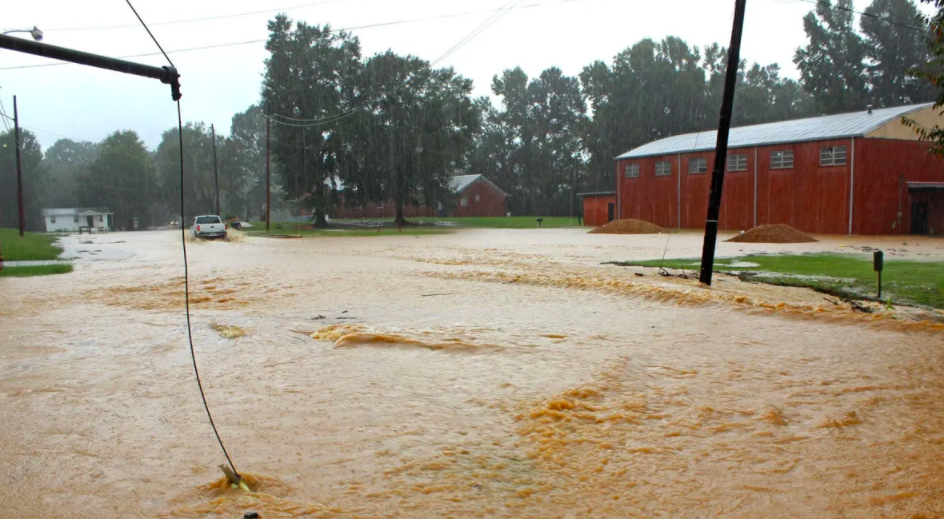 Everett couldn't imagine a rainy day in Duck Hill that didn't result in flooded cars, homes, and businesses.She also couldn't imagine herself a county alderman or community organizer. But that all changed in 2018 when she met Romona Taylor Williams.
Williams is the executive director of Mississippi Communities United for Prosperity, formerly known as Montgomery Citizens United for Prosperity (MCUP). Following a distinguished career in St. Louis, she moved to Mississippi, devoted to getting people to "see sustainability through the lens of equity." Her dream was to bring together the change makers – resources such as scientists, educators, engineers – and the communities in need to effect authentic, lasting change.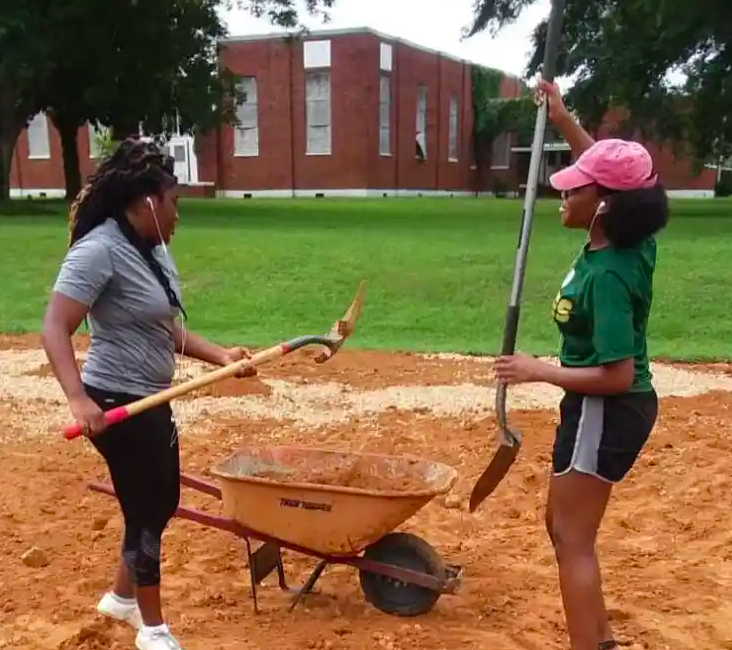 "I strongly aspire to the idea that traditionally excluded populations are best served when they are provided with the intellectual and financial resources to transform their places and spaces," she said. "Giving them the tools and ammunition to confront the powers that be and effectively communicate their demands is key to their success."
She founded Achieving Sustainability through Education and Economic Development Solutions (ASEEDS), an initiative of MCUP, and her dream is becoming a reality. With Duck Hill as the site of a 2-year pilot program, ASEEDS set out to build a culture of health, trust, and sustainability through collaborative problem solving. To grow community engagement and trust, they used EPA's Seven Elements of Collaborative Problem Solving.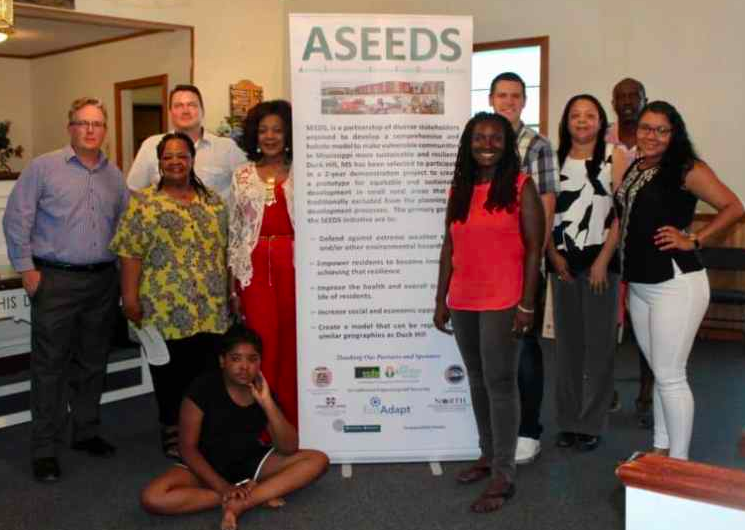 The initiative brought profound change to the community. ASEEDS hired and trained residents to install over a thousand feet of gray and green infrastructure on Main Street, as well as a water diversion system at the often flood-damaged community gym. For the first time in memory, the town no longer floods.
ASEEDS partnered with EcoAdapt to educate residents about climate change, adaptation and resiliency. From that collaboration came the Duck Hill Community Climate Assessment, Adaptation and Resiliency Plan that was adopted by the Montgomery County Board of Aldermen. As well, resident and MCUP Board Co-Chair Shernell Everett was elected to the Montgomery County Board of Alderman.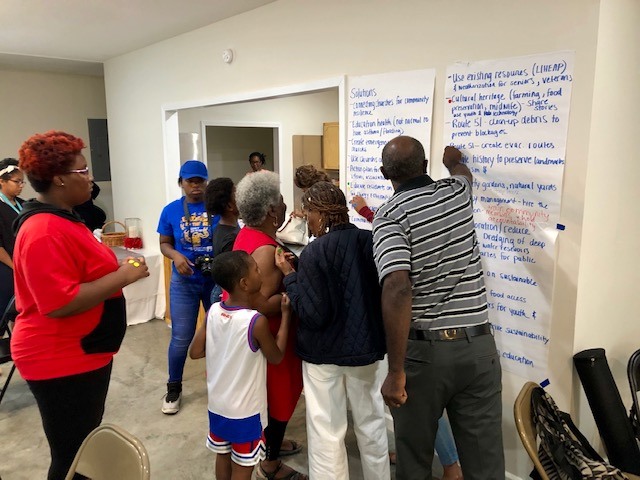 Recognizing the closest access to fresh food was 15 miles away, ASEEDS developed the Duck Hill Local Food and Economic Development Action Plan supported by a grant from the EPA Local Foods Local Places Technical Assistance Program. In the works are a community garden, community farm, and a farmers' market.
One of the proudest achievements of MCUP's work in Duck Hill is the ASEEDS Creek Rangers. Youth ages 12-18 are trained in natural resource stewardship focusing on creek restoration, flooding mitigation, and leadership development. As well, they participate in a S.M.A.R.T. curriculum to improve their academic performance in science, math, art, reading and technology. Their first green infrastructure project was the build out of a large green space that routinely flooded and turned into a fetid pond. With Professor David Perkes of MS State University College of Architecture, Art + Design, they created an attractive green space planted with native water-absorbing and pollinator-attracting plants. The area no longer floods.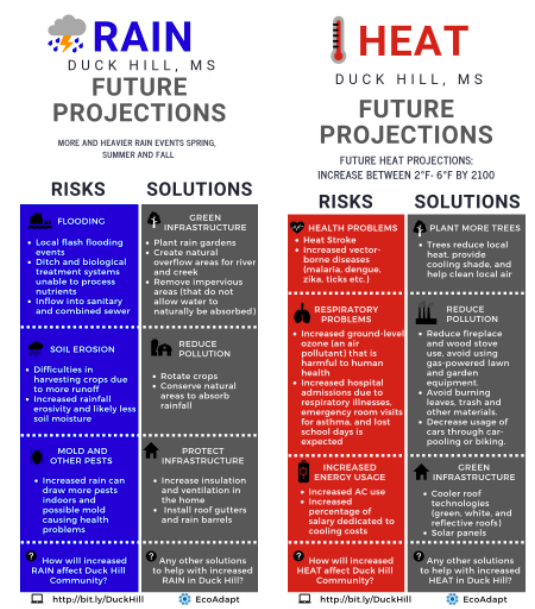 Romona Taylor Williams and the Mississippi Communities United for Prosperity see the successes of Duck Hill as those which can be replicated in many communities and they are dedicated to creating a pipeline of leaders. Currently, they have leaders in five Mississippi counties "bringing science and community together," according to Williams.
"My people came up in the Mississippi Delta and sadly today things aren't much different from my grandparents' and great grandparents' time," Williams said. I have an ancestral responsibility to fight the fight my ancestors couldn't fight."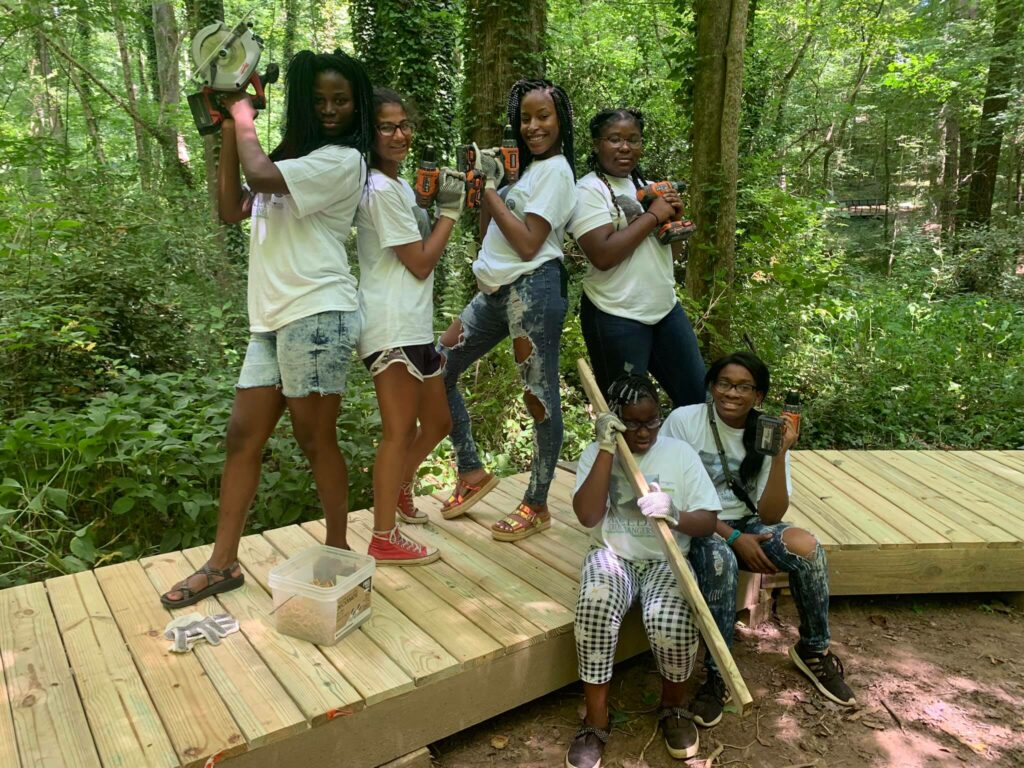 Written by Kerri McLean
Links
Preventing Next Water Crisis: Mississippi Should Rebuild Infrastructure With Resident Input, Mississippi Free Press, by Dr. Tracee Smith and Romona Taylor Williams, Oct. 2022
Race Matters, by Romona Taylor Williams, Medium, May 27,2002
Duck Hill MS: Youth vs. Flooding, City Climate Corner Podcast, Interview Creek Ranger Mersie Watkins, and Romona Taylor Williams, Executive Director of Montgomery Citizens United for Prosperity, October 12, 2021
Tired of Constant Flooding, Tiny Duck Hill Mississippi Revitalized Their Community by Making it More Resilient
Duck Hill, Mississippi Is on the Rise
How Some Mississippi Teens Are Saving Their Town from Climate Change
Affordable Housing, Community Farm/Gardens, Fighting Industrial Contamination, Halting Bad Development, Nature-Based Solutions, Renewable Energy