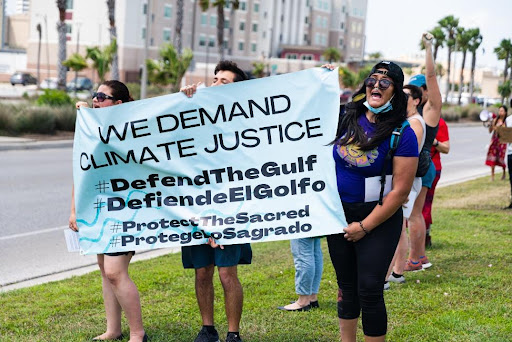 When Corpus Christi issued a series of boil water notices in May of 2016, it was frightening – yet not entirely surprising.
According to city officials, a "backflow incident" at an industrial property caused an asphalt emulsifier to be injected into the city's water system. Residents went weeks without safe tap water, some unable to afford adequate bottled water, and the city manager resigned.
But Corpus Christi's water problems were not new, nor were they solved.
The city's infrastructure had not kept pace with growth, and the proximity of industrial pollutants to fragile water systems was – and continues to be – fraught with danger.
Corpus Christi is an oil hub city seeking expansion, and with that comes more pipelines, more oil and natural gas export, more waste dump sites, and more pollution. What doesn't come with the expansion is clean water, green spaces, affordable housing, and food security.
Tired of seeing her community ignored by city officials and business giants like the fossil fuel industry, Love Sanchez launched Indigenous Peoples of the Coastal Bend (IPCB). The intertribal group, which includes the Karankawa Kadla, Lipan Apache, Mexica, Comanche, and Coahuiltecan, is dedicated to protecting their ancestral homeland's history, environment, and its people. Sanchez, along with outreach specialist and community organizer Dorothy Pinea, is particularly focused on fighting industrial contamination and development.
The group's current mission is halting the expansion of an oil export terminal and pier owned by Enbridge near McGloin's Bluff, where the Karankawa lived and upon which over 40,000 Karankawa artifacts have been found. Enbridge, the largest transporter of crude oil, natural gas, and natural gas liquids in North America, now plans to build a seawall pipeline to transport tar sands from Houston to the Corpus Christi pier for export. The expansion will unearth and destroy more artifacts of Karankawa ancestors and damage environmentally rich marshlands.
In 2021, IPCB joined Karankawa Kadla Tribe of the Texas Gulf Coast, and Ingleside on the Bay Coastal Watch Association to file a federal lawsuit against the U.S. Army Corps of Engineers for issuing a permit for the expansion into an undeveloped area sacred to local Indigenous people, without addressing environmental and community concerns as required under the National Environmental Policy Act and the Clean Water Act. The expansion is currently on hold pending resolution of the suit, but IPCB doesn't expect the fight will be over.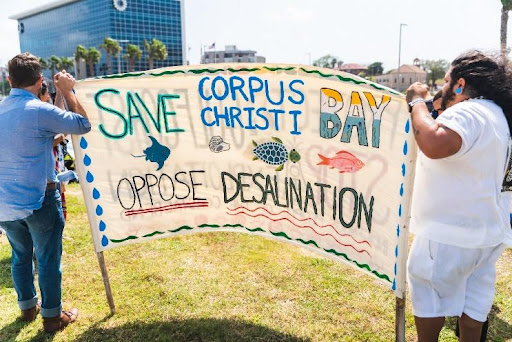 Another threat to Corpus Christi's environment is the Harbor Island Desalinization Plant Project. While city officials and port authority argue over which entity will benefit from the sale and use of the water from the proposed plant, IPCB sees a much bigger problem.
Despite claims that the desal plant will alleviate the area's water woes, in fact, water quality would suffer for people and aquatic life as well. Desalination plants displace waste and increase salinity of the water which will affect the vital brackish and freshwater habitats in the area.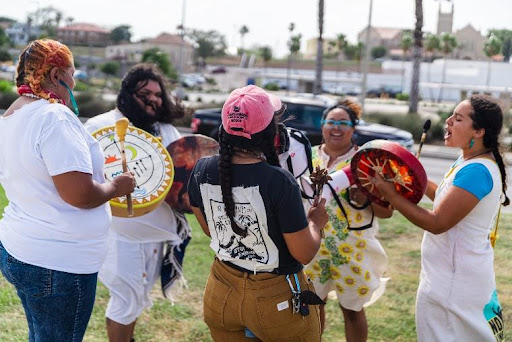 Written by Kerri Mclean
For more information on the work and issues facing Indigenous Peoples of the Coastal Bend:
Indigenous Peoples of the Coastal Bend
Indigenous Peoples of the Coastal Bend | Facebook
@IndigenousPeoples361 | Linktree
Indigenous Peoples fighting to protect Karankawa settlement (kristv.com)
Indigenous People | Museum of the Coastal Bend | Victoria, TX
Karankawa Kadla protest Enbridge Terminal expansion – Indian Country Today
Coastal Bend residents celebrate Indigenous Peoples' Day | kiiitv.com
Love Sanchez
IndigenousPeopleCoastalBend@gmail.com
Donations via Paypal
IndigneousPeopleCoastalBend@gmail.com
Air Pollution, Erosion-Subsidence, Hurricanes, Sea Level Rise, Water Contamination
Art Activism, Community Farm/Gardens, Community Land Trusts/Land Conservation, Community Science, Direct Relief and Aid, Fighting Industrial Contamination, Halting Bad Development, Policy Reform