Flood Travelogue – Pensacola, Gulfport, and Biloxi
Harriet and I recently returned from a week-long road trip to Gulfport and Biloxi Mississippi.  I'd only been to Mississippi a handful of times before, on the way to somewhere else, and had few impressions of the state. What I knew of it was mostly limited to national politics – it's overwhelmingly Republican – and a childhood memory concerning the notorious murders in 1964 of three civil rights workers, James Chaney, Andrew Goodman and Michael Schwerner in Philadelphia, MS.  The latter two were from New York City, as I was, and their deaths led to an outpouring of grief in Jewish families like mine. Terrible as they were in themselves, the murders somehow triggered thoughts of the Holocaust, a catastrophe still fresh in collective memory.
Harriet and I travelled without trepidation.  We'd been invited to attend a community meeting of flood survivors in Gulfport, so we knew we'd be welcomed. We also planned to go to nearby Biloxi and visit with Gordon Jackson, an environmental coordinator with the local NAACP. The weather was fine, the route was straightforward, and our dog came along with us. Her name is Echo, she's 11 years old, and sometimes assists Harriet, who is partly deaf. I say sometimes, because though she's very good at barking loudly to let Harriet know if the phone rings or someone is at the door, she also barks when nobody is at the door, as well as at friends, family members and really, almost everybody she meets. Travelling with her can be a challenge.
The trip from our home in Micanopy, Florida — a sleepy, picturesque town south of Gainesville – to Gulfport is about 475 miles. The route takes you north and west through the Florida panhandle, and then into coastal Alabama and Mississippi. We mostly took the I-10 freeway. It isn't fabled, like Route 66, but is epic in its own way. It travels almost 2,500 miles from Jacksonville to Santa Monica, and every driver who knows that fact, feels the freedom of the road and the lure of the coasts. We drove less than 1/5th that distance, and tried to get off the road, from time to time, to get a better look at the landscape than is possible from six lanes of asphalt divided by a grassy median strip.
Gulf coast roads are mostly flat, but the ecology changes pretty dramatically as you travel west, and you can see it from any road, including the interstate. There's dry Sandhill near Gainesville, with Long Leaf Pines and wiregrass, and Moist Uplands further north and west, with Magnolias, Oaks, Maples and other hardwoods. The western Panhandle of Florida has more Longleaf Pine and Wiregrass, and is what's called an "ecological hotspot" for all its floral and faunal diversity – there are 27 species of frogs and 42 of snakes in the region. You obviously can't see much of that from the road, but when we crossed the Choctawhatchee River near DeFuniak Springs, I saw a Pileated Woodpecker swoop across the road, and briefly imagined it was an Ivory Bill. It was near here in 2006, I knew, that researchers from Auburn University and the University of Windsor claimed to see the bird — long presumed extinct – and hear its distinct call. Most ornithologists now reject the sightings, but you never know.
Our first stop was Pensacola, Florida to meet up with Gloria Horning, who is Vice President of The Tanyard Association, named for the historic African American community in which they live. Gloria herself isn't Black, but most of her neighbors are, and she heads the Environment Committee of the local NAACP. Gloria is a handsome, heavy set woman of about 60, round-faced, with a voice like a coffee grinder. She's also funny, confident and brave. We met her at her gaily painted shotgun shack, which faces a vacant, partly flooded field where hundreds of homes are slated for development. If they are built – and Gloria is trying to stop it — they'll be raised up a few feet to protect them from storms and high tides, but at the same time increase the likelihood of flooding everywhere else in the Tanyard. "Beggar thy neighbor" is the prevailing development ethic in the age of climate change.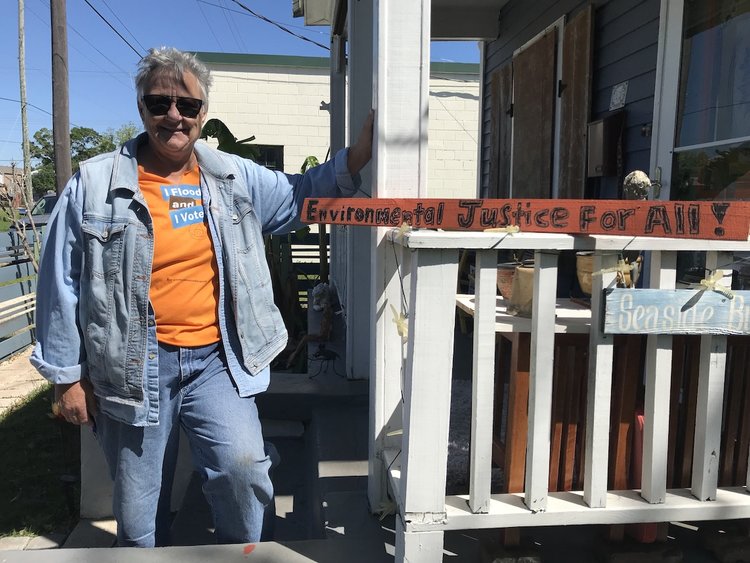 Harriet has been meeting with Gloria monthly for almost a year to discuss the persistent flooding in her neighborhood, and the equally devastating gentrification that's driving away long-time residents. It's a version of what Naomi Klein called "disaster capitalism": A human-induced catastrophe (bad infrastructure plus global warming) pushes working-class folks from their homes, and allows developers to scoop up what's left on favorable terms. The houses are then demolished and new ones built, to be sold at high prices to much wealthier people – usually white – from other neighborhoods or regions.
As with other community leaders, we've matched Gloria with a scientist to help her and the Tanyard Association challenge – through documentation and court papers — greedy or corrupt politicians and developers, and save their cherished neighborhood. She has made decent progress organizing her neighbors and getting them to record what they see. And as we walked the streets, we could see the secret to her success. Gloria knew almost everybody by name, gave out (and received) lots of hugs, and when she saw anything that looked wrong, she intervened, as if she were the local cop on the beat.  At one point, Gloria spied from a block away a pair of burley men wearing work-belts and vests, and wielding power saws. They had begun cutting down a tree in an alley.  She walked over and demanded to see their permit. When they couldn't produce one, Gloria insisted they stop. And they did! In the fight against flooding and global warming, chutzpah counts.
After Pensacola, we drove west on the I10 across the Florida border into Alabama, then crossed Mobile Bay, a vast but shallow estuary of the Gulf of Mexico. On August 28-29, 2005, Hurricane Katrina sent a 16-foot surge of water into Mobile Bay, flooding the city of Mobile and many surrounding communities. Gulfport, about 50 miles to the west, was also slammed. It hugs about 10 miles of Gulf coast, and suffered storm surges as high as 28 feet. The damage was extensive, and the evidence is still visible. There are numerous vacant lots along Rt. 90 across from pretty, white sand beaches. A little further inland, the houses are smaller but the pattern is the same: empty lots in the urban fabric, like gaps in a mouthful of teeth.
In Gulfport we first attended a public meeting convened by Katherine Egland, who chairs the NAACP National Environment and Climate Justice Committee. She's trying to protect from flooding two, historic African American communities, which we later visited: Turkey Creek, which dates to 1866, and Forest Heights, which was established exactly 100 years later. Both are remarkable in different ways. The first was settled by emancipated slaves, and contains numerous houses dating to the late 19th and early 20th Centuries, including shotgun-shacks and Craftsman Bungalows. It's a small community, beautifully nested among Live Oak, Wax Myrtle, Sparkleberry and other native trees and shrubs, and bordered on two sides by meandering Turkey Creek and the larger, tidal Bayou Bernard.  The area is naturally prone to flooding, but more so now that it's hemmed in on its two other sides by industrial, commercial and transportation development. An airport and a shopping mall are terrible at absorbing heavy rain, but excellent at feeding runoff into adjacent rivers and creeks, and into the basements and first floors of nearby homes. The planned expansion of Route 49 which leads directly to Gulfport Harbor, would make future flooding even worse.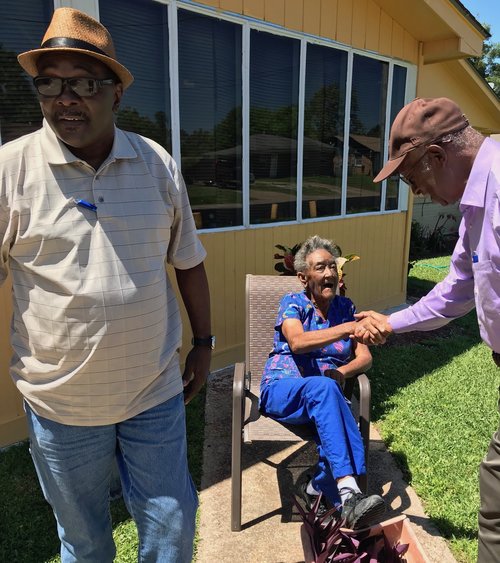 Forest Heights, located north of Turkey Creek (the waterway), is a housing subdivision created in 1966 by the National Council of Negro Women, with support from HUD and the Ford Foundation. It was a Great Society initiative, intended to showcase the virtues of both racial integration and private home ownership. About 200 hundred houses were built on 100 acres of land, and only married couples with children could purchase the mortgage-subsidized homes. Buyers were required to take a class in home
economics and pledge to follow strict rules about behavior and upkeep.  Watching a promotional film for the subdivision today is painful, but in its day, the subdivision must have seemed a godsend to Black residents. The state was governed in 1966 by Paul B. Johnson Jr., a segregationist who in June 1964 dismissed even the possibility that Chaney, Goodman and Schwerner had been murdered, saying: "Maybe they went to Cuba?" (Their bodies were discovered in August.) By 1966, Johnson began to moderate his views as a result of Mississippi's bad, national image and deteriorating business climate.
Today, Forest Height too is threatened by flooding due to development of wetlands, global warming, (more intense rainstorms) and poor maintenance of the Turkey Creek levee. At the meeting in Gulfport, residents, many of them elderly, asked politicians and local representatives of the Army Corps of Engineers what they proposed to do to save both Turkey Creek and Forest Heights from increased flooding due to irresponsible building and global warming. The answer was basically: "We have a plan, but we need congress and the president to fund it." Anthropocene Alliance has just begun a campaign called The United Flooded States of America, (complete with flag – see below) intended to put pressure on local, state and federal elected officials to make flood mitigation – including action on climate change – a top priority.

The final stop on our Southern tour was Biloxi, a fine old southern town, also located on the Gulf, and also badly damaged by Katrina in 2005, as well as Hurricanes Isaac in 2012 and Nate in 2017.  The city is graced with an internationally significant art museum designed by Frank Gehry, and dedicated to the early 20th Century artist George Ohr, known as the "mad potter of Biloxi." He was, hands down, the greatest ceramic artist of his age, and the museum is a fitting tribute. We were relaxing and enjoying the exhibits when the museum announced it would close early in anticipation of a coming storm.  This wasn't a hurricane, just a new-normal band of thunderstorms with 50 mph gusts, dumping 3-4 inches of rain in as many hours.
The next day, Gordon Jackson took us on a driving tour of the old sections of African American Biloxi. There again we saw the telltale vacant lots amid the urban fabric, and houses in poor states of repair, the result of former flooding events as well as poverty.  We'll try to help Gordon as he organizes residents in his community, but the challenges are many and resources few.
In Shakespeare's Hamlet, King Claudius complains to his wife Gertrude, "When sorrows come, they come not single spies, but in battalions." The line came to mind as we drove back to Micanopy from our visits to four flood-survivor communities in Mississippi and Florida. It wasn't just frequent flooding that was hurting the folks in these historic, mostly Black areas, it was also poverty (little accumulated wealth), poor health, discrimination, and disenfranchisement.  It isn't "a single spy" that wrecks a family, or a community, it's a "battalion."  To understand this better, let's return for a moment to the case of Gulfport. There, the poverty rate of whites is about 15%, while that of Blacks, Native Americans and Latiinx is about 26%.  42% of children in the city grow up in poverty, a disproportionate number of them non-white. Unemployment is more than twice as high for non-whites as whites. And health care disparities are equally great. Four times as many white as Black Medicare enrollees are treated for their diabetes, and more than five times as many elderly white women than Black women receive preventative health services. These differences exist despite the fact that Whites and Blacks in Gulfport graduate from local colleges in numbers proportionate to their population.
In fact, economic inequality in Gulfport, Biloxi, and elsewhere in Mississippi and Florida, continue to grow among all ethnicities, but especially between Black and White, despite the narrowing of the educational divide and rising worker productivity. Racism in Mississippi may not be as virulent as it once was, but it is still powerful and can even be deadly, when you consider the health-access disparities and the impacts of flooding. Voter disenfranchisement and gerrymandering are two reasons why non-white communities there and in Florida are politically and economically disadvantaged, why they are more likely to get flooded, and why they are less likely to get local, state or federal help.
So, it turns out that the flood survivor communities we are working with are not victims of natural disasters. They have actually been specifically targeted by politicians and developers because they have few economic and political resources with which to resist. The struggle against environmental abuse and climate change must therefore occur at multiple levels. That's why we partner with experts in the fields of engineering and hydrology, housing and urban planning, law, insurance, health and social services. And it's why we are always looking for new alliances with environmental justice organizations wherever we work. We now have 45 Higher Ground, flood-survivor communities in 20 states, and have become the largest flood survivor network in the country. That means we'll soon need to hit the road again, to talk to front line communities who are trying to save themselves – and the rest of us – from flooding, environmental abuse and the growing impact of climate change.
Newsletter Sign Up
Don't miss any of our newsletters! Click the button to sign up!