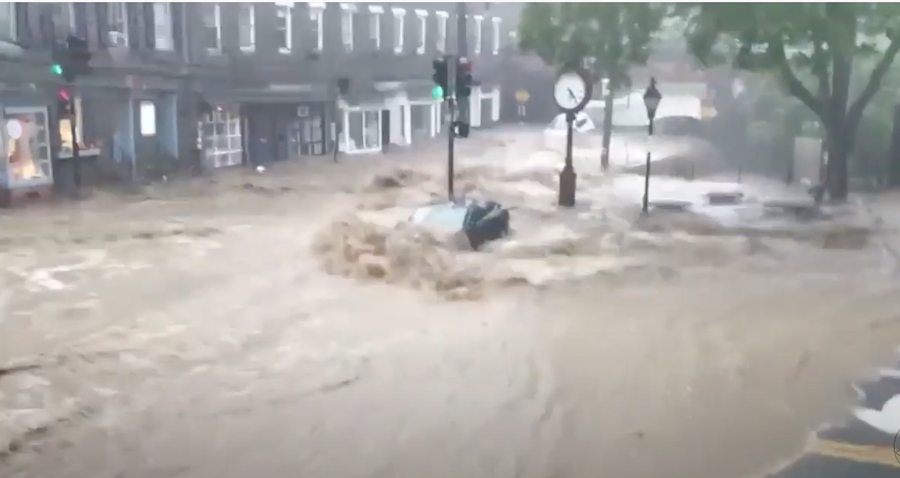 Ellicott City, Maryland made the news in a way that no city wants to, more than once. On July, 30, 2016, a one in 1,000-year flood event, dumping over 6 inches of rain in two hours, turned the city into a disaster zone.
"The 2016 flood killed two people, damaged 90 businesses on historic Main Street and left the Howard County landmark with more than $22 million in damages. Overall, the economic hit totaled $67.2 million to businesses." (BizJournals, May 28, 2015)
Then, less than two years later, with repairs and renovations nearly finished from 2016, another flash flood event devastated Ellicott City on May 27, 2018 with 8 inches of rain. The residents of the city felt numb facing the unthinkable destruction of everything they had rebuilt.
In her article for Strong Towns, Mary Catherine Walter notes, "These two recent floods were unique… because instead of flowing up from an overfilled river, the water flooded downhill towards the Patapsco from where the Tiber River and other tributaries converge."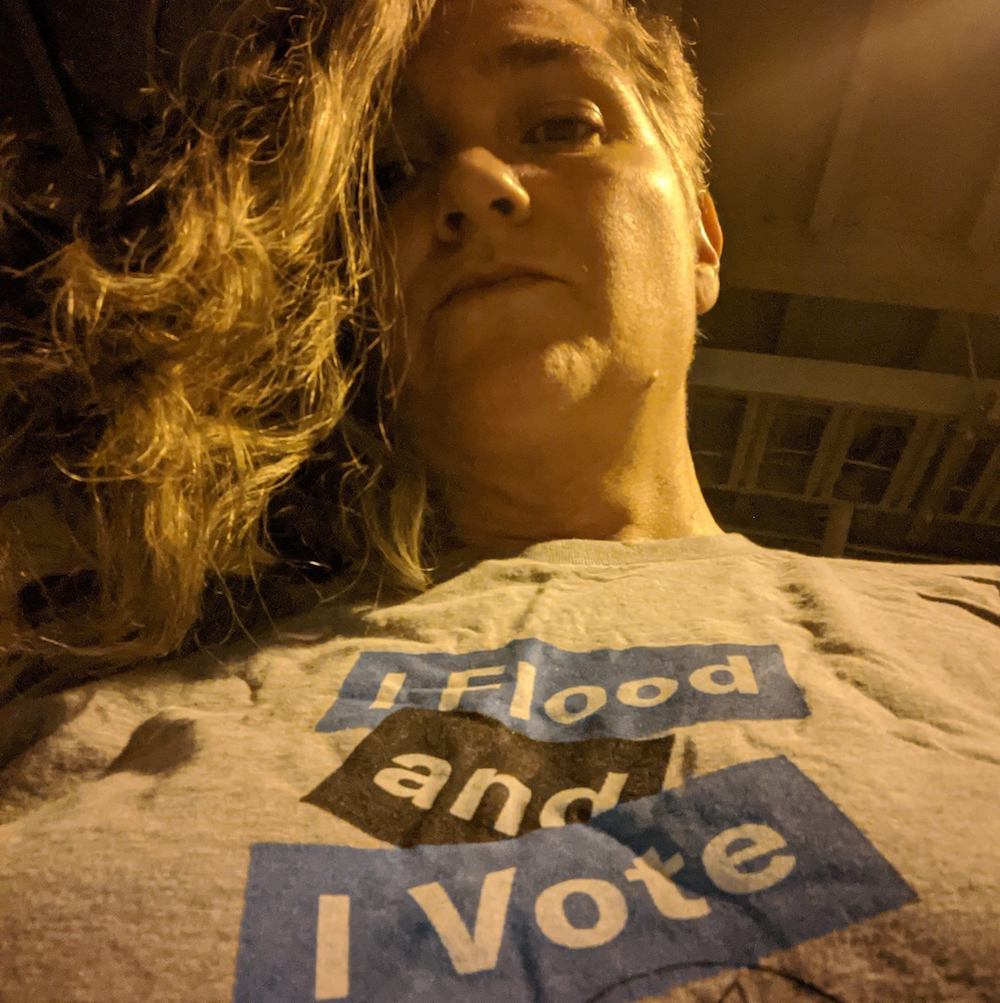 Gayle Killen had lived in her home in Ellicott City since 2010 and has survived three floods. When friends or family have asked her why she stays, she says, "I tell them this place is worth sticking around and working for." And work she did.
By August 2020, "County officials…proposed [installing] more and larger culverts to keep streams from overflowing their banks and also [adding] a large tunnel so floodwaters will bypass the strip of shops, eateries, offices and homes. In addition, they want to remove four historic buildings that sit atop one flood-prone stream and remove the backs of six others sitting in the floodplain." Bay Journal, August 2020
Residents were horrified at this solution. The historic buildings of Ellicott city are part of its fiber and hold the stories within their walls. Ellicott City Flood Solutions advocated for a way to keep the buildings and their persistence worked.
In March 2021, "Howard County Executive Calvin Ball announced changes to the Ellicott City Safe & Sound plan that would extend the North Tunnel, eliminating the need for the previously planned flood mitigation projects for the West End of Ellicott City…The extended North Tunnel also negates the need for any building removal on the West End, saving at least nine buildings previously slated for demolition."
Business owner, "Angie Tersiguel stated, 'We all play a significant part in the respected and admired legacy that is Ellicott City. We must do all that we can for both our ancestors and our descendants to protect historic Ellicott City.'"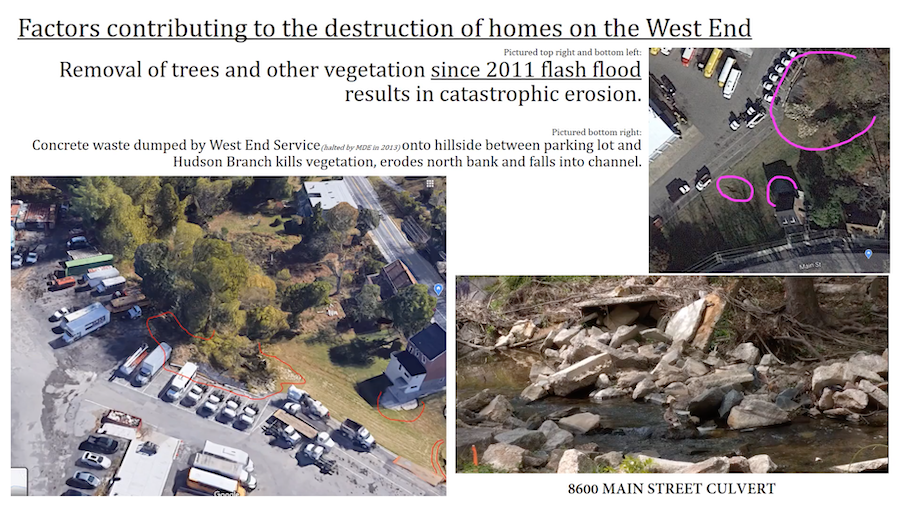 Thanks to the support of the Thriving Earth Exchange of the American Geophysical Union, Gayle will soon be matched with a pro bono scientist who can help her explore and advocate for green infrastructure solutions to the flooding.
Meanwhile, Gayle and the residents of Ellicott City can find healing in maintaining the character and uniqueness of their community, in helping the families who owned those buildings that had been slated for demolition keep their generational wealth and together, plan for the future. They are continuing to stay vigilant to make sure current plans are the best possible solution for Ellicott City.

Written by Michele Gielis
Links
Howard County to extend North Tunnel in Ellicott City flood mitigation plan, The Business Monthly, March 30, 2021
Let's Work to Save Historic Ellicott City, Urban Yogis (date not noted)
Hard choices in Ellicott City flood plan as public weighs in, Bay Journal, August 10, 2020
Ellicott City flood plan will demolish 4 buildings, add tunnel for overflow, Biz Journals, May 13, 2019
Ellicott City's Flood Mitigation Plans Would Be a Disaster in Their Own Right, Strong Towns, September 17, 2018
Ellicott City flooded again. Was this a man-made or natural disaster?, Greater Greater Washington, June 12, 2018
A 1,000-year flood in Maryland shows the big problem with so much asphalt, Grist, June 5, 2018
DISASTER ZONE | Ellicott City residents struggle to recover, Fox News Baltimore, May 30, 2018
Halting Bad Development, Nature-Based Solutions