The Native Village of Dot Lake is a community and Upper Tanana Athabascan (Federally recognized) tribe in Alaska with approximately 140 residents, amidst 69,000 acres of wilderness. The village site was established in 1940, though archaeological evidence at nearby Healy Lake reveals more than 11,000 years of human habitation in the region. The community has been dealing with multiple sources of toxic contamination, primarily from military dumps in the region including a former nuclear missile site.
There's also been pollution from an oil and gas pipeline that parallels the Alaskan highway, as well as a recently shut down meth lab in the village. Details on the extent to which these sites have been cleaned up – and the impacts that they may still be having on residents – have been difficult for residents to come by.
The SM-1A Nuclear Power Plant near the active Fort Greely Military Reservation is now being decommissioned, but has been a source of pollutants in the region for decades. The site is about 60 miles northwest of Dot Lake, but residents fear contaminants from the plant and other sources have been spreading through the region's bodies of water, potentially putting a much larger population at risk as well. The nuclear plant only operated from 1962 to 1972, but much of the remediation process was delayed to allow for decay of radiation levels in nuclear waste on site. Yet preliminary studies indicated levels of contamination within the reactors would not be sufficiently reduced by decay to allow for release of the facilities without significant decontamination work. The latest phase of the remediation project only just began in 2022.
Another source of additional military contamination in the same area is the Gerstle River Test Site just a few miles north of Fort Greely, which was used by the Army for both conventional and chemical munitions testing in the 1950's and 60's. These activities included surveillance of high explosives by Dugway Proving Ground units from Utah, an Army facility that was responsible for testing and evaluating nearly all Department of Defense chemical and biological defense capabilities. A number of Areas of Concern were identified during cleanup activities including former Test Grids, Debris Burial Areas, and Ground Stains.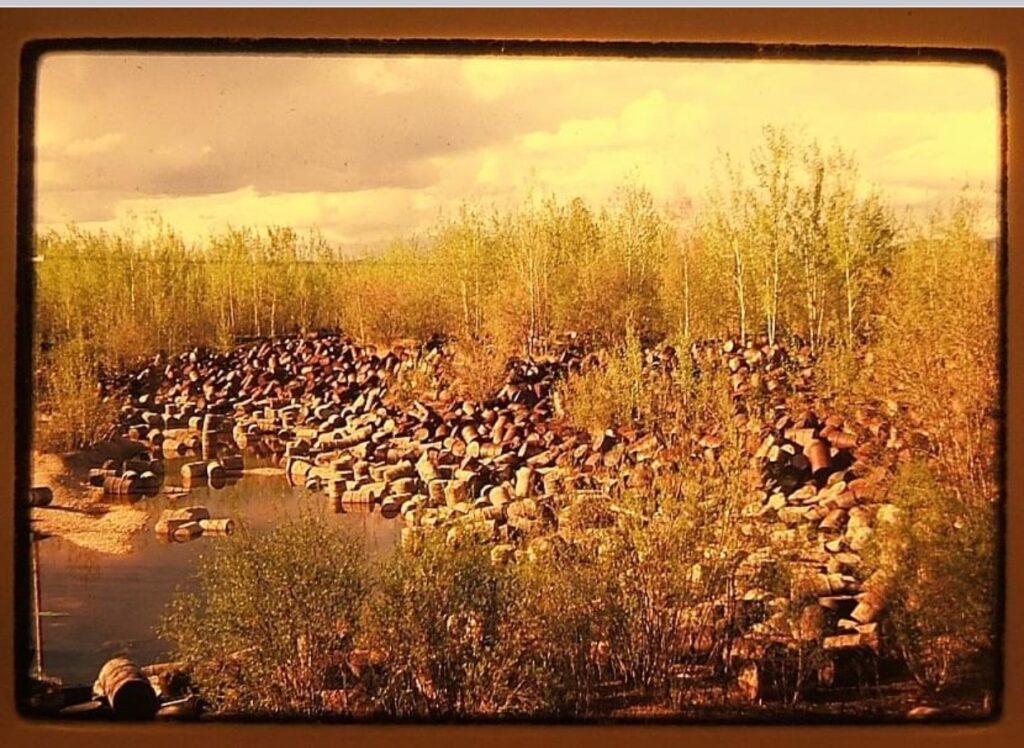 An additional military site of contamination is a World War II defense site in Northway, about 100 miles to the southeast of Dot Lake. The highway system that connects these sites is another potential environmental threat in the region. Highway construction crews used the Dot Lake area as a campground/staging area, and residents have long wondered what may have been left behind.
A study on historic environmental exposures along the Alaska Highway reported on by the National Library of Medicine identified "historic pathways of exposure to petroleum, pesticides, herbicides, chlorinated byproducts of disinfection and lead from resources that were consumed more frequently decades ago and are not retrospectively quantifiable." These toxins led to "complex patterns of association between reported resource uses and cancer and thyroid-, reproductive-, metabolic- and cardiac problems." While the report couldn't make a decisive conclusion on causation per se, it noted that the results "document the legitimacy of local suspicions and warrant additional investigation."
Troubling rates of cancer have been reported in the community. A 2004 article in the Fairbanks Daily News-Miner reported on local concerns regarding a connection between military chemical testing and/or contamination that may have occurred in or around Dot Lake. Surprising causes of death in the community were reported to have included leukemia, breast cancer, lymphoma cancer and stomach cancer.
A related problem in the Dot Lake community is a lack of access to modern healthcare, a systemic problem throughout rural Alaska where most residents rely on Indian Health Service, which is chronically underfunded. There is also a need for epidemiological studies. Systemic racism toward Alaskan Natives in the region also remains a tragic legacy of a bygone era, another challenge for residents in the community.
The Village of Dot Lake is now working to gain a better understanding of the scope of contamination in the region and the associated environmental health threats to the community.
For more information:
Tiny community devastated by cancer – December 8, 2004 – Fairbanks Daily News-Miner
Alan Faulkner and Tracy Charles-Smith
Environmental Justice Concerns
Fighting Development/Destruction of Wildlife/Extinction of Species, Groundwater Contamination, Incinerator/Dumping/Landfill, Port/Transit/Highway Contamination/Noise
Community Organizing, Community Science, Policy Reform