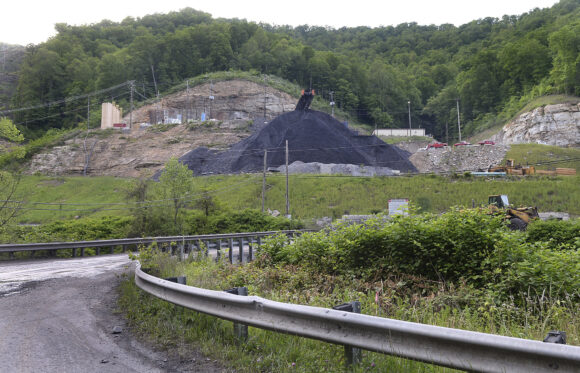 Watch this Bloomberg Quicktake Original released on December 16, 2022:
For those not familiar with mountaintop removal coal mining (MTR), we found it best described by Heather Moyer in her interview with Junior Walk from Coal River Mountain Watch in 2016:
"Mountaintop removal coal mining is when coal companies blow the tops off of mountains to get at the coal underneath. They push all the "waste" into nearby valleys, filling them. Coal companies have destroyed hundreds of mountains in Kentucky, West Virginia and Tennessee using this practice. The process also poisons nearby waterways with coal waste, threatening communities' drinking water."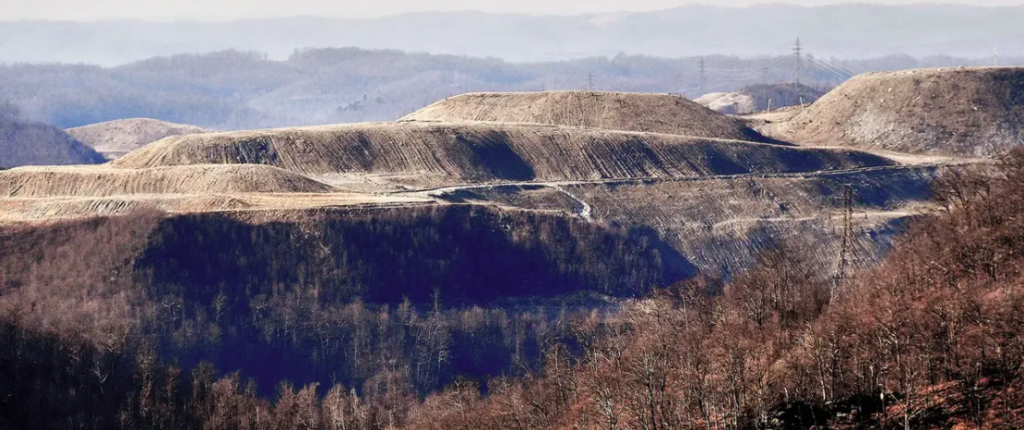 And more from Plundering Appalachia dot org:
"Mountaintop-removal mines in Appalachia are estimated to produce just 5 to 10 percent of total U.S. coal production, and generate less than 4 percent of our electricity—an amount that could be eliminated from the energy supply with small gains in energy efficiency and conservation. This highly destructive form of surface mining is disfiguring an entire region, the coalfield areas of West Virginia, Kentucky, Tennessee, and Virginia, because of one reason: profit."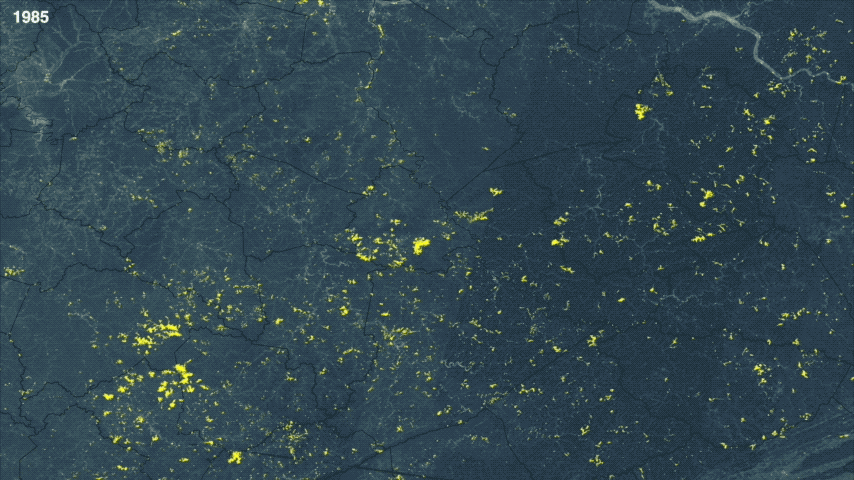 And then there are the slurry ponds. After the coal is washed, a "slurry" of impurities, coal dust and chemical agents from the process remain. This liquid is called "coal sludge" or "slurry," and contains extremely high levels of mercury, cadmium, and nickel. At times, it has been injected into abandoned underground mines, leading to groundwater contamination in the community. When stored "properly", huge unlined lagoons or impoundments are built near the mine. There are hundreds of these slurry impoundments scattered across Appalachian coalfields. They are allowed to store billions of gallons of waste.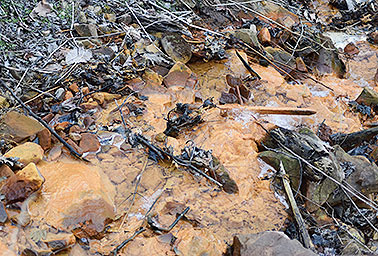 Can you imagine what would happen if one of those impoundment dams failed? Unfortunately, there are those that have had to. The Buffalo Creek coal impoundment dam in West Virginia broke in 1972, killing 125 people. In 2000, it happened again, when a 300-million-gallon slurry pond collapsed in Martin County, Ky., causing one of the worst environmental disasters this side of the Mississippi.
Who said coal was cheap?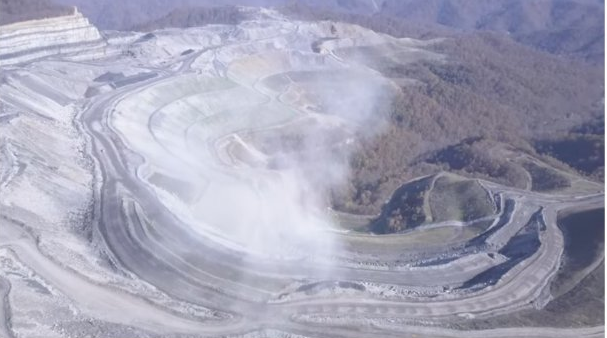 Coal River Mountain Watch (CRMW) came together in 1998 in response to the fear and frustration of people living near or downstream from huge mountaintop removal sites. Their goal is to educate and mobilize citizens who themselves will determine how their resources are used and who they will benefit.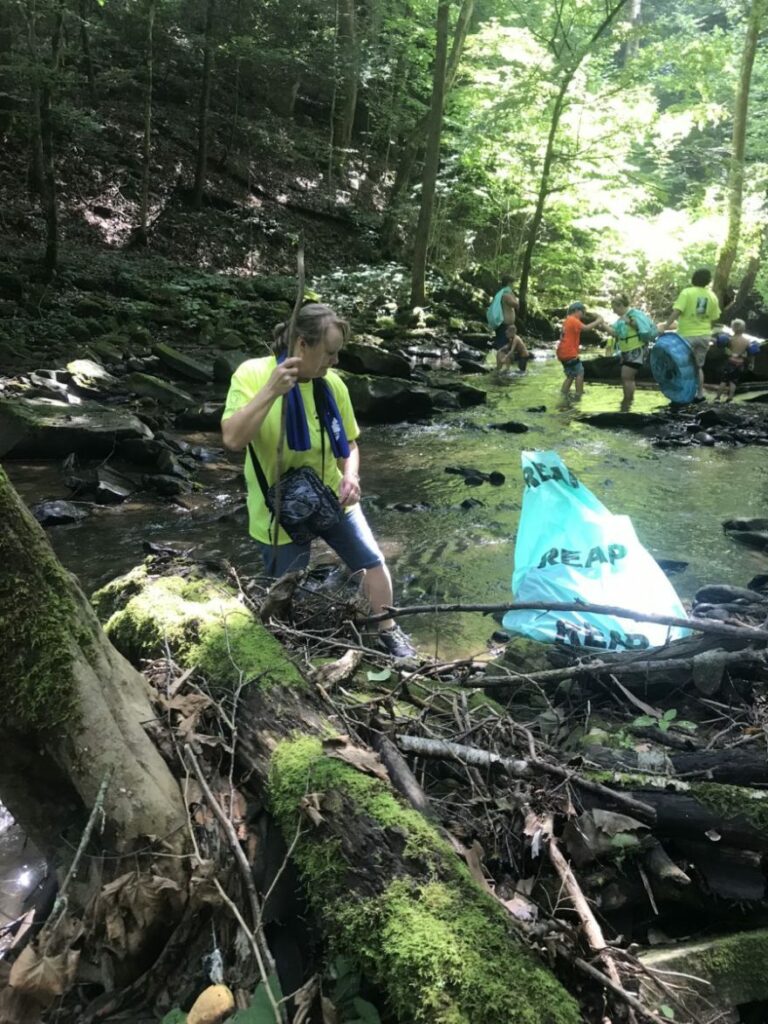 On Facebook, they note: "We began as a small group of volunteers working to organize the residents of southern West Virginia to fight for social, economic, and environmental justice. From our humble beginnings, we have become a major force in opposition to mountaintop removal." And that they have.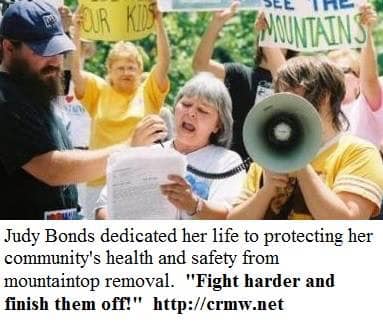 In 2003, their Executive Directory, Judy Bonds, received the Goldman Environmental Prize. (She died in 2011 of cancer and was known as "the godmother of the anti-mountaintop removal movement.)
In 2004, CRMW helped form the regional Mountain Justice coalition, and in 2006 the Alliance for Appalachia.
In 2009, they provided safe water for the residents of Prenter, WV, whose wells were contaminated by coal waste.
In 2012, they first introduced the Appalachian Community Health Emergency (ACHE) Act whose intent is to end MTR by addressing its health impacts.
Their proudest achievement is securing a new school for the students of Marsh Fork Elementary, who started classes in January 2013 in a safe location that is not beneath a 2.8-billion-gallon coal sludge dam and 2,000-acre mountaintop removal site.
In 2013, they developed a land trust model for small landowners seeking to protect their property through conservation easements.
When the January 9, 2014, coal chemical leak into the Elk River poisoned water for 300,000 people in nine counties in WV, they were delivering clean water, providing hot meals, coordinating deliveries with other groups, and testing river water the next day.
In May 2015, they purchased their office building and dedicated it as the Judy Bonds Center for Appalachian Preservation.
The work goes on as they fight for their home on two fronts:
Advocating for the Appalachian Communities Health Emergency Act (the ACHE Act) they introduced in 2012 to be passed as soon as possible. It calls for a moratorium on these devastating coal mining operations until a basic health study is completed.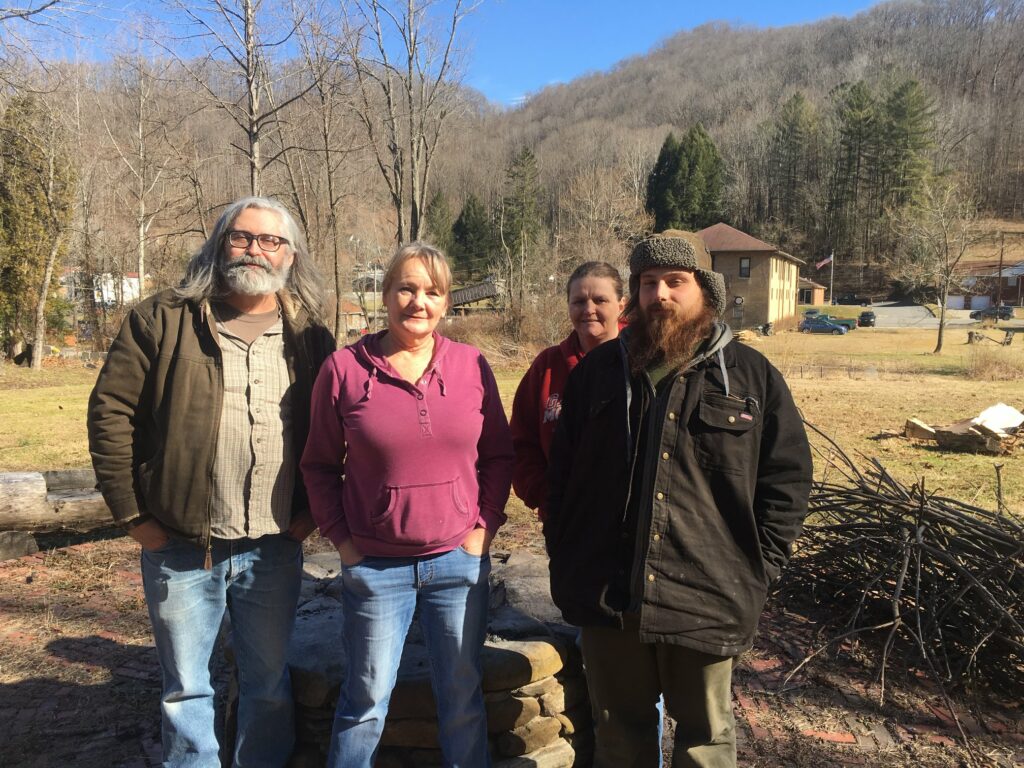 Written by Michele Gielis
For more information:
One man and his drone: 'My hope is to shut down the coal industry', The Guardian, June 2023
Episode 108 – Junior Walk, Mountaineer Media Podcast, Feb. 2023
More Data means more backup for WV residents living through air quality nightmares, WV Gazette, Nov. 2022
What happened to the 'war on coal' in West Virginia? Grist, July 2022
Profile: Junior Walk, North American Association for Environmental Education.
West Virginia Town Residents Say Coal Dust Is Taking Their Breath Away, Insurance Journal, by Mike Tony, June 14, 2021
We still blow up mountains to mine coal: Time to end the war on Appalachia, Salon, by Jeff Biggers, May 1, 2021
DEP approves Raleigh County surface mine application despite health and environmental concerns, Charleston Gazette Mail, by Mike Tony, April 22, 2021
Despite Decline of Coal, Mining Remains Aggressive on Coal River Mountain, Appalachian Voices, by Willie Dodson, January 26, 2021
Two Decades Of Resistance: Coal River Mountain Watch Takes Stock At 20, West VA Public Broadcasting, by Ohio Valley ReSource, December 13, 2019
Coal River Mountain Watch director discusses mountain top removal, The Register Herald, by Matt Combs, June 17. 2019
Enviro Lawsuit Aims To Stop Operations at Raleigh County Surface Mine, WV Public Broadcasting, by Brittany Patterson, November 20, 2018
Coal River Mountain Watch, Earthjustice Demand Answers from Trump Administration on Mountaintop Removal Study Shutdown, Earth Justice, Press Release, July 25, 2018
'This is our home. We don't want to live nowhere else',- Interview with Junior Walk, E&E News, by Arianna Skibell, May 24, 2017
'We Are the Keepers of the Mountains … Love Them or Leave Them, Just Don't Destroy Them' (Part 1) by Heather Moyer, June 28, 2016
Here's What 7.8 Billion Gallons of Toxic Coal Sludge Looks Like, with Junior Walk, (Part 2) EcoWatch, July 26, 2016
The battle over Coal River Mountain, CNN, October 7, 2008
Mountaintop-removal mining is devastating Appalachia, but residents are fighting back, Orion Magazine reprint at Grist, February 17, 2006
Air Pollution, Flooding, Water Contamination
Community Farm/Gardens, Fighting Industrial Contamination, Halting Bad Development, Renewable Energy