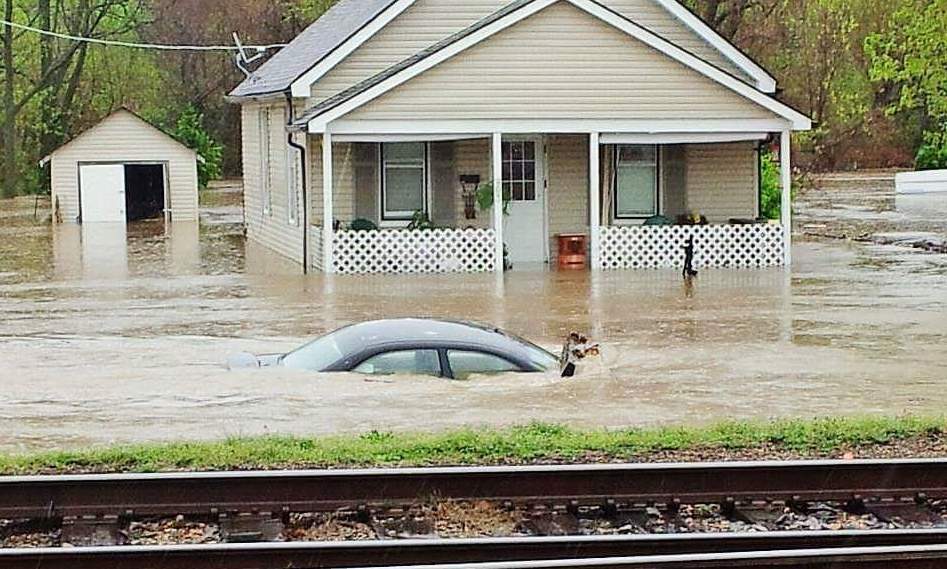 Dubbed "Fountain City" due to its numerous artesian wells, De Soto, Missouri has seen its changes in fortune revolve around water. In 1904, water from area artesian wells and springs was bottled and sent by tank car to the World's Fair of 1904 in St. Louis. A little more than a century later, the community of 6500 residents has been devastated by flash floods year after year – four major floods since 2015. Artesian wells and runoff from development flow into Joachim Creek, a tributary to the Mississippi River. When it rains, Joachim becomes a flashy creek, flooding homes and the main street of town.
Following the drowning of neighbors trapped in their cars, and the drowning of horses trapped in a barn, Susan Liley and a few friends formed the Citizens' Committee for Flood Relief to find solutions. Passionate about her community and the possibility of seeing it again become a viable, thriving place, she went looking for help. Calling herself "the dot connector," on behalf of De Soto and the CCFR, Liley looks for the people who know the most.
Anthropocene Alliance and Thriving Earth Exchange helped secure technical assistance, grants, and pro bono experts such as Dr. Robert Jacobson and Dr. Suzannah Erwin of USGS, and Dr. Dan Hanes and Dr. Amanda Cox of St Louis University to develop strategies for a sustainable future.
The CCFR connected with the US Army Corp of Engineers Silver Jackets program, who undertook a flood study and worked with the community to develop the Upper Joachim Creek Floodplain Management Plan. The community now has a flash flood warning system, allowing residents to monitor rainfall and water levels on their phones, and get life-saving advance warning of a deadly flash flood.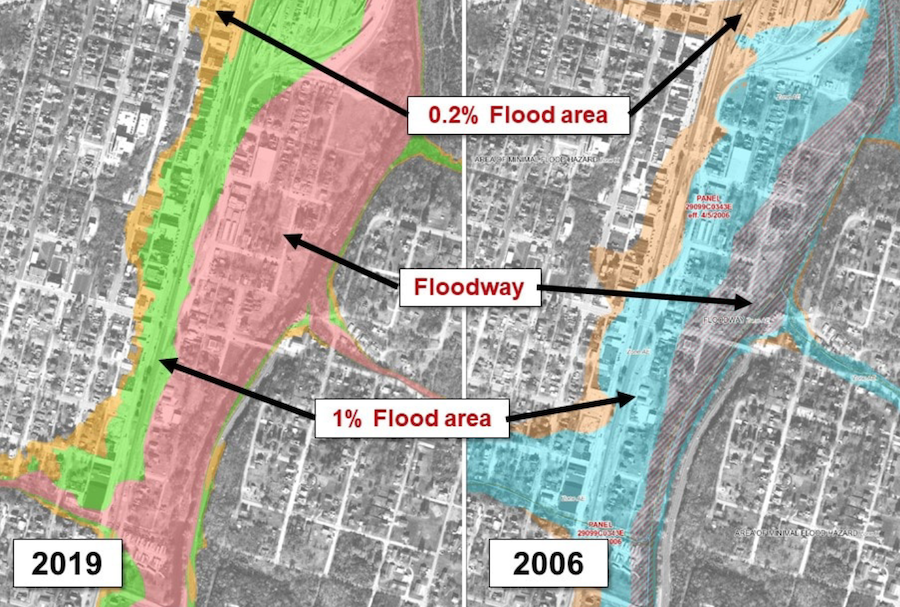 To assist with buying out flood-prone structures and replacing them with open spaces maintained by the community as parkland, the CCFR received a Green Infrastructure Technical Assistance Grant from the American Planning Association and the Pisces Foundation. They're working on how best to implement green infrastructure within the park and on Main Street to better manage rising flood waters and stormwater run-off, as well as a means of revitalizing the commercial district and improving recreational opportunities associated with Joachim Creek.
"We have walked our town with every scientist and explained our situation to anyone and everyone who would listen. We were able to help our town secure a USGS water gauge. We have made our town, as well as elected officials in Washington, aware that there is a big problem," Liley said.
Last February, funded by Pew Charitable Trust, Liley went to Washington to fight for a bill to prevent the resale of repetitive loss homes.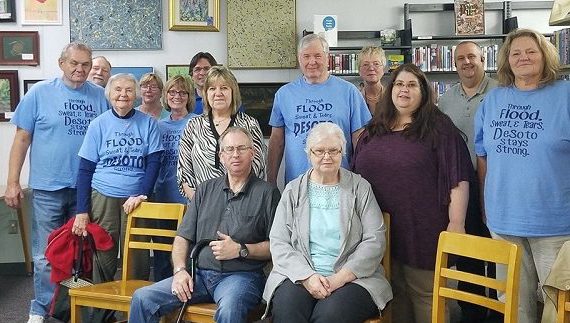 "We've got to stop that practice," she told lawmakers. "We don't need to have another family come in and go through the same pain that the other family has already been through. Repetitive loss homes should never be sold. People will contact me at least once a week and say 'hey, how about this home?' and I'll say, 'well maybe water didn't get inside, but a car washed away.' Or, 'a huge 60-yard dumpster went down the creek there,' but people feel like these homes are so cheap, and it's not going to happen again. It is going to happen again. We've got to stop the repetitive loss flooding."
The CCFR continues pushing elected leaders to do the right things: to prevent dangerous "fill and build" real estate practices that leave more families vulnerable to flooding, to secure funding for buy outs, and to implement natural solutions to absorb floodwater at its source.
Written by Kerri McLean
For more information:
De Soto residents asked to stay alert for flash flooding, FOX 2 NOW, March 2023
In De Soto, we need a way out of repeated flooding, Missouri Independent, Jan. 2023
Trapped in harm's way as disasters mount, The Center for Public Integrity, Aug. 2022
New pond could reduce De Soto flooding, KMOV4, July 2022
Proposed rollback on flood prevention measure raises concern in Jefferson County, Dec. 28, 2021
Survivors Recount Harrowing Battles Against Flooding
30 minutes with Susan Liley, Citizens' Committee for Flood Relief, De Soto MO
They Had No Warning: The Dangers of Flash Flooding
De Soto Officials Knocked on Doors to Warn Residents as Rising Creek Caused Flood Scare
Susan Liley
Mail donations to:
13923 Vineland Rd.
De Soto, MO 63020
Elevation or Relocation of Homes, Halting Bad Development, Nature-Based Solutions