Black Hills Clean Water Alliance
Rapid City, South Dakota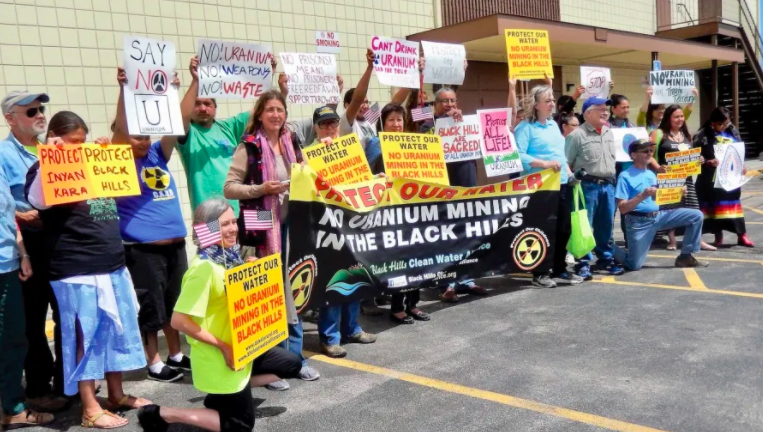 The magnificent Black Hills of South Dakota speak of legends. The stories you hear very much depend on your personal history. For visitors, it might be about Mount Rushmore or the Sturgis motorcycle rally. But,
"To the Lakota people, this land is sacred – the Pahá Sápa is the center of their world. As Rick Two Dogs, an Oglala Lakota medicine man, explained: 'All of our origin stories go back to this place. We have a spiritual connection to the Black Hills that can't be sold. I don't think I could face the Creator with an open heart if I ever took money for it.'"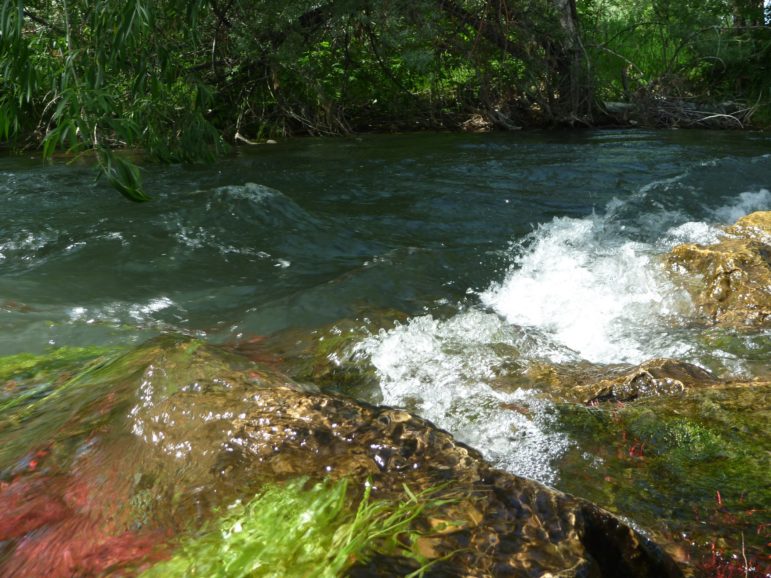 Unfortunately for the Indigenous communities who honor and protect the Black Hills, those hills also hold gold and uranium, resources inaccessible to those who live there, but which drive world economic forces in which everyone is intertwined.
In the 1850s, it began with the Gold Rush. In 1868, the tribes were given the Black Hills in perpetuity in the Fort Laramie Treaty, but the treaty was not upheld and the miners poured in. One hundred years later, in the 1950s, the mining and milling of uranium began. In the 1970s, together with community pressure and the economic impact of a drop in the price of uranium, the mining discontinued. But the consequences remained with the people. "This left 169 abandoned mines and prospects and a trail of contaminated land and water to the south and west of Mount Rushmore."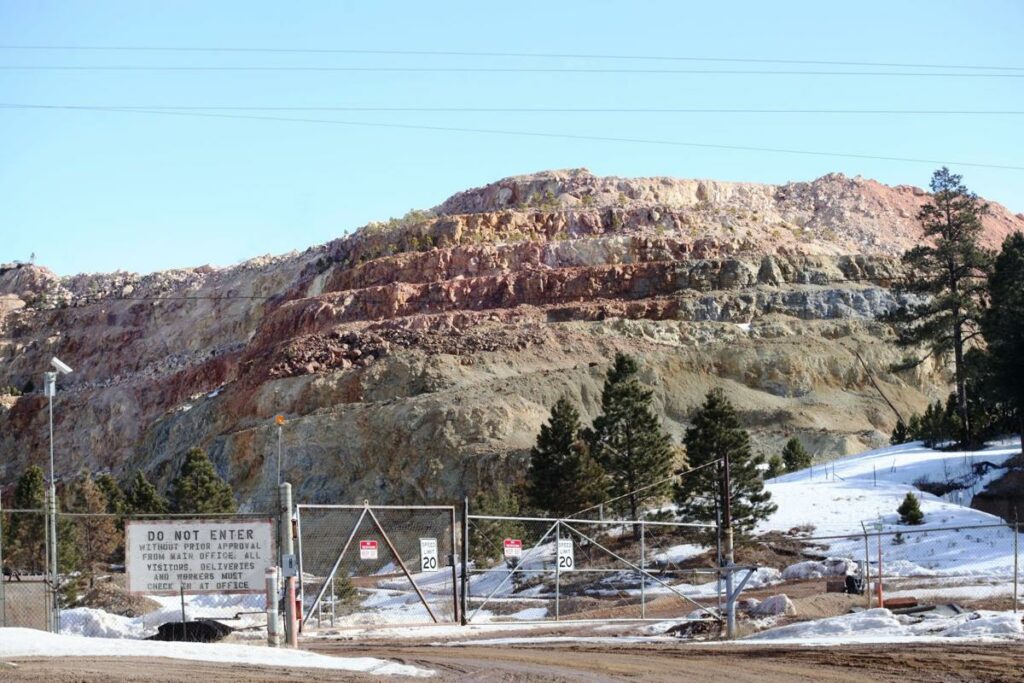 In the mid-2000s, the price of a pound of yellowcake (minimally processed uranium) jumped to $138 from a low of $7 and the mining companies came roaring back. Fortunately, so did the people.
The Black Hills Clean Water Alliance was founded in 2009. It's principle goal is "to prevent future and stop current radioactive and other destructive mining in the Black Hills region and protect our valuable resources—especially our water—for future generations. We are a diverse collection of citizens concerned about the health, environmental and economic impacts that proposed uranium mining projects would have on our communities, people, economy, and natural resources."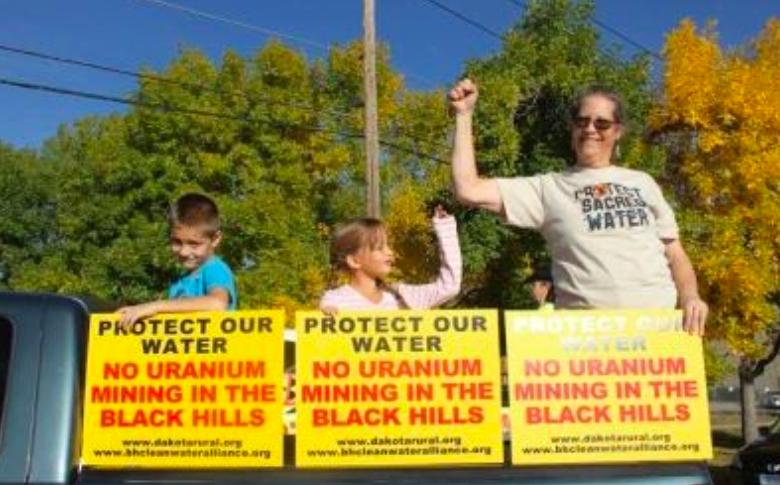 The work has been constant as the fate of these lands ride the boom and bust of the mining industries waxing and waning interest. Twenty-four percent of the entire Rapid Creek watershed is under mining claims.
In February 2020, success came in the form of a Rapid City Council resolution opposing gold exploration. Carla Marshall of the Clean Water Alliance combined her gratitude for the measure with a call for more action: "This resolution helps protect the wildlife, natural habitats, and water of this area," said. "We'd like to thank everyone who took action to make this possible and encourage more people to get involved. We need to remember that water is alive and should be recognized as a living entity."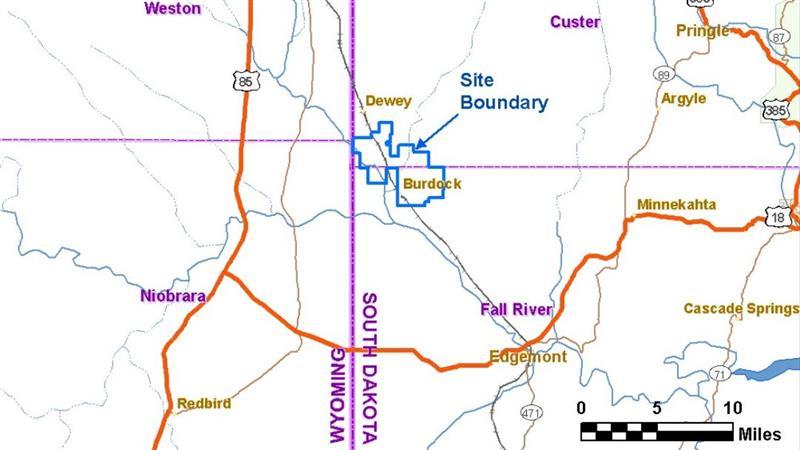 Most recently, news reported that Powertech Uranium (a subsidiary of Azarga Uranium) has formally asked the South Dakota state Water Management Board to restart the hearing on the water permits for its proposed uranium mine in Custer and Fall River Counties. The Alliance holds that this goes against procedure for hearings that were suspended in 2013 until permits were in place. The permits are not finalized and therefore the hearing should remain suspended. As it turns out, two programs of the state's Department of Agriculture and Natural Resources—the Water Rights Program and the Surface Water Quality Program—agree. If you want to help, send an email to the Water Board with your comments.
In addition, the Black Hills Clean Water Alliance has a petition calling for the EPA to "Reverse Your Water Permits Decisions" for Powertech Uranium. The company was granted two permits and a Safe Drinking Water Act aquifer exemption by the Trump Administration without meaningful consultation with the Oglala Sioux. You can add your name to the petition here.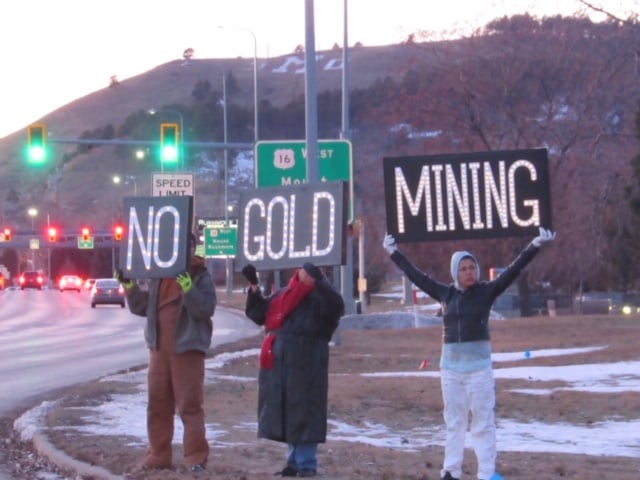 As the Alliance reminds us: "This is not just a local issue. Once water aquifers are contaminated by mining, they can never be restored. WATER IS LIFE."
Written by Michele Gielis
Links
STATE PROGRAMS COME OUT AGAINST POWERTECH'S PLAN, June 21, 2021
Take action to stop the hearings from starting up again.
Company intends to proceed with Black Hills uranium mining while EPA permits are on appeal, The Dickinson Press, By: Christopher Vondracek, May 5, 2021
Water Management Board hearing on uranium mining in the Black Hills, Newscenter 1, by Dominique Smith, May 5, 2021
A primer on South Dakota Superfund sites, Capjournal Bureau, May 4, 2021 (updated)
EPA grants permits for Dewey-Burdock project, Fall River County Herald Star, December 16, 2020
BH Clean Water Alliance rejects EPA's approval of Powertech mining permits, Black Hills Pioneer, By Alex Portal, November 27, 2020
EPA Grants Permits To Uranium Project in South Dakota, South Dakota Public Broadcasting, by Seth Tupper, November 25, 2020
More steps taken for uranium mining project in the Black Hills, KOTA TV, by Anderley Penwell November 25, 2020
Black Hills Clean Water Alliance files lawsuit against US Forest Service, KOTA TV, May. 15, 2020
Rapid City Council passes resolution opposing gold exploration, Native Sun News, February 5, 2020
Rapid City Council votes to oppose gold-exploration project, Rapid City Journal, by Nathan Thompson, February 3, 2020
Uranium hearing scheduled in Rapid City, Rapid City Journal, by Seth Tupper, May 12, 2019 Updated Dec 13, 2019
State wants to buy more of abandoned Black Hills mine, Rapid City Journal, by Seth Tupper, April 18, 2019
State lawmakers douse tribes' hopes for water safety bill, Native Sun News, February 27, 2019
Court Strikes Down Edgeville Uranium Mine Permit, ProtectNEPA.org, February 7, 2019
Native Sun News: Judge advises tribal cultural fieldwork at proposed radioactive mine, November 7, 2018
Contact
Carla Marshall and Dr. Lilias Jarding
Website/social media https://bhcleanwateralliance.org
Climate impacts
Water contamination
Strategy
Halting bad development
Fighting industrial contamination
501c3 tax deductible
No
Accepting donations
Yes – donate here.