Before Hurricane Katrina in 2005, Biloxi was the third largest city in Mississippi. After Katrina, it became the fifth, with 80% of the city's housing as well as large swathes of coastal heritage sites and the seaside casino industry destroyed. Predominantly Black, East Biloxi was the worst damaged. Plagued by poor infrastructure and surrounded on three sides by water, the area is under attack from neglect, increasingly volatile weather, and environmental injustice.
In East Biloxi, once predominantly residential neighborhoods are now vacant lots and buildings. Its location within a flood hazard area, paired with barriers to reconstruction that include high insurance costs and floodplain construction requirements, makes community members' reconstruction efforts difficult. Though the barriers are high, there have also been new opportunities to convert vacant lots and buildings into public spaces and sites of mitigation and resilience in the face of rising seas.
Led by Gordon M. Jackson Jr., Biloxi NAACP is dedicated to supporting the needs of its people. From flood mitigation and historic preservation to COVID-related resources and rent-relief assistance, Biloxi NAACP strives to match community-based initiatives with supportive advocates such as Anthropocene Alliance, Groundwork USA, Steps Coalition, and the National Resources Defense Fund.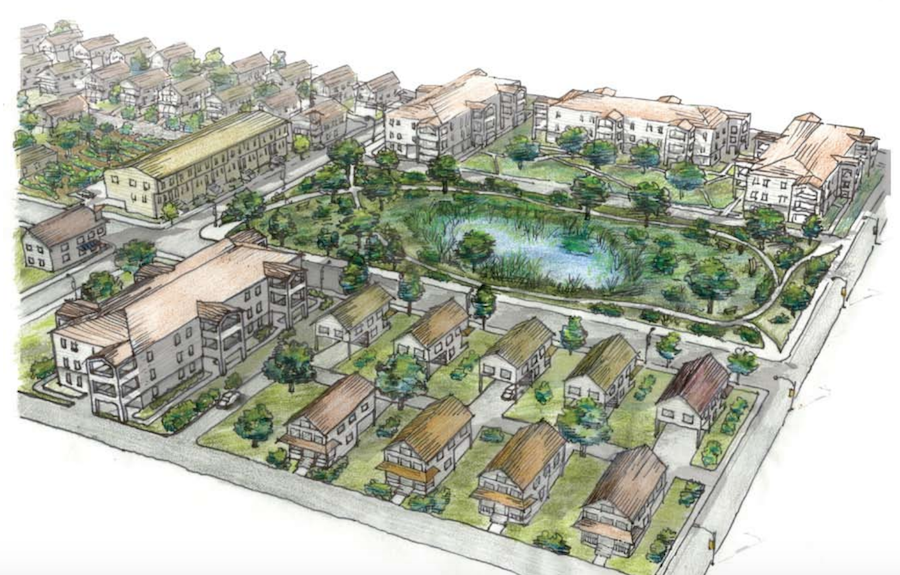 Jackson and Biloxi NAACP have worked with the City of Biloxi on the comprehensive Biloxi Revitalization Plan, which includes a diverse range of investments focused on transforming the vacant lots in the region and designating East Biloxi as an eco-district through the East Biloxi Neighborhood Improvement Strategy (EBNIS).
Since the plan was drafted, the city's Historic Preservation Division conducted additional surveys and research, such as the East Biloxi African American and Civil Rights Historic Survey (2017), to document and preserve the city's African American history and legacy at historical sites, particularly along East Biloxi's Main Street where Black communities and businesses thrived. The Eco-District incentivizes the creation of open spaces for flood control, community gardens for food production, and land use patterns that turn vacant properties in flood prone areas along Main Street into flood-resilient green infrastructure.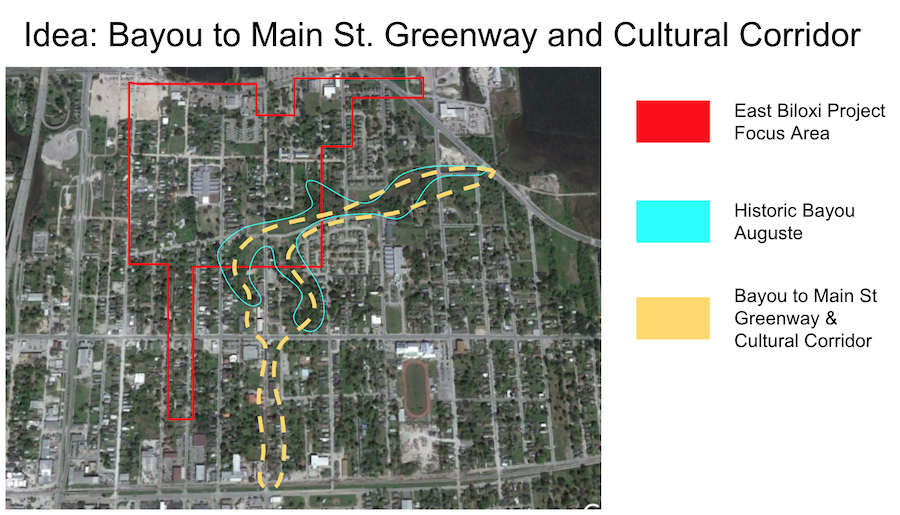 The Environmental and Climate Justice Committee (ECJ) of the Biloxi branch of the NAACP collaborated with the Gulf Coast Regional Collaborative on potential Eco-District projects. They conducted a Community Needs Assessment in 2019 with the East Biloxi Community Collaborative (EBCC) identifying community priorities through photovoice projects, community mapping, and public surveys. Currently ECJ is seeking expertise from the American Planning Association, Mississippi State University, Buy-In Community Planning and conservation organizations to implement a green infrastructure project in East Biloxi's historic district. It is also collaborating with the Steps Coalition to create a community solar power farm and redevelop a historic district in East Biloxi under the Eco-District designation.
Written by Kerri McLean and Andres Gonzales
Links
After Katrina: Biloxi wears face of progress, pain
East Biloxi Neighborhood Improvement Strategy
East Biloxi Community Needs Assessment 2019
East Biloxi African American and Civil Rights Historic Resources Survey 2017
Affordable Housing, Community Farm/Gardens, Elevation or Relocation of Homes, Nature-Based Solutions, Renewable Energy