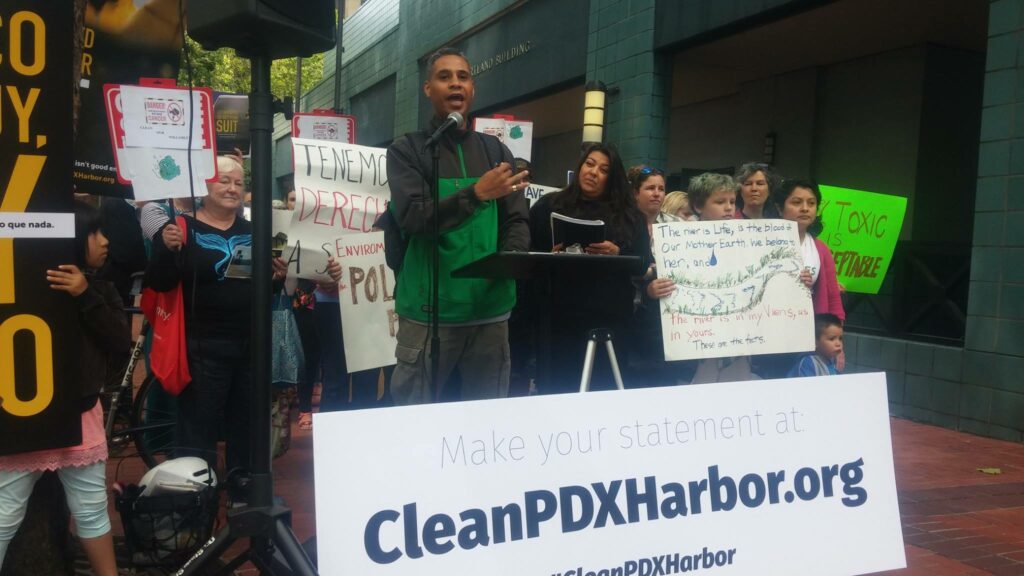 Rivers can mean many different things to a myriad of people, even when those people are in the same place. Rivers may be a recreational opportunity to some, the lifeblood of a community, providing travel, food and culture for others, and for still others, they become illicit dumping grounds.
As PHCC tells the story on their website, "In the 1700's, the Willamette River was clean and pristine. Native Americans fished salmon and existed peacefully with the natural ebb and flow of seasonal flooding. In the 1800's, a flood of settlers brought tremendous changes, altering the river's natural course, controlling seasonal flooding and polluting to a detrimental extent. Hundreds of industries developed along the river's banks, depositing heavy metals, pesticides, and other toxic chemicals into the water, soil and river sediment for over a century."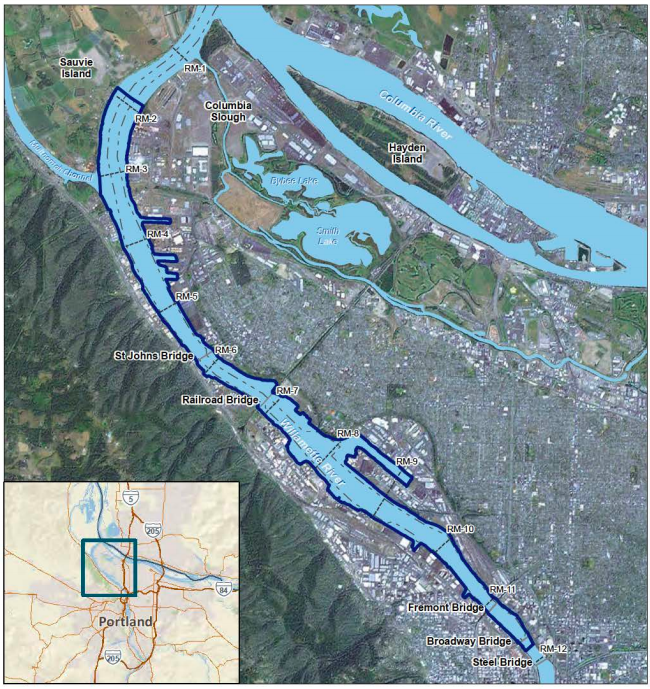 The Willamette River is a major tributary of the Columbia River, accounting for 12-15 percent of the Columbia's flow. Its main stem is 187 miles long, lying entirely in northwestern Oregon. It's degradation had such a deep impact, as Wilma Alcock, PHCC steering committee member, recounted in an interview with Grist, "We have seen the effects on our lives. Data can only tell you about a certain percentage of what is happening. But when people have been personally involved, they can tell you exactly what's happening or how it's happened to them. It's more than just the pollution of the river; it's pollution of the people."
In the 1970's work began on improving point source pollution from the industries surrounding the river, but runoff kept the water quality of the Willamette River dangerously polluted.
Finally in 2000, the problem was recognized by the Environmental Protection Agency (EPA) when they added Portland Harbor to the Superfund national priority list. The Portland Harbor Superfund site is an 11-mile stretch of the Willamette River, where 29 or more different toxic compounds posing risks to human health and 89 compounds posing risks to ecological health have been found.

Unfortunately stories like this are all too common across the country, but what was remarkable in Oregon was what happened next.
While the Federal agencies began years-long preparation to contend with the Portland Harbor Superfund site, the local community began to turn to each other. One organization's work Portland had demonstrated they could work in collaboration with the marginalized groups who had been most impacted by the pollution in the Willamette River, and make improvements together. They were approached by other organizations concerned that those most impacted by the cleanup were not aware of the Federal government's plans.
As Cassie Cohen (Co-founder PHCC) said in one of their videos, "We decided to explore what would it be like to approach community groups and individuals and start a conversation around, is there a need to have a grass-roots or community-based effort to discuss how to clean up the river." The answer was yes.
In 2012, the PHCC formed, to elevate the voices of those groups most impacted and make sure the plans put forth by the government had their input and took their existence on the river in full consideration, both during the Superfund cleanup process and after.
"The community that's most affected needs to have a voice in deciding how that development happens over time and how housing and economic development comes into play, because of all the historical displacement of the African American community of Native folks, and low income people in North Portland over many decades." – Cassie Cohen. In January, 2017 the EPA, together with the Portland community groups, released a Record of Decision, which states how the agency will go about cleaning the river. The project is expected to last 13 years and cost $1.2 billion.
Written by Michele Gielis
Links
Building people power to restore the Willamette River — and communities' relationships with it, Grist, May 10, 2021
Portland Harbor Community Coalition, EENVS 295: ENVIRONMENTAL ENGAGEMENT, Feburary 27, 2020
Opinion: Full remediation is the only answer for Portland Harbor Superfund site, Oregon Live, October 9, 2019
Below the Surface: A People's History of Portland Harbor, Streetroots.org, July 13, 2018
My View: Public pressure led to better harbor plan, Portland Tribune, Cassie Cohen/Donovan Smith, January 26, 2017
A sewer runs through it: The Willamette River in the 21st century, Streetroots.org, June 9, 2016
North Portlanders Want a Contaminated Beach Turned Into a Park. Government Officials Propose to Bury the Toxic Waste Onsite, December 8, 2020.
Metro Will Now Consider Full Cleanup of Contamination at Willamette Cove, December 10, 2020.
Air Pollution, Flooding, Superfund Sites, Water Contamination, Wildfires
Affordable Housing, Fighting Industrial Contamination, Halting Bad Development, Nature-Based Solutions, Renewable Energy