Eastside Community Network
Detroit, Michigan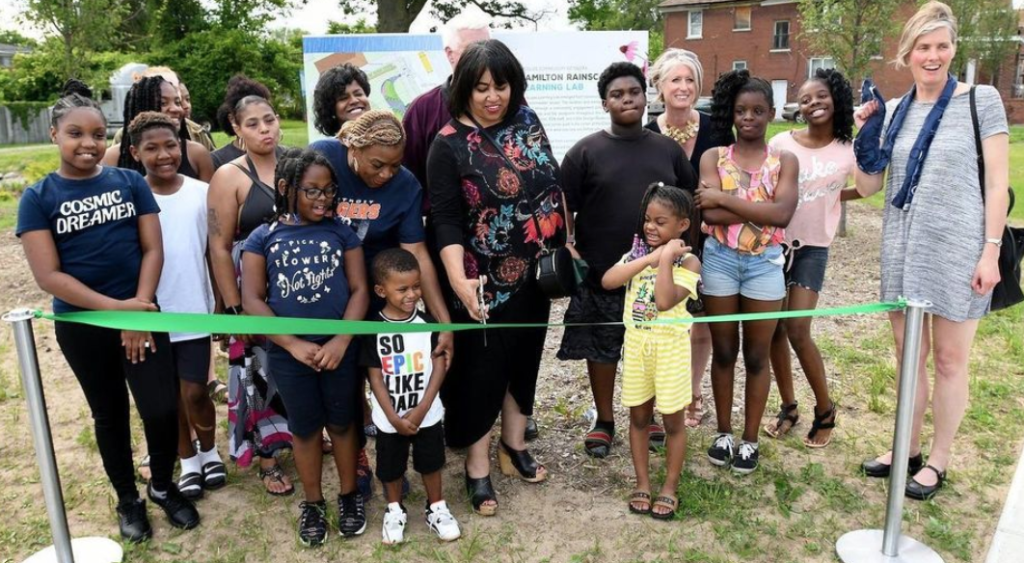 Eastside Community Network (ECN) has been actively working with community leaders in southeast Detroit for over 35 years. Through the Lower Eastside Action Plan (LEAP), ECN has engaged neighborhood leaders and Sustainability Fellows, as well as technical experts, environmental advocates, and civic leaders and local institutions to address a broad range of sustainability issues.
In 2020, ECN received funding from the National Fish and Wildlife Foundation to collaborate with national partners – including the Thriving Earth Exchange, the Anthropocene Alliance, the Center for Neighborhood Technology, and Elevate Energy – to develop a resident-driven, expert-informed planning process to provide a comprehensive analysis of specific flooding risks in flood plain neighborhoods, with an emphasis on exploring nature-based solutions along with the gray infrastructure improvements. As they compile findings and recommendations, they are coordinating planning efforts with the City of Detroit, their engineering contractor, and the Detroit Army Corps of Engineers.
Links

Eastside residents welcome new community rainscape garden in Chandler Park

Detroit's Strategic Neighborhood Fund plans take shape
Contact
Donna Givens
Website/social media
https://www.ecn-detroit.org/
Climate impacts
Flooding
Air pollution
Strategy
Nature-based solutions
Community farm/gardens
Renewable energy
501c3 tax deductible
Yes
Accepting donations
Yes – donate here.