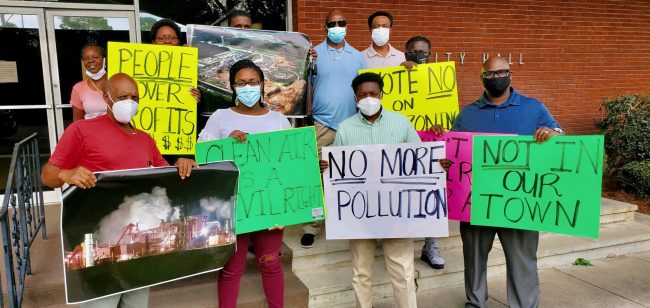 In June 2020, while the pandemic took a firmer hold on the U.S, the Concerned Citizens of Cook County (4C) was founded by Dr. Treva Gear, to inform and engage the community so they could advocate for their health, safety, economic gain and well-being. Their founding story is a common one of a community who finds poison in their midst and rallies to abolish it.
Initially, the group reached out to their community to find out what people were concerned about and met with key leaders to talk about what was most needed. The first thing they discovered was a proposed wood pellet plant with a permit pending, and what they found alarmed them.
Renewable Biomass Group (Biomass) was proposing a wood pellet biomass plant in their frontline community of Adel in Cook County. Adel has a population of 5,336 (97% urban, 3% rural) with a median family income of $27,318 in 2020. This facility would be 1.3 miles from the nearest resident and upwind from residents who are already overburdened by air and water pollution.
A close ally, the Dogwood Alliance, tells the story this way:
A core group of citizens organized, educated themselves about wood pellet biomass, and began working with Dogwood Alliance. Through Dogwood, they connected with other activists living in and around Cook County. They formed the Concerned Citizens of Cook County (4C) and didn't waste any time. Members attended and spoke at City Council meetings, hoping to stop a rezoning of the proposed plant site from agricultural to heavy industrial.

– Dogwood Alliance
Despite overwhelming opposition at the meeting, the rezoning was approved in a 3-2 vote. With Georgia's environmental protection agency not playing by the rules, 4C and the Dogwood Alliance have taken it to the EPA Region 4 Air Quality Division Director and staff to discuss their petition opposing the biomass plant's air quality permit.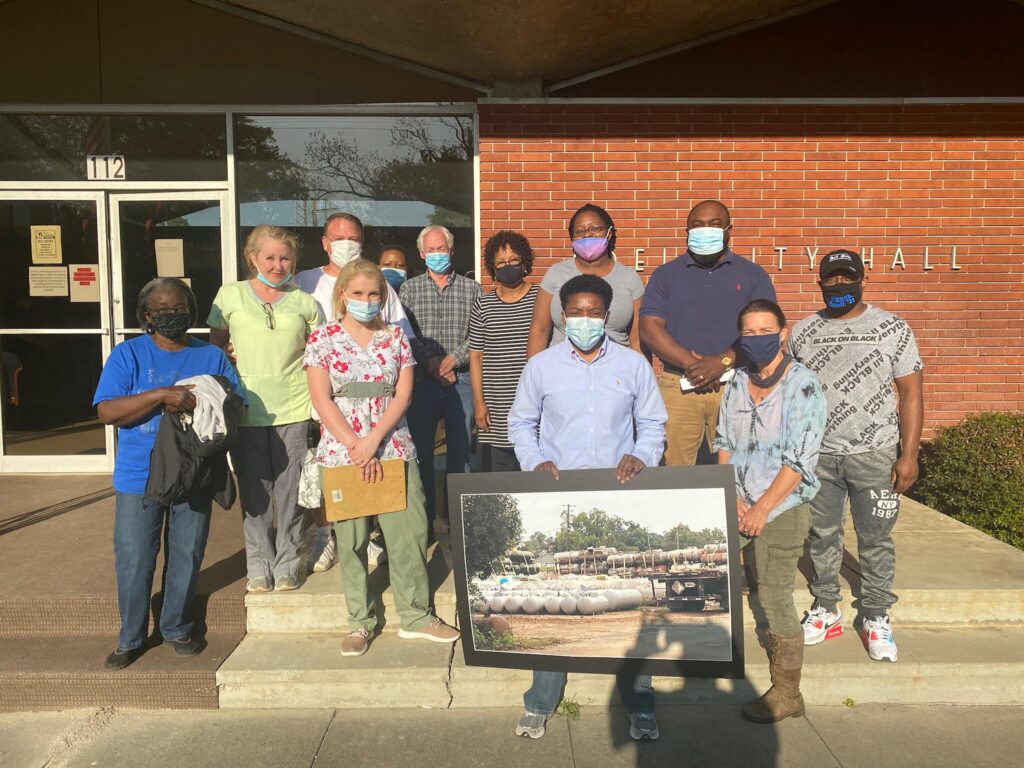 In an interview, Dr. Treva Gear spelled out what's at stake:
Today is Cook County, today is Adel. But tomorrow, it could be your city. These types of pellet plants like to come to our types of towns. They like to come to small rural areas where a high percentage of people of color and high levels of poverty live because those communities don't often know what's going on until it happens to them."

– Dr. Treva Gear
You can sign their petition here as they continue to push to have this permit rescinded.
The reason this wood pellet plant would add to the environmental burden concerns the remaining three projects that the Concerned Citizens of Cook County are working on in their community:
Advanced Cylinder and Tank is a propane tank refurbishing company. Since 2012, residents have been filing complaints with Georgia Environmental Protection Division (EPD) for a strong egg-like, skunkish odor contaminating their air, caused by the release of ethyl mercaptan. The residents closest to it complain of headache, nausea, and breathing issues. In addition, the company does abrasive blasting, releasing particulate matter directly into the air. The Georgia EPD claims the company is within their limits for emissions, but no known testing is taking place. 4C is getting the word out in public with protests and press coverage.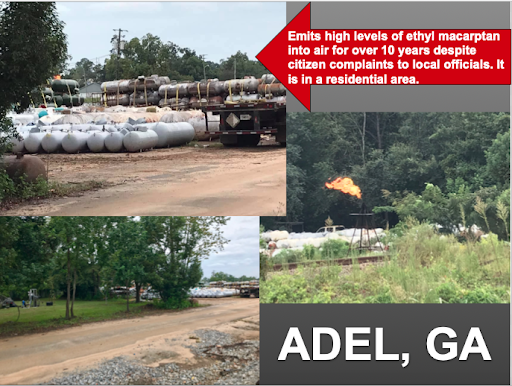 Bitcoin companies are perceived as digital-only by the public, but their on-the-ground operations have a very large footprint. In Adel GA, Blockstream has set up a bitcoin mining operation right next to a residential area, disturbing their peace for the past two years. Large industrial fans are used to maintain a specific temperature for the servers, creating constant noise not monitored sufficiently to ensure it doesn't exceed the 60 decibels beyond 500 feet from neighboring properties that was agreed upon. Despite consistent complaints over the past two years, more containers were recently added. In addition, while the entire City of Adel uses around 24 megawatts of energy, Blockstream uses 270-300 megawatts. The City of Adel solicited six other Georgia cities for their excess energy in order to power Blockstream. Residents have noticed their electricity bills are rising.
The Del-Cook Lumber Yard is a relic of 1957, closed 20 years ago, and left sitting in the middle of a residential area which is predominantly African-American and low income. They left behind chemicals used to termite-proof the power/telephone poles and that have been on the EPA's corrective action list since 2000 including acetone, benzoic acid, pentachlorophenol, toluene, benzene, naphthalene, and phenol. When some clean up was done on the site in 2004 and 2005, the EPA zoned it safe for industrial use, but it is a residential area. Over the past several years multiple people living on streets near the Del-Cook lumber yard have been diagnosed with cancer and many have lost their lives to it.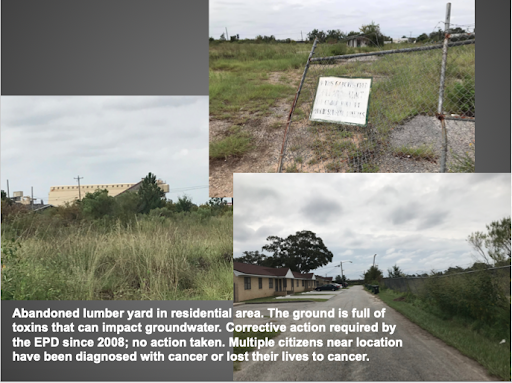 The Concerned Citizens of Cook County are pushing ahead, leveraging their voices in concert to protect their air and water. As Dr. Travel Gear notes, "We need jobs, but not at the expense of the environment and public health. Our community has been heavily impacted by COVID-19 and the long-term effects are yet to be known."
Written by Michele Gielis
For more information:
The biomass climate hoax | Shipping Southern forests overseas to burn, Southern Environmental Law Center News, June 2023
Advocates file civil rights complaint against Georgia EPD, The Atlanta Journal Constitution, Jan. 2023
Concerned Citizens of Cook County, SELC secure stringent terms in settlement agreement with Spectrum Energy LLC, Press Release, Southern Environmental Law Center, Jan. 2023
Residents to get hearing in discrimination claim against Georgia EPD, The Atlantic Journal-Constitution, Nov. 15, 2022
Conference aims to educate public on environmental health, climate change, 41NBC – WMGT, May 26, 2022
Adel residents celebrate 'Community Action Day' with garden, WALB News 10, by Kim McCullough, July 25, 2021
Adel citizens upset over odor invading the neighborhood, WFXI Fox 31, by Cheyanne Walker, July 19, 2021
Biomass Fight Rages on in Adel, GA, Dogwood Alliance, by Vicki Weeks, June 23, 2021
Mothers & Others For Clean Air Joins EPA Petition About Wood Pellet Plant, March 19, 2021
Groups Petition EPA To Revoke Georgia Wood Pellet Plant Permit, Environmental Integrity Project, March 18, 2021
Environmental group, community activists petition EPA to block Georgia wood pellet plant, The Hill, by Zack Budryk, March 18, 2021
Cook Co. residents continue fight to stop wood pellet plant, WALB News 10, February 26, 2021
Concerns raised over plant possibly coming to Adel, WABL News 10, by Jim Wallace, September 21, 2020
WEEKS, NOLL: Adel biomass threatens South Georgia | Columns | valdostadailytimes..com, September 16, 2020
Wood pellet plant: speakers and documents @ Adel City Council 2020-09-11 – The Adel City Council had no questions after their Public Hearing on annexation and rezoning for a wood pellet plant, Tuesday, September 9, 2020, after thirty minutes of speakers for and against. View the videos for the testimonies.
Dr. Treva Gear
info@joincookcitizens.org
Air Pollution, Water Contamination
Community Farm/Gardens, Fighting Industrial Contamination, Halting Bad Development