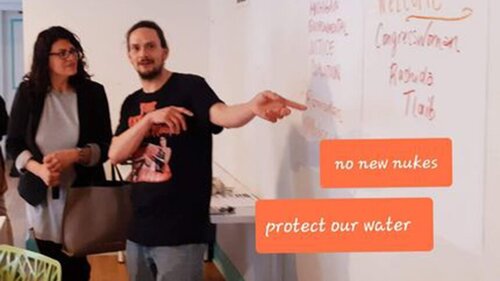 Hurricanes aren't common worries for folks in Michigan.
But as Hurricane Ida slammed into the U.S. Gulf Coast in August of 2021, members of Citizens Resistance at Fermi Two (CRAFT) in Monroe, Michigan couldn't help but be concerned.
Knowing the vulnerability of communities near nuclear power plants, they watched as damage was reported and off-site power lost at the Waterford nuclear power plant in Louisiana. Fortunately, the plant maintained safe shutdown conditions with power from emergency diesel generators, according to a Nuclear Regulatory Commission statement.
Yet, CRAFT members have borne witness to things going differently.
Citizens Resistance at Fermi Two (CRAFT) is an Indigenous-led, grassroots organization in Michigan dedicated to environmental justice and the well-being of the earth. The intergenerational, multi-racial, cross-cultural team is committed to halting nuclear destruction, promoting renewable energy, and embodying sound principles in the process.
CRAFT originally formed after the Christmas Day 1993 accident at Fermi 2, part of the Enrico Fermi Nuclear Generating Station near Monroe, Michigan. Damage to one of the main turbines resulted in 1.5 million gallons of untreated toxic radioactive water being dumped into Lake Erie.
With the same flawed design responsible for the disaster at the Fukushima Daiichi Nuclear Power Plant in Japan, Fermi2 poses the same threat level to the Great Lakes. Even when running within design parameters, Fermi2 releases dangerous chemical pollutants, emits harmful radiation, and relies on the extremely toxic nuclear fuel stream.
CRAFT fights to protect Michigan and the Great Lakes from nuclear hazards while demanding a robust green renewable energy infrastructure. To that end, CRAFT has a five-point approach:
raise awareness of the dangers that Fermi2 poses through public events, direct action, communication pieces, and media platforms
promote and educate about advantages of green renewable energy on which to power and employ Michigan forward
build a knowledge base of energy, regulatory, legislative, and civilian nuclear data, trends, and current events
monitor and report on Fermi 2
engage in regulatory intervention, including legal filings
As well, CRAFT demands the full shutdown and safe decommissioning of the Fermi2 facility and "no new nukes," according to Jesse Deer in Water, second-generation CRAFT community organizer. The father of three and member of Oklahoma's Cherokee Nation is passionate about preserving the land, water, and health of the vulnerable Great Lakes region.
Fermi2 uses 45 million gallons of water per day to cool the facility and then discharges the wastewater at a 10:1 ratio, releasing 4.5 million gallons of radioactive treated chemical wastewater into Lake Erie daily.
This wastewater discharges at up to 97 degrees F compared to Lake Erie's low 70's average temperatures.
This overheated wastewater, aka Thermal Pollution, is a major stressor on the Great Lakes and has been connected to the deadly algae blooms in Lake Erie's western basin.
Jesse Deer in Water fights on the local, state, and federal levels against nuclear power and for green, renewable energy. Yet, for him this work is not only an environmental issue – it's a societal one.
"We must do better. What are we handing off to future generations? What we have now certainly must not be our legacy. We must do more."
Written by Kerri McLean
Resources:
Educate – Check out our Resources and Blog for information about the dangers of nuclear energy, and updates on the fight to shut down Fermi 2.
Organize – Head over to our Actions Page for the latest on how you can get involved. You can also follow us on Facebook and Instagram.
Donate – CRAFT is an Indigenous-led, grassroots organization with decades of experience confronting the nuclear industry. Supporting our work helps to ensure the safe, healthy, future of the Great Lakes Region and life on earth. You can donate here.
Learn More:
Watch for harmful algal blooms in Michigan's recreational waters: One environmental group is convinced it's being caused by thermal discharge from nuclear plants, Metro Times, July 2023
"Protecting the Waters" – video interview with Jesse Deer in Water
Jesse James Deer In Water | Facebook
Citizens' Resistance At Fermi Two (CRAFT) – Alliance To Halt Fermi 3 (athf3.org)
Radioactive waste — an ongoing threat to the Great Lakes Basin — CRAFT (shutdownfermi.org)
Beyond Nuclear – Home – Protecting our Earth — Citizens Resistance at Fermi Two (CRAFT) Fukushima 10-year commemoration
2020 Midwest Spotlight Series | Building Equity and Alignment for Impact (BEA) (bea4impact.org)
Jesse Deer In Water
shutdownfermi@gmail.com
Air Pollution, Mining, Water Contamination
Affordable Housing, Elevation or Relocation of Homes, Fighting Industrial Contamination, Halting Bad Development, Nature-Based Solutions, Renewable Energy, Rights of Nature