Citizens Awareness Network (CAN) is a New England grassroots environmental organization with over 4,000 members working to end the use of unaffordable, dangerous nuclear power and the creation of radioactive waste, as well as the safe management of radioactive waste. In the face of government and industry greenwashing, CAN tells the truth about the dangers and unsustainability of nuclear power and the environmental injustice and anti-democratic underpinnings of the nuclear industry. CAN promotes a carbon-free, nuclear-free energy future; responsible and environmentally just handling of radioactive waste; and public consent and oversight of every aspect of the nuclear fuel chain. Its overarching organizing strategy is to go directly to the people most affected by the nuclear power industry's mining, milling, refinement, operation, and waste processing to give voice to their experiences.
CAN was formed in the early 1990s by a group of concerned citizens in rural Western Massachusetts. They learned that a nearby nuclear power facility, Yankee Rowe, had been dumping radioactive waste in their river for decades and commissioned a health study that found significant increases in Down Syndrome, learning disabilities, miscarriage, and cancer in their communities. A lightning strike left the facility with no communication with the outside world, alarming many local residents. The Union of Concerned Scientists told them that the reactor containment vessel, embrittled by decades of radioactive bombardment, could shatter and allow their homes to be irradiated.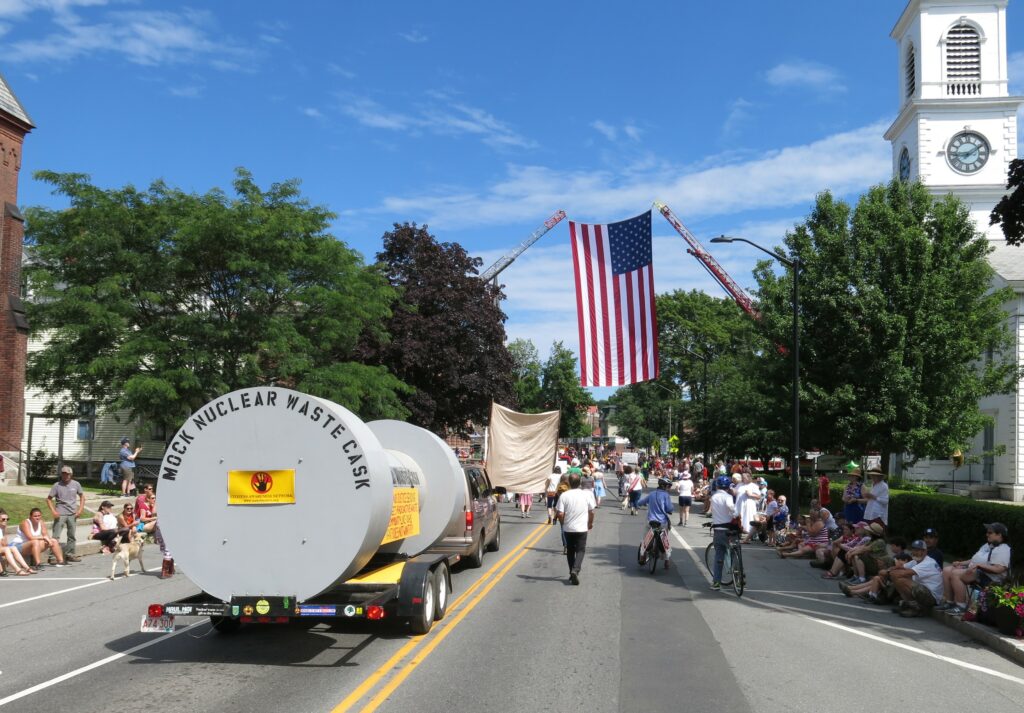 The organization's efforts have been instrumental in shutting down four reactors in the New England region at Yankee Rowe, Connecticut Yankee, Millstone Unit 1, and Vermont Yankee. This included victories in lawsuits against the Nuclear Regulatory Commission (NRC) over high-level waste storage, decommissioning of aging facilities, and legally required public participation hearings. CAN also organized Caravans of Conscience to two sites where Yankee Rowe's radioactive waste was supposed to go, Barnwell, South Carolina (a community that is working class and about 50 percent Black) and near the Skull Valley Reservation (Goshute, Western Shoshone) in Utah.
What began as a county-wide program to educate residents on the dangers of nuclear power and nuclear waste grew into a multi-state network with strong ties to national-level organizing. CAN has always stood against nuclear waste being shipped off to other states for disposal, making these communities into sacrifice zones. This includes the ongoing dilemma of how to handle the "spent" fuel (which is in fact intensely radioactive) from reactors across the country. In a massive act of collective irresponsibility, after 70+ years the industry and the federal government have not found, let alone developed, sites for permanent repositories for the high-level waste.
For instance, at Vermont Yankee, 58 casks containing 1,600 tons of waste with 117,000,000 curies of radioactivity sit in the open within feet of the Connecticut River. CAN is against sending such waste to Consolidated Interim Storage (CIS) in the Southwest, where it would be likely to remain long-term. CAN worked to found the National Radioactive Waste Coalition in 2020 to stop CIS sites and promote the development of a permanent repository that removes the waste from the biosphere.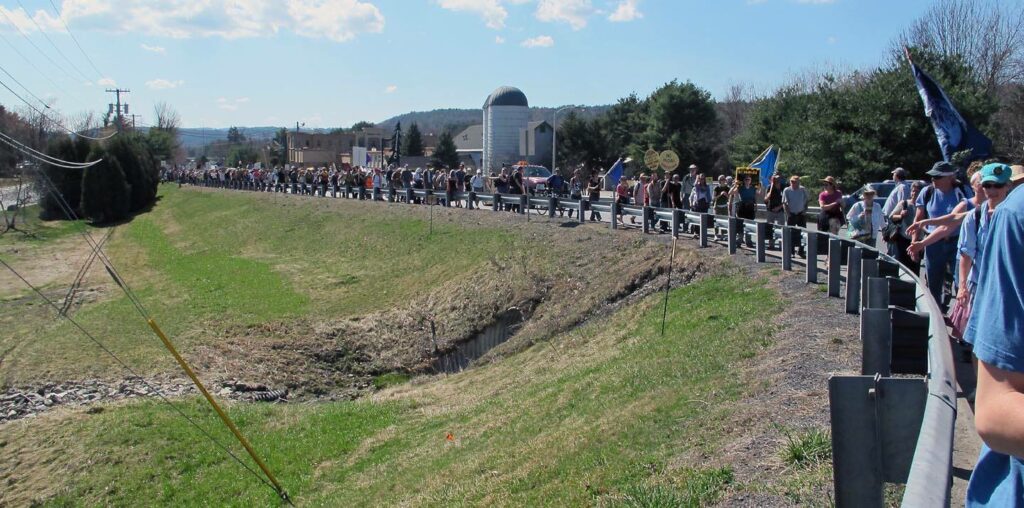 CAN continues working to connect the dots and raise awareness about how regional nuclear waste issues have national and global ramifications. One of the innovative methods utilized by the network includes taking a giant mock nuclear waste cask on a road show to college campuses and other public sites, with CAN representatives speaking about the dangers of nuclear waste and why nuclear energy is not the answer as an alleged "bridge" energy source to combat the climate change crisis.
Recent efforts include advocating with state governments to provide more protection for nuclear communities near nuclear power/waste sites by hardening the waste where it is, improving on-site security, and investigating risks posed by climate change, including flooding and rising sea levels. CAN's Executive Director Deb Katz was also a speaker at the "Transnational Dialog on Decommissioning Nuclear Power Plants" in May of 2023, an international conference of civil society organizations in both the United States and Russia exploring the environmental hazards and opportunities that arise with the decommissioning of nuclear power plants.
For more information:
Ann Darling: Nuclear power is no answer to anything our ailing planet needs, VTDigger, February 2023
Yale Thesis Chronicles 'Long Closure' of Indian Point, River Journal, January 2023
Deb Katz, Executive Director
Earthquakes, Flooding, Sea Level Rise, Water Contamination
Environmental Justice Concerns
Groundwater Contamination, Hazardous/Toxic Sites, Mining, Nuclear Power Plants
Art Activism, Community Organizing, Fighting Industrial Contamination, Policy Reform, Renewable Energy