Called to Serve (CTS) is a socio-economic community development entity dedicated to spearheading the renewal, restoration and revitalization of underserved neighborhoods in the Philadelphia metro area. The organization aims to serve as an anchor for community rejuvenation that will break through intergenerational poverty, with innovative programs centered around improving education and supporting entrepreneurship to generate living wage jobs and vibrant commercial corridors. A key strategy is the formation of The Reverend Leon H. Sullivan Community Impact Center, set to open in 2024 to offer an array of programs for community wellbeing. The Center will be a model for community sustainability, serving as an oasis to provide shelter from dangerous summer heat waves while also providing educational and recreational opportunities. As a neighborhood nexus for urban resurgence, CTS builds on proud community roots to generate fresh opportunities with a sustainable foundation.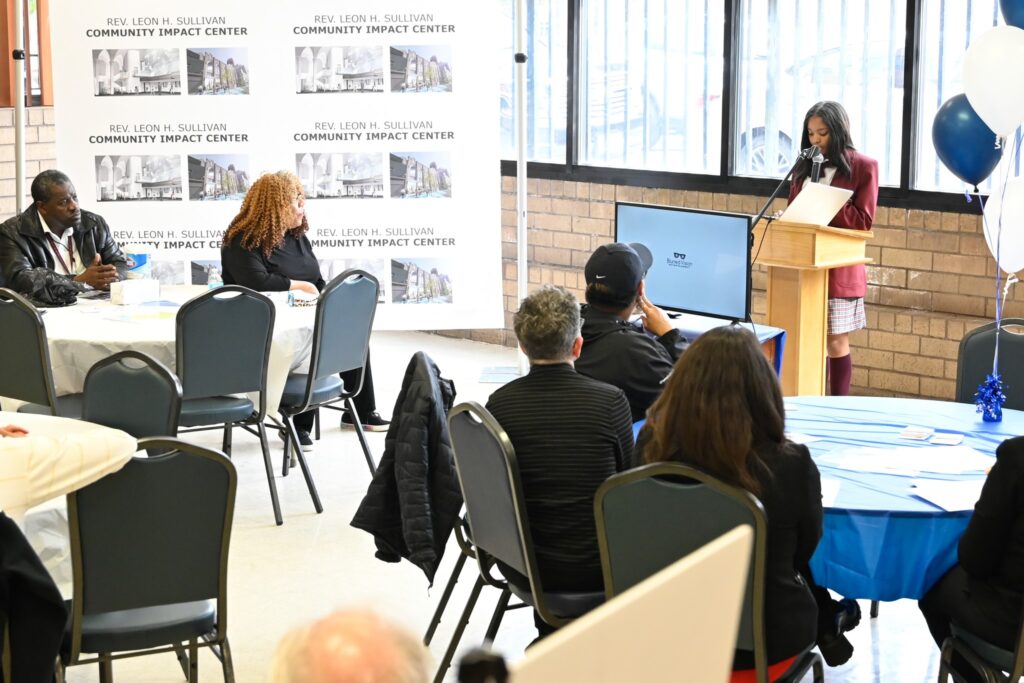 Called to Serve is a community development corporation and faith-based organization that believes everyone should have the opportunity to flourish economically, socially, and psychologically. The organization stands on the shoulders of the late Rev. Leon H. Sullivan, a community leader in civil rights, economic development, and education. Programs at the new community impact center dedicated in Sullivan's name will center around the guiding principles of protecting human health and the environment while promoting sustainable development. This includes a Career Pathways Program to help guide neighborhood youth to college scholarships and careers, with education in broadcast communication, software development, and videography. The Temple Lenfest North Philadelphia Workforce Initiative will offer skills training at Temple University campuses, while a community arts center and a co-op cafe/bookstore will provide a broad array of enrichment opportunities.
The Rev. Leon H. Sullivan Community Impact Center will also serve as a model for urban sustainability with public transit-oriented development, adaptive reuse of a historic building (the former Zion Baptist Church Annex), energy-efficient building systems, Green operations with maintenance training and education opportunities, use of low VOC materials, and plans for LEED Certification. Another related program sees CTS teaming up with the Black Contractors Coalition Association to start building out an ecosystem of contractors, developers, entrepreneurs and other public and private partners that will function together as an economic incubator for the community. This effort aims to see Black & Brown contractors and workers obtain a fair share of financial resources being spent on urban development by the City of Philadelphia.
For more information:
Nicetown's Zion Annex has sat neglected since 2014. An $11 million renovation aims to bring it back to life – WHYY, November 2022
North Broad Street Church Revived with Community Impact Reuse Plan – Hidden City Philadelphia, November 2022
CDC works to revive former North Philly church into a community center – Metro Philadelphia, October 2022
WILLIAM PENN FOUNDATION GRANTS ZION BAPTIST CHURCH'S PARTNER, CALLED TO SERVE CDC, $1 MILLION TO SUPPORT THE REDEVELOPMENT OF ITS ANNEX INTO A COMMUNITY IMPACT CENTER – Mosaic Development Partners JV, September 2022
Nonprofit secures over $1M for community center at N. Philly church – The Philadelphia Tribune, February 2022
Rev. Mike Major, President
Community Organizing, Direct Relief and Aid