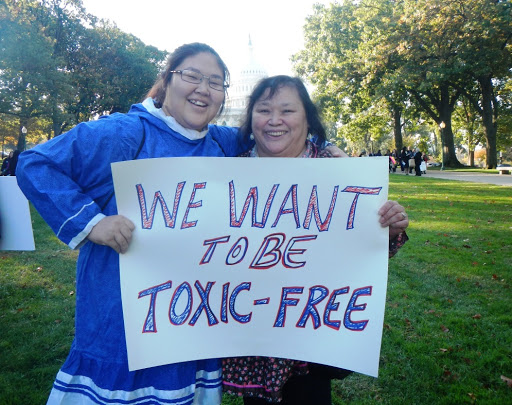 The Alaska Community Action on Toxics started with a community connection and a promise to be kept. Pamela K. Miller arrived in Alaska in 1989 as a research biologist with Greenpeace. In 1994 she established the Community Toxics Investigative and Advocacy Project for Greenpeace Alaska. Then In 1997, she met Savoonga health aide Annie Alowa at an environmental health conference and the tracks of both of their lives changed forever. It was then that Pamela formed Alaska Community Action on Toxics, to keep the promises she had made to the people of Alaska asking for help to deal with toxins.
Annie Alowa lived in Savoonga, along Kookoolik Cape, on St. Lawrence Island, thought to be one of the last exposed portions of the land bridge that once joined Asia with North America during the Pleistocene period. Siberian Yup'ik Eskimos have made it their home for more than two thousand years.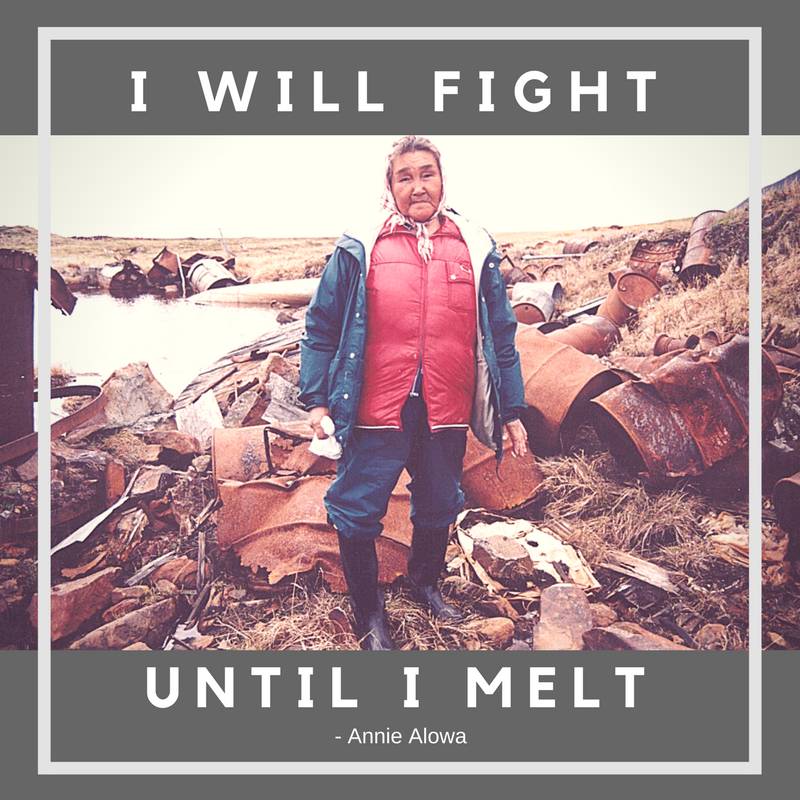 In 1952, as the Cold War took hold of America's foreign policy, the U.S. military established an army post at Gambell and an air force base and radar site at Northeast Cape. Near the air force base were areas used to harvest food by the Yup'iks. Only about a decade later, Annie Alowa noticed her people getting sick. Cancer and miscarriages were on the rise. "When the military shut down its bases in the early '70s it left behind a toxic stew: nine square miles contaminated by 220,000 gallons of spilled fuel plus unknown quantities of solvents, asbestos, heavy metals, and PCBs. One barrel dump contains more than 29,000 drums, some leaking unknown fluids." (Orion Magazine, Tracking Toxics, 2003).
For 20 years, Annie raised the alarm and tried to get the air force to clean up after themselves. Then she met Pamela Miller and together they began to document their case, and approached the Army Corps of Engineers. Initially they were ignored. In December of 1998, Annie was diagnosed with terminal liver cancer and died three months later. Before she died, she asked Pamela to interview her on video. That interview became part of a documentary created by Pamela and Alaskan filmmaker Jean Riordan, "I Will Fight Until I Melt." It raised awareness, got the government's attention and the Corps committed to start cleanup . As the ACAT website notes, "Annie's perseverance continues to inspire ACAT's work to protect environmental health and assure justice."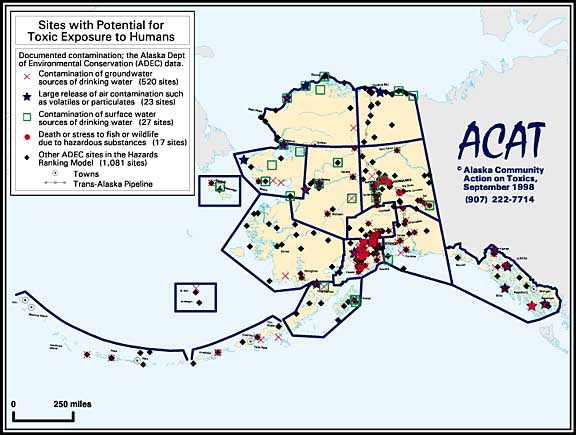 ACAT's programs include
Alaska Rural Environmental Justice Program working to eliminate environmental contaminants
Environmental Health Policy & Social Change Program driving a broad range of public support to implement local, national, and international policies
Environmental Health Education Program informing physicians, nurses, teachers, environmentalists, and the general public about the link between pollutants, human health and the environment
Alaska Youth & Community Outreach Program engaging youth and the general public in issues around environmental health.
Wellness & Healing Program to support physical and emotional healing from the effects of environmental contaminants and the effort required to work toward environmental justice.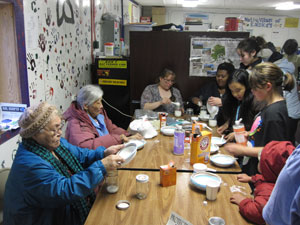 Currently, ACAT is focused on holding corporations and industry accountable for the PFAS chemicals endangering the Alaskan people's health and natural resources. They have been partnering with other environmental organizations to urge state legislators to support and pass Senate Bill 121 to protect the people's drinking water.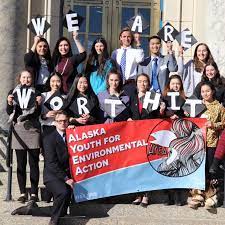 If earning a seat at the table is a measure of success, then ACAT has two awards: Pamela Miller was recently appointed to the National Academy of Sciences as a community liaison to develop guidance on PFAS testing and health outcomes; and Viola Waghiyi of Savoonga, the environmental health and justice program director at Alaska Community Action on Toxics, is one of the 26 members chosen for a new White House advisory council on environmental justice.
For Viola, the council will be one way she advocates ""[to] make sure that the priorities – including military toxic contamination and the persistent organic pollutants – are at the forefront with this administration. These have resulted in health disparities never before seen in our people. It is so important because a lot of times we are never at the table when decisions are being made for us miles and miles away. This will ensure that we have a voice at the White House."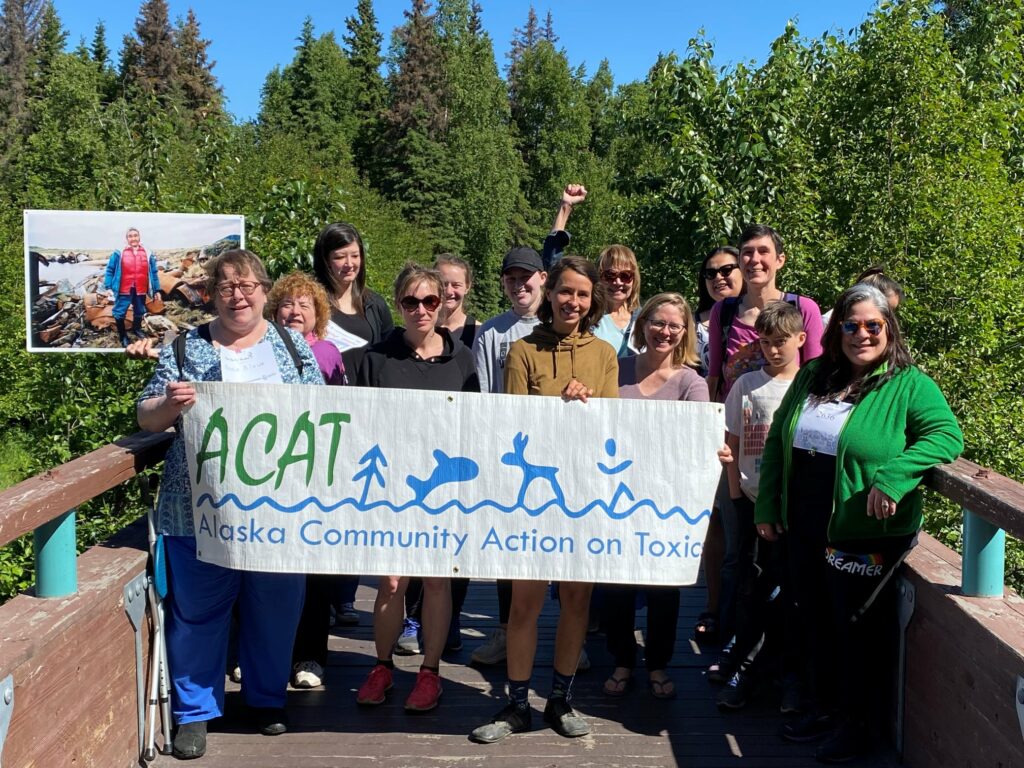 Written by Michele Gielis
Links
Issues Of The Environment: Progressive Effort To Remove Harmful Chemicals From Consumer Products, WEMU, by David Fair, May 12, 2021
Commentary: Legislative action needed to protect drinking water, The Cordova Times, Commentary by Pam Miller, April 22, 2021
Savoonga woman to join White House council on environmental justice: Viola Waghiyi, KTOO, by Kevin S. Fox, April 10, 2021
Learn about these organizations working to support local, sustainable food systems, Alaska Public Media, by Ammon Swenson, April 18, 2021
Urgent action needed to protect Alaskans' health, drinking water, Anchorage Daily News, Opinion, by Pamela Miller, April 13, 2021 (subscription required)
Groups Demand Ban on a Class of Dangerous "Forever Chemicals", Pressenza, April 9, 2021
Alaska sues PFAS makers as lawmakers seek broader action from regulators, Alaska Public Media, by Jacob Resneck, April 8, 2021
Alaska woman named to White House environmental justice council, Anchorage Daily News, by Alex DeMarban, April 1, 2021
New construction at Gustavus airport digs up old concerns about toxic chemicals, KTOO, by Claire Stremple, April 1, 2021
Biden announces environmental justice advisers, E&E News, by Kelsey Brugger, March 29, 2021
Coalition Sues for Stronger Health Protections from Toxic Flame Retardant Chemical, Press Release, Earthjustice, March 22, 2021
Groups Urge Immediate Action by EPA To Improve PFAS Disposal Guidance for Communities, Environmental Working Group, Press Release, February 25, 2021
'Am I going to regret it?': forever chemicals dilemma for breastfeeding mothers, The Guardian, February 15, 2021
Lawsuit Challenges EPA's Dangerously Outdated Plan for Offshore Oil Spills, Center for Biological Diversity, January 30, 2020
EPA report shows increased chemical releases at Red Dog Mine, state pushes back, Alaska Public Media, by Abbey Collins, March 6, 2019
Tracking Toxics, by Bill Sherwonit, 2003, the story of St. Lawrence Island and Annie Alowa
Video, "I will Fight Until I Melt" – Documentary produced by Pamela K. Miller and Jean A Riordan of Southpaw Solutions featuring an interview with Yup'ik elder Annie Alowa (1924-1999).
PRESS RELEASE: Citizen Groups and Alaska Community Action on Toxics Hold Press Conference to Release New Investigative Report on Drinking Water Contamination in Alaska, September 24, 2019
Air Pollution, Flooding, Water Contamination, Wildfires
Community Farm/Gardens, Elevation or Relocation of Homes, Fighting Industrial Contamination, Halting Bad Development, Nature-Based Solutions, Renewable Energy