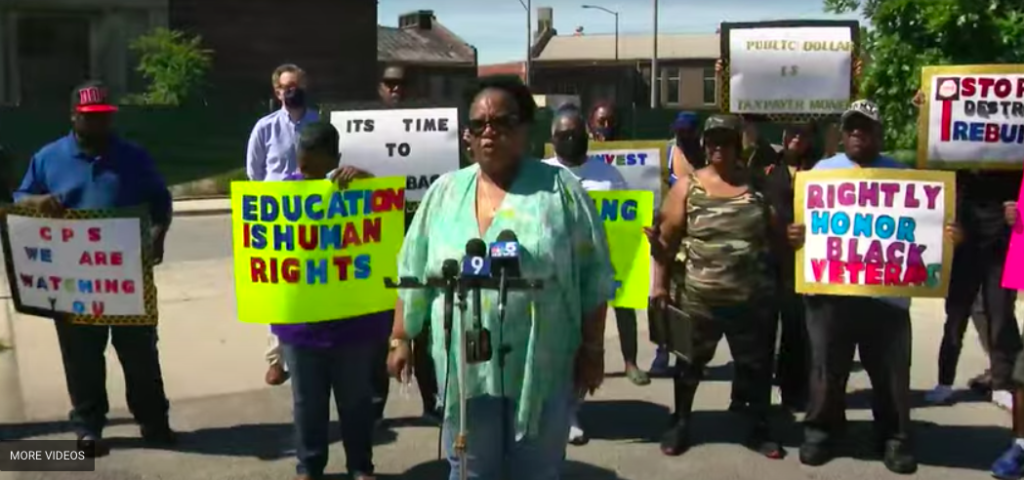 Cheryl Johnson, Executive Director of People for Community Recovery in Chicago, was literally born into her life's work. Growing up in Altgeld Gardens, a Chicago Housing Authority development on the South Side of Chicago, she saw her mother Hazel Johnson work tirelessly for environmental and racial justice.
For years, their housing development had fallen into neglect with calls for much needed repairs repeatedly ignored. As well, after watching family and friends grow sick and die, Hazel Johnson discovered that area residents had the highest incidence of cancer in Chicago. She dubbed the neighborhood the "toxic donut" due to the surrounding landfills, factories, sewage plants and underground chemical storage tanks leaking cancerous compounds like liquid silicon tetrachloride.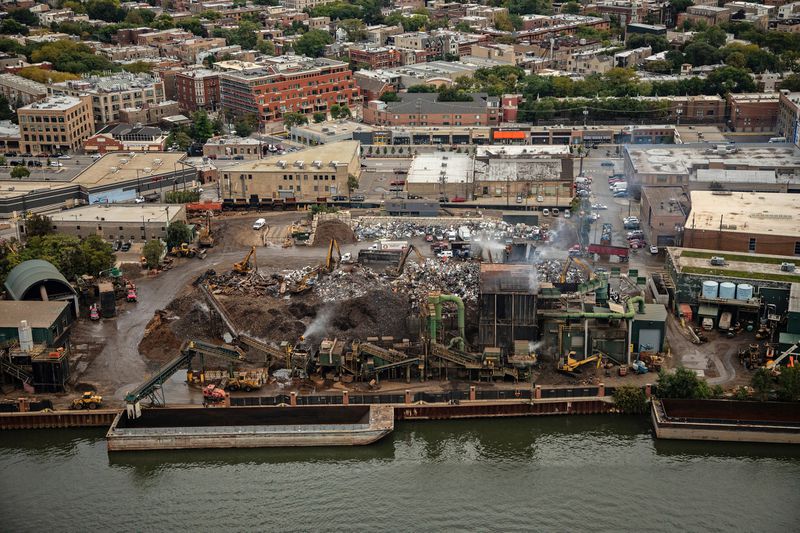 After her husband died of lung cancer and her seven children continuously suffered from skin and respiratory issues, Hazel Johnson founded People for Community Recovery in 1979 seeking answers and solutions.
The area's running water was known to be contaminated with nitrogen, phosphorus, and pathogens well above Environmental Protection Agency limits. Nearby industries were, and still are, regularly cited for spewing unhealthy amounts of diesel pollution and particulate matter into the air. In her housing complex, Johnson organized to fix lead pipes and remove asbestos, which regularly hospitalized young children. (Grist.org)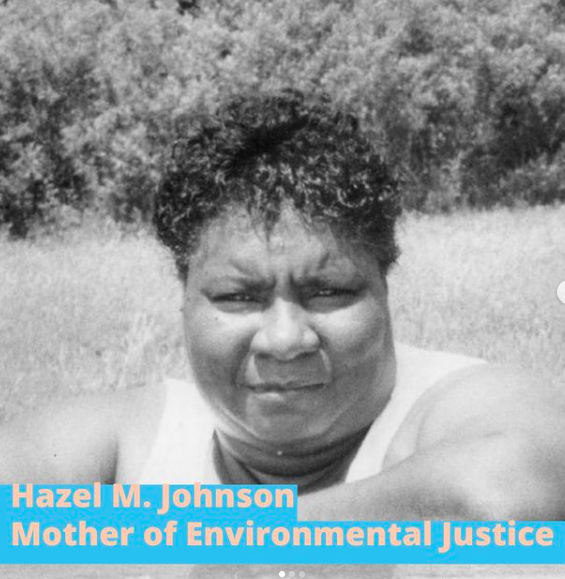 Known as the "Mother of Environmental Justice," Hazel Johnson relentlessly researched, questioned, petitioned, organized, and advocated on behalf of her neighbors, and ultimately all victims of environmental injustice. She worked with everyone she could, from local government agencies to college professors to community organizers – including a young Barack Obama in 1986, then director of the Developing Communities Project.
In 1992, President George H.W. Bush presented her with the EPA's Environment and Conservation Challenge Award. In 1994, she returned to the White House with a group of environmental justice leaders as President Bill Clinton signed Executive Order 12898, which directed the EPA and federal government to identify at-risk communities and develop an environmental justice strategy. Two years later she returned to the White House as President Clinton honored the country's top 100 environmental groups, with People for Community Recovery the only grassroots Black organization in the mix.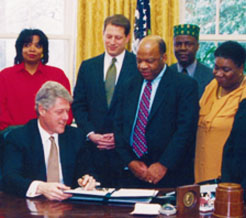 Rep. Bobby Rush (D-IL) recently introduced three bills expanding his efforts to honor the PCR founder who died in 2011. Now, in addition to getting the matriarch on a postage stamp and awarding her the Congressional Medal of Honor, the congressman hopes to designate April as Hazel M. Johnson Environmental Justice Month.
Her legacy continues through Cheryl Johnson, who worked alongside her mother since 1985 to bring about environmental awareness not only for impacted communities, but to challenge government and businesses to become creative and innovative to protect the environment. People for Community Recovery is dedicated to fulfilling "the dream of making Altgeld Gardens an environmentally sustainable village where community, government, universities and businesses can come to the table to create environmental solutions that will save the existence of the human species," according to Cheryl Johnson.
Under Cheryl's leadership, People for Community Recovery remains a leading advocate in campaigns to mitigate environmental and economic burdens disproportionately borne by underserved communities in Chicago. Cheryl's advocacy has had a wide-reaching impact across the city, including the recent establishment of a successful solar workforce training program and brownfield solar project, both designed to create jobs and clean energy savings for the residents of her frontline public housing community, where the Chicago Housing Authority (CHA) plans to install solar panels for 1,500 apartments.
Currently, PCR is working to save a historic building, the first school in the Altgeld Gardens community, slated for demolition by the Chicago Public Schools. The community was not informed in a timely fashion or involved in this decision. Hoping to preserve the school for local community engagement and job training, PCR is stressing the need for reinvestment in the community, not disinvestment. Lacking a grocery store and local job training, the community needs control and revitalization of the building. Tearing it down will jeopardize opportunities for revitalization through historic landmark status.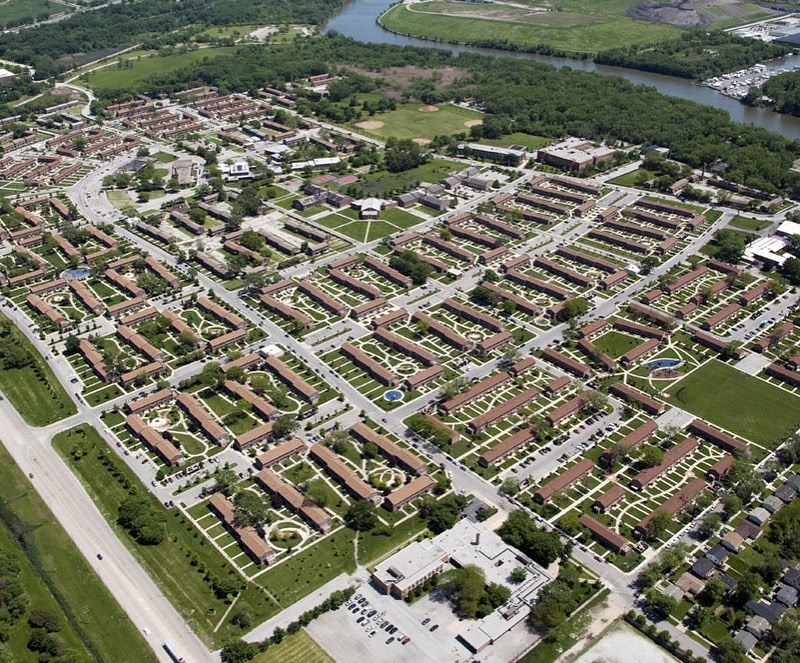 Written by Kerri McLean
For more information:
Johnson unveils city reforms to fight environmental racism, Chicago Sun Times, Sept 2023
Op-Ed: Build a Solar Farm in Altgeld – South Side Weekly
People for Community Recovery | The EPA Blog
Life in the Doughnut – South Side Weekly
2019 Award Winner: Cheryl Johnson – Vote Solar
Congress honors environmental justice pioneer Hazel M. Johnson | Grist
The 40-Year Fight to Clean Up One of America's Most Polluted Projects (vice.com)
Environmental Issues in Southeast Chicago | EPA in Illinois | US EPA
Hazel Johnson, the mother of environmental justice, was Catholic | Earthbeat | National Catholic Reporter (ncronline.org)
Cheryl Johnson
Courtney Hanson
Air Pollution, Water Contamination
Affordable Housing, Fighting Industrial Contamination, Halting Bad Development, Renewable Energy