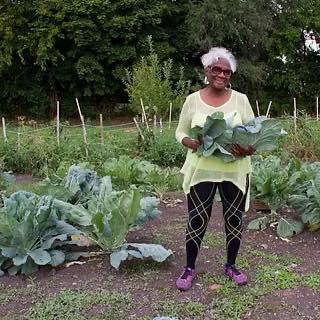 Vel Scott is determined to bring healthy choices and a sustainable lifestyle to those who might not otherwise have opportunities within their reach. This is especially true for many urban communities where proximity to fresh food and open spaces isn't always available.
She holds classes throughout Cleveland on how food can be a catalyst to better living. As well, she can be found spreading the word on college campuses across the country, in commercial kitchens, on her website, and in YouTube videos.
Her work centers around Vel's Purple Oasis Garden, a blend of market and sustainable community garden in Cleveland's University Circle neighborhood.
While her advocacy on behalf of her community spans decades, from building a social center in the heart of the predominately African American community to helping launch local and national political campaigns, a situation closer to home changed her focus and solidified her mission.
When her husband Don was diagnosed with hypertension and congestive heart failure, she researched and experimented, changing how she cooked and what they ate. In a few short months, she says, his health issues dramatically improved and she felt "catapulted" into sharing the new-found information, especially considering pervasive health issues within her own community.
"The Black community has the highest morbidity, highest rates of cancer. Highest rates of diabetes. It's up to us to change our attitude and our eating habits," Scott said.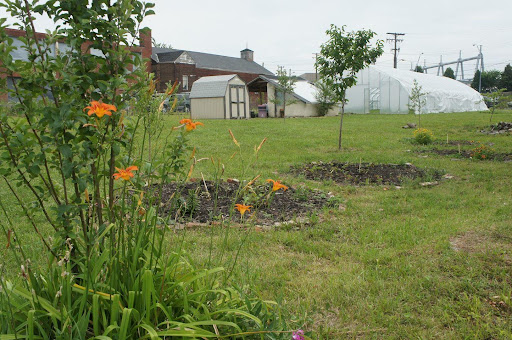 On a one-acre lot across the street from their old club, Don and Vel started Vel's Purple Oasis in 2008. The focus was to bring together community members to promote a healthy lifestyle through growing and eating high-quality produce. Within three years the Oasis developed partnerships with the Green Triangle permaculture designers, John Hay High School Environmental Club, the Ronald McDonald House, the New Agrarian Center, and the Prevention Research Center for Healthy Neighborhoods.
The following year, hundreds of people from across the country came together over one weekend to build a "Straw-bale Greenhouse" at the garden. The greenhouse offers a venue for workshops and classes on how to extend growing seasons and how to best cultivate new crops.
"It was unbelievable to see something new, something healthful being built in the heart of the city by so many people, from so many places, who gave up their time for the health and wealth of a community," Vel said. "'Health is wealth,' as the saying goes, and we are a rich, happy and healthier community because so many people cared."
To house an educational center, the group bought and restored a home across from the garden where cooking classes and meal prep are taught. Residents learn to prepare healthy meals from foods not only from the garden, but from local food banks in a "place of peace and tranquility for people to come just as they are" according to Vel. The house is called The Don Scott House.
The Don Scott House has evolved quite a bit since its founding in 2009. Neighbor Jim Baker has led the renovation process, almost single-handily rehabbing the upstairs – taking down old wallpaper, slats, and flooring. Volunteers from Oberlin College's Environmental Studies class became regulars as did others who "showed up from everywhere," according to Vel.
"When I think of 'Earth Angels,' which I strongly believe in, I think of a young student named Mackenzie Brown from Seattle, Washington, who came up with the Oberlin students. She made a major financial contribution to the DSH through a foundation grant she received. This turned the house into the home that we envisioned," Vel said.
"At the present time, we still need more funds to complete the house, probably around $15,000.00. But, we are on our way. And as my grandmother used to say, 'By hook or by crook.'" Let's say it's going to be by 'hook,' we'll get the funds to complete this wonderful home."
Written by Kerri Mclean
For more information:
Vel Scott is on a Mission to Teach Healthy Eating and Cooking to Clevelanders
From Entertainment Queen to Grandmother of the Garden, This Woman is Getting Clevelanders to Eat Healthier
How A Woman In Her 70s Made Healthy Eating Education Her Mission | HuffPost Life
To Volunteer: Vel Scott's Purple Oasis Cooperative (google.com)
Vel Scott
velmscott@gmail.com
Air Pollution, Erosion-Subsidence, Flooding, Heat, Water Contamination
Affordable Housing, Art Activism, Community Farm/Gardens, Community Land Trusts/Land Conservation, Community Science, Direct Relief and Aid, Fighting Industrial Contamination, Green Infrastructure, Halting Bad Development, Nature-Based Solutions, Policy Reform, Renewable Energy