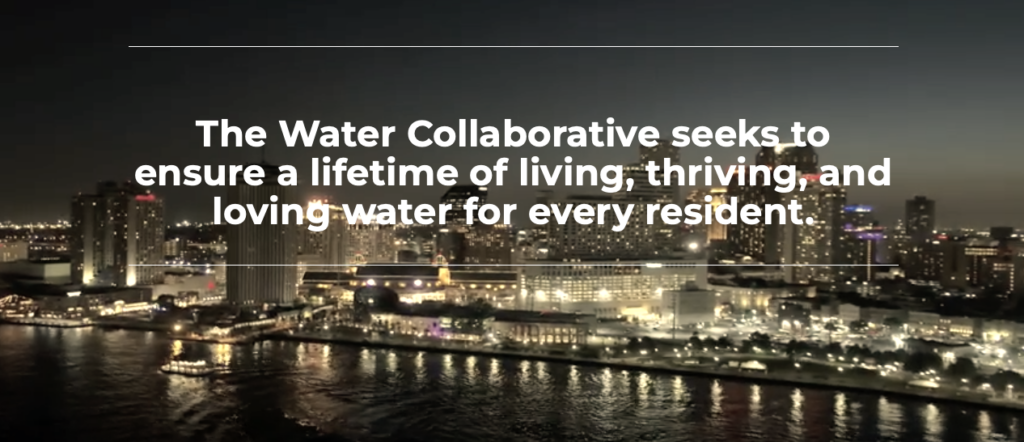 At first, after a disaster strikes, it can seem as though all is lost. But sometimes, on the flip side of that disaster and with time and even some luck, that destruction can morph into new possibilities for reform. For Jessica Dandridge, Exec. Director of Water Collaborative of Greater New Orleans, Hurricane Katrina was the disaster and her home of New Orleans became the host for those possibilities.
Jessica's 16th birthday was the day after Katrina struck in August 2005, and that storm would forever change the trajectory of her life. Growing up, like most residents of the city, she had seen the levees and canals, but they just seemed a part of the landscape and Jessica didn't know what they meant. After Katrina, it was all too clear.
"When I came back after the city was closed, I really became active and wanted to know how I could better improve my community, how I could change the trajectory of how our city is shaped….Everything was starting from scratch."

– Jessica Dandridge, Learning to Live with Water in New Orleans, Buzzsprout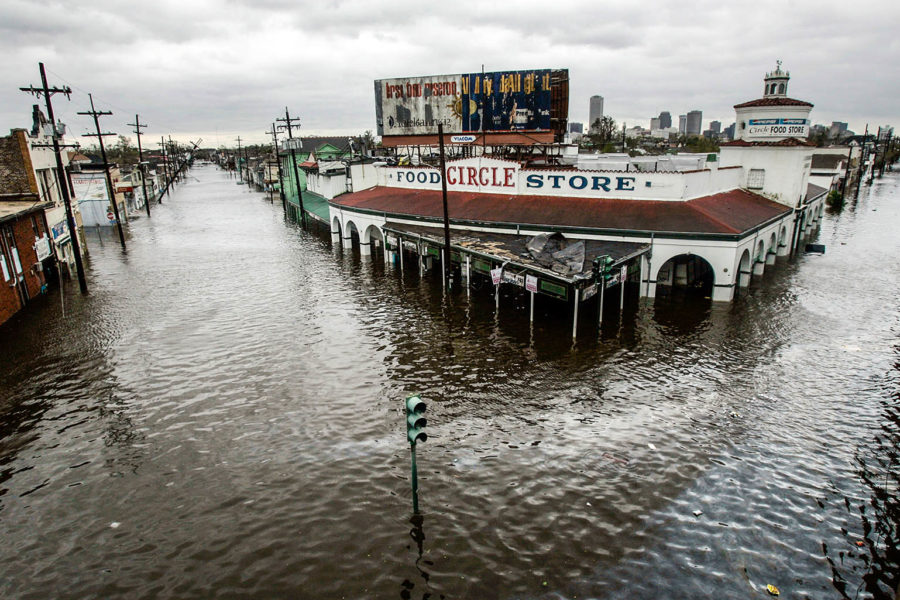 After being a youth organizer and advocate for her community as well exploring other opportunities and countries through her education, she sees it as destiny, more or less, that brought her home and to the Water Collaborative of Greater New Orleans as Executive Director.
The Water Collaborative of Greater New Orleans came together as a grassroots movement of business owners, engineers, architects and scientists who had seen the levees fail under Katrina's assault and knew there had to be a better way. They wanted to bring the sectors that usually just cross paths in the management of water together to provide solutions.
The opportunity for partnerships toward their goal began with a trip for 20 scientists to the Dutch Dialogues launched in 2006, where they learned the concept of "Living with Water." Out of that collaboration came the development of the Greater New Orleans Urban Water Plan coordinated by the local architectural and planning firm Waggoner & Ball. It was long—three volumes and 26 reports long—but it was groundbreaking.
"The Urban Water Plan was developed out of a process that considers soil, water, and biodiversity; existing water and other infrastructure; and the makeup of the urban space in Greater New Orleans, also understood as landscape typologies."

– Greater New Orleans Urban Water Plan
What was unique about incorporating this new concept was that for the first time, the plan shifted what was a historical approach of fighting against water toward living with it. The $14 million plan was released in October 2013 and by most accounts the implementation to date has made New Orleans more resilient and hopeful for the future, though much work still needs to be done.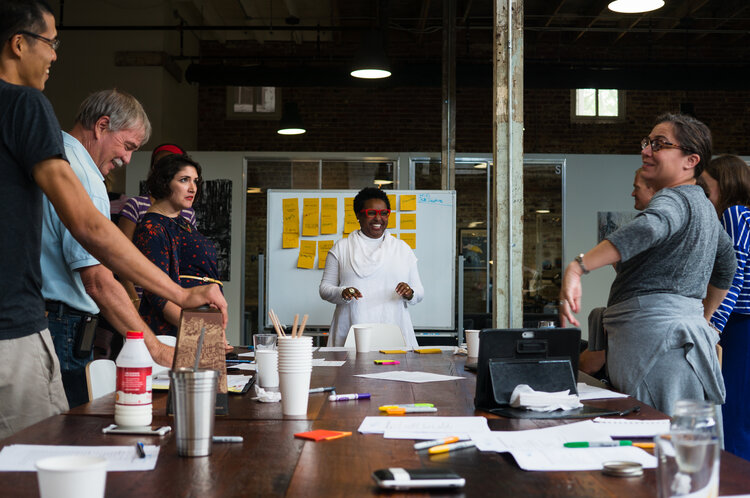 The Water Collaborative was incorporated in 2017, and became an independent 501c3 organization in 2020. Moving forward, the legacy of changing New Orleans' relationship to water continues through programs emphasizing work on policy, education and equity. The Water Collaborative represents not only Greater New Orleans, but all residents of Louisiana; many are African American, Indigenous, and poor working class communities impacted by flooding or at risk of climate displacement. They want to make New Orleans a leader in rights-based water management and to build a culture that can "live, thrive and love water."
The Water Collaborative's programs include:
Cancer Alley Water Quality Testing: The Water Collaborative is working to test water quality in Cancer Alley, where, according to the EPA, seven out of ten U.S. census tracts with the nation's highest cancer risks are located. The goal is inform and empower the communities impacted by these threats.
Advocating for passage of the H.R.1417 – Water Affordability, Transparency, Equity, and Reliability Act of 2019: This legislation will establish a Water Affordability, Transparency, Equity and Reliability Trust Fund to provide for adequate funding for water and sewer infrastructure, as well as reliability of infrastructure.
Stormwater Management Fees – pilot program: New Orleans' drainage system is over 100 years old and needs repairs. The Water Collaborative, "in partnership with the business council, New Orleans Business alliance and the City of New Orleans, is working to improve funding structures in New Orleans to cover increasing costs from aging infrastructure and increasing flooding from rainfall, storms and sea level rise." This policy is the first of its kind because it will apply to ALL landholding bodies, including nonprofits and churches, which own over 30% of the landholdings in New Orleans. It would also include the port entity having to pay neighbors for flooding.
Brackish artist collective: Drawing artists from all walks of life and types of art forms to explore issues of water justice through their work for an exhibit in the summer of 2022.
Pontchartrain Park Project: With Sustaining our Urban Landscape (SOUL) and Pontchartrain Park Neighborhood Association, the Water Collaborative is participating in a program to plant 700 trees in the Pontchartrain Park Community between October 2021 and March 2022, supporting community engagement through workshops and public art.​​
The Green Tours: In 2020, The Water Collaborative launched a sustainable funding model where tourists and residents can learn about the region's relationship with water and climate, where the city is now, and plans to become climate resilient by 2050. The tours remind people of the urban environment around them and the structures we all tend to take for granted, through a lens of water justice.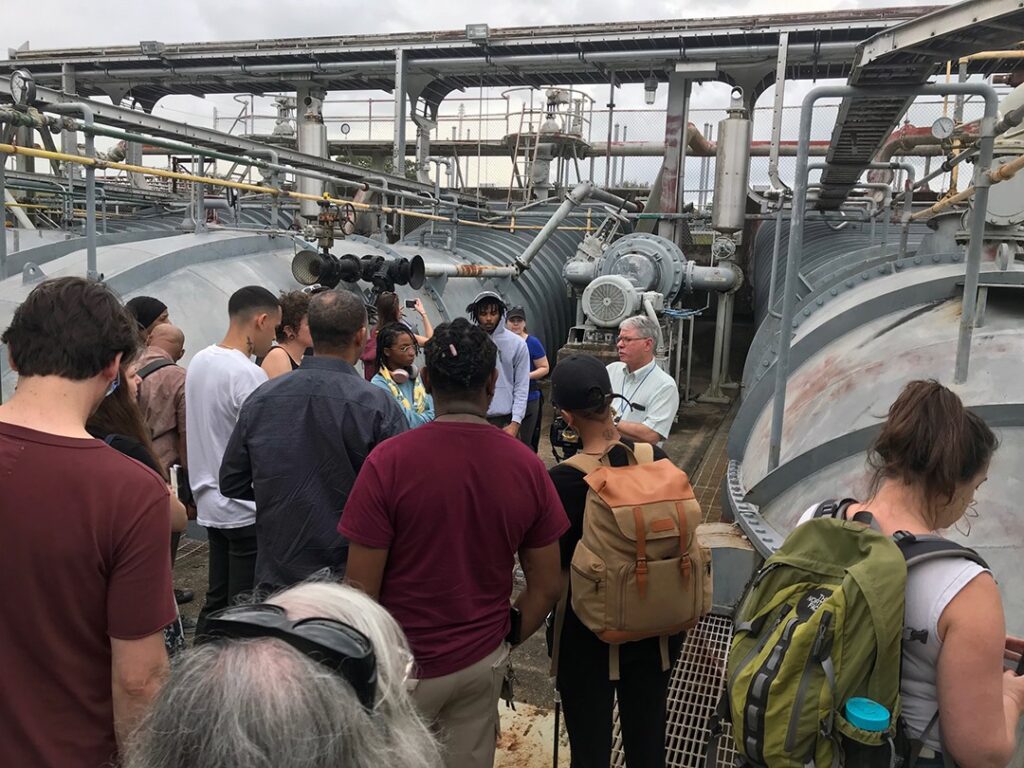 Written by Michele Gielis
Learn more:
Guest column: Safe, affordable water is the world's most essential human right, The Advocate, by Rebecca Malpass
Water, drainage a major topic at New Orleans council debate, WWLTV, Nov. 30, 2021
New Orleans City Council Candidates to Debate Water Issues, Biz New Orleans, Nov. 30, 2021
After Hurricane Ida, Louisianians Offer Bold Visions for Climate Resilience, Podcast, Truthout.org, Oct. 15, 2021
After Ida, Louisiana Struggles to Tally the Environmental Cost. Activists Say Officials Must Do Better, Inside Climate News, Sept., 24, 2021
In Ida's wake, advocates stress need for stronger investment in Gulf communities' infrastructure, Houma Today, Sept. 13, 2021
Hurricane Ida worsened Louisiana pollution, prompting calls for climate justice, Courthouse News Service, LA, Sept. 9, 2021
A tree for every home in Pontchartrain Park: That's the urban landscape plan for next year, Nola.com, March 24, 2021
Songs in the Key of Water, Voicemap, produced by Jessica Dandridge
Learning to Live With Water in New Orleans, Future Cities, Podcast, Nov. 1, 2020
2015 National Planning Excellence Awards: ENVIRONMENTAL PLANNING
Greater New Orleans Urban Water Plan
One Water Spotlight: Sewerage & Water Board of New Orleans, US Water Alliance, March 2017
Jessica Dandridge
Exec. Director
Rebecca Malpass
Policy & Research Coord.
collaborative@nolawater.org
Erosion-Subsidence, Flooding, Sea Level Rise, Water Contamination
Art Activism, Community Farm/Gardens, Fighting Industrial Contamination, Green Infrastructure, Nature-Based Solutions, Policy Reform