Stop the Flooding NOW!
Virginia Beach, Virginia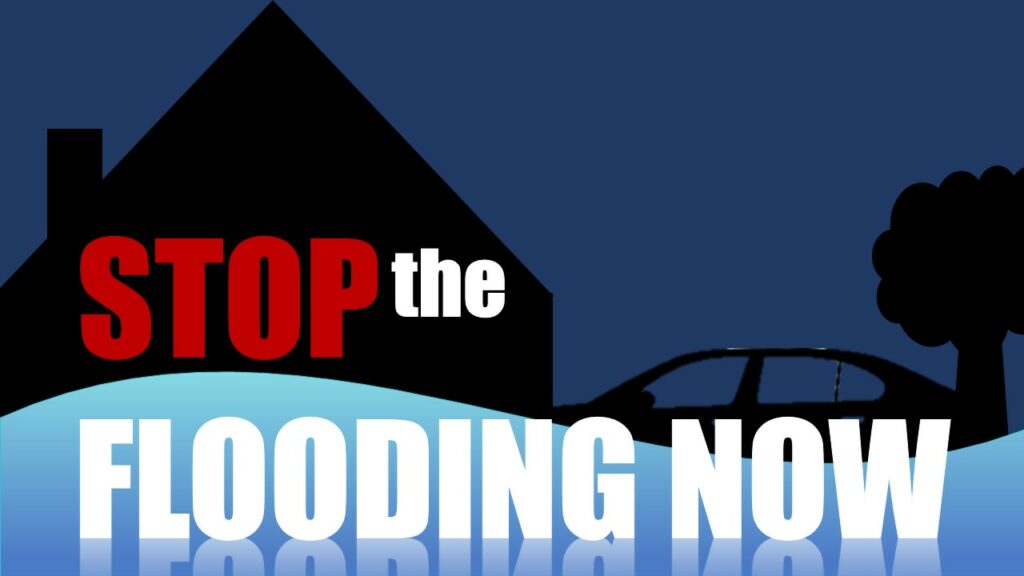 Virginia Wasserman is a unique person in her Virginia Beach community for many reasons. Her background is that of a political conservative, and she is an "unexpected" advocate for addressing climate change and sea level rise in a community subject to wind tides and extreme weather events. Virginia has taken on a role of service to her community, helping others to avoid what she experienced with her first nightmarish flooding event.
Virginia's journey began October 8, 2016, when Hurricane Matthew and two tropical storms flooded her entire neighborhood and more specifically her home. The creek behind her property overflowed as the storm pushed the water up from North Carolina, where Hurricane Matthew was raging. With over 20 inches of water in her home, her family had to evacuate for three months. Virginia wasn't yet aware how this event would change the focus of her life.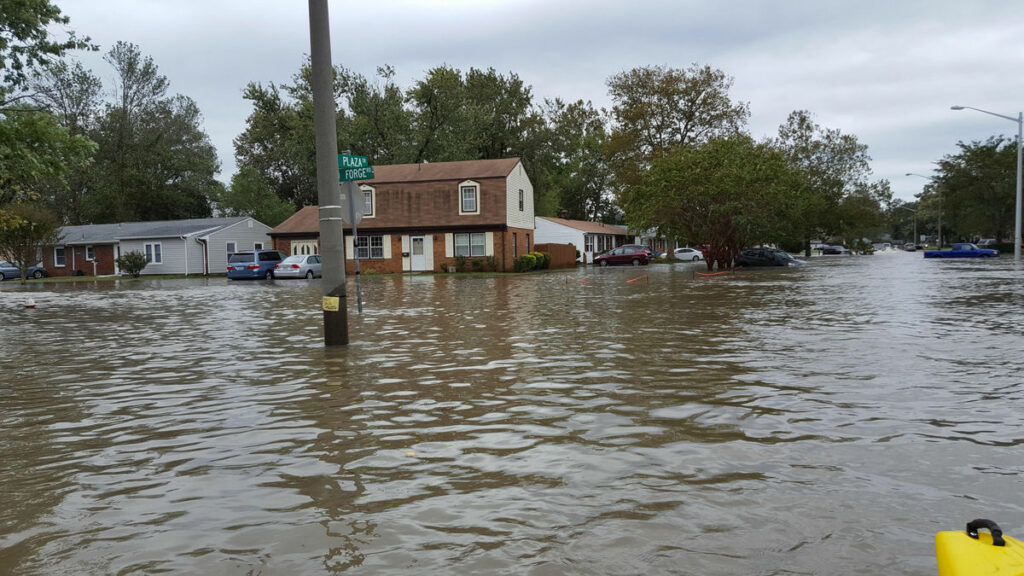 It began slowly, but Virginia needed to understand why her home flooded, not wanting to experience that trauma again. So she became involved in the local civic league, and discovered the city was requesting pictures of flooding from the community. They didn't have enough information about where it was happening. So Virginia dug in to get that information to them, launched the Facebook page, Stop the Flooding NOW, helping her community tell their stories of loss, destruction, and survival in the face of rising waters.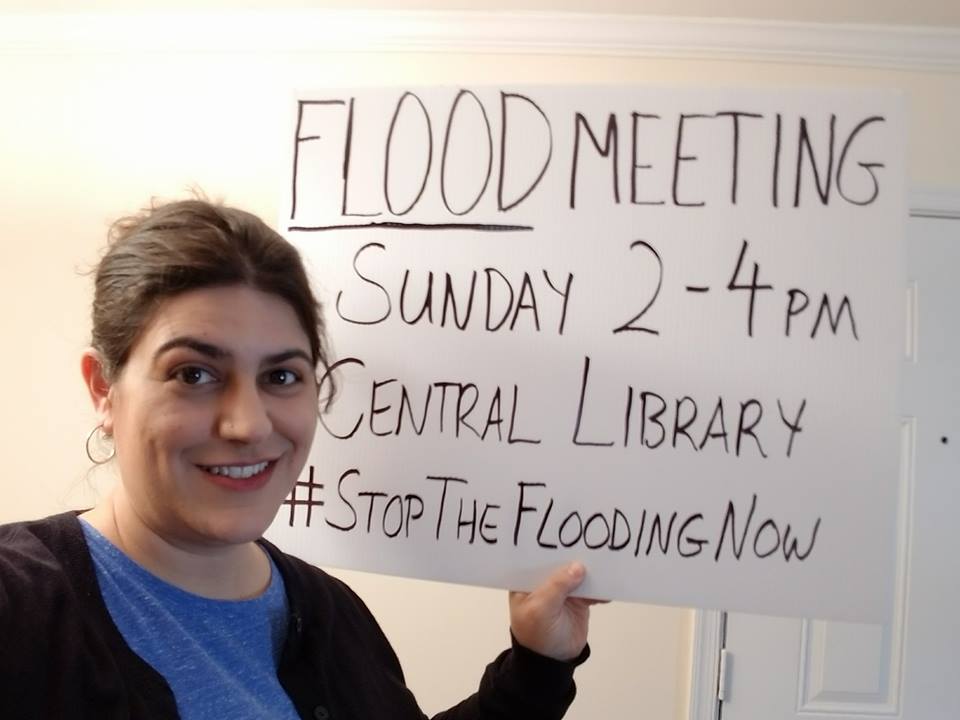 Everything came together when she met Harriet Festing, of Anthropocene Alliance, and found an unexpected sense of community in joining the Higher Ground Network composed of flooding victims from around the country. Her organization was one of the first members.
From there, Virginia was introduced to the Thriving Earth Exchange, a crucial partner to our organization, which provides scientific research and policy guidance to flooding victims and communities looking for solutions. They connected Stop the Flooding NOW with Dr. Michelle Covi, who provided research to help Virginia and her team begin a project to improve communication between scientists and community members. They attended conferences and developed relationships with the Hampton Roads community, fortifying their work together. Virginia worked hard to develop her videography skills and began to use Facebook Live to alert her community to flooding events so they could avoid certain areas and plan appropriately to protect themselves and their property.
In April 2018, Virginia pulled all her skills together along with Bob Jennings, an active member of her group, to host a community meeting with Dr. Michelle Covi and engage more stakeholders. And that they did, with 75 people attending, who shared their stories. Public officials were there to hear them. Virginia remembers, "It is this kind of personal experience that drives our passion and keeps us relatable to the public. This was our first community meeting, and it helped create an atmosphere for local residents and leadership to see us there in person and hear what we are doing."
And that work continues today. Remarkably, even though Virginia's family moved to another home nearby, to avoid more flooding, she worked to make sure the creek that overflowed in 2016 and flooded her property was fixed. She couldn't reconcile having the family that bought her home experience more flooding. Through her advocacy, the city funded a project that cleared overgrown brush, dredged the creek, giving it more capacity to hold water, and built rock walls all around to prevent overtopping.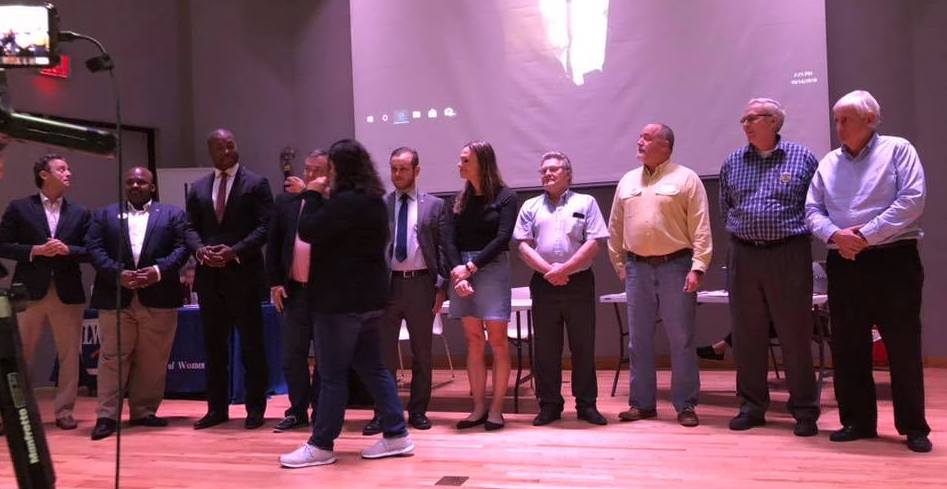 More recently, Virginia continues her work with the city, pushing to lock up funds from stormwater fees that the community pays and reserve them for flooding mitigation measures. She has also advocated to protect $5.2M for site acquisition, to buy property in the southern part of Virginia Beach that has experienced flooding, giving the affected families close to fair market value and then leaving the land undeveloped so the water has a place to go.
What surprised Virginia the most from this experience which started with a disaster was the sense of community she has felt and how everyone has come together, despite some differences in their perspectives, to find solutions and put them in place. For all her communications skills, this aspect leaves her with a loss for words, but a great deal of hope for the future.

Written by Michele Gielis
Links
Op-ed: Flood survivors find common ground in a divided nation. The Daily Climate. April 12th 2021
Investigation: Are we ready for the rise in flood waters from climate change?, Wavy.com, March 12, 2020
Three years after Hurricane Matthew devastated Virginia Beach, how has the city changed?, Pilot Online, October 8, 2019
Hampton Roads "has fallen victim" to rising seas, says another national flooding report, Pilot Online, September 24, 2019
Grassroots Group Commended for Work on Flooding by Virginia House, EOS, Science News by AGI, February 19, 2019
What's the ticket to a successful community meeting? Make it personal. Thriving Earth Exchange, June 11, 2018
Assessing Flooding and Hydrodynamics for Flood Prevention and Mitigation, Thriving Earth Exchange