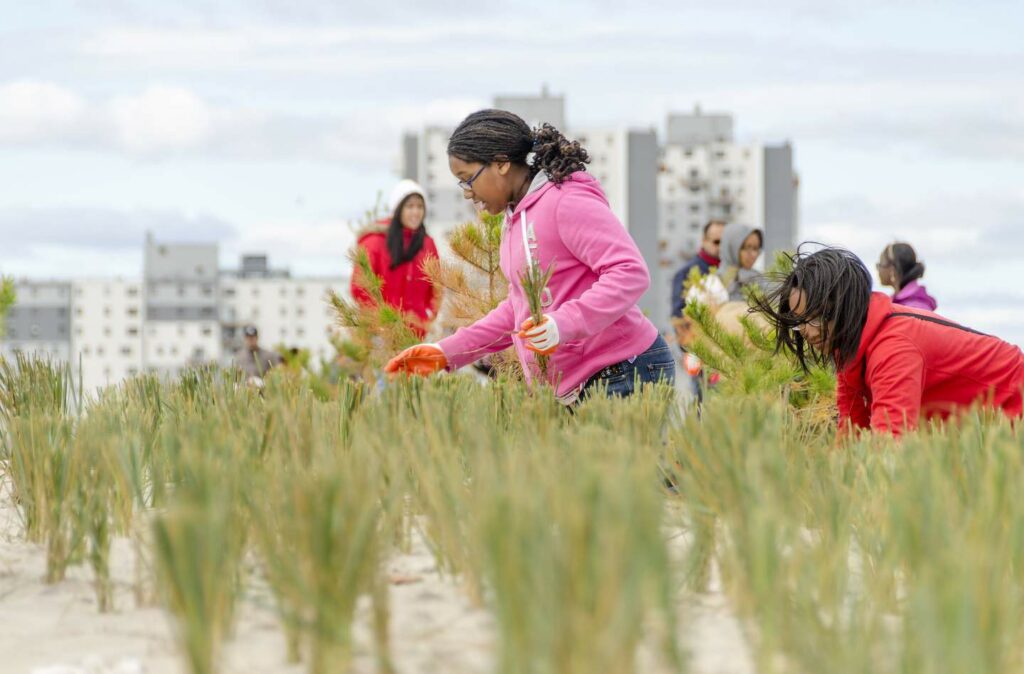 In 2005, the Rockaway Waterfront Alliance (now RISE Rockaway) came together from community for community. It was founded by Jeanne Dupont, a known advocate and environmentalist in the Rockaways. Jeanne had moved to Rockaway in 2003 and saw this last free and public beach as an opportunity to connect the local population to its environment and to each other.
The Rockaway peninsula is the kind of place that never really leaves you once you've been. It is an 11-mile long sand barrier and the largest beachfront in NYC. It's the smell of salty air borne on ocean winds, and beach boardwalks with throngs of tourists in the summer. But off season, or really anytime amongst locals, it's an easy community in which to make friends. In a New York Times piece, author Diane Cardwell described the feeling:
"Rockaway is a place where you can get to know people just by being there. I made friends at first with my neighbors and the other regulars on the boardwalk checking out the waves at sunrise. Later, I'd come to know people from the water, where surfers would offer me advice in the waves and invitations to parties on land."
With that sense of community, centered in Far Rockaway, NY, Southeast Queens, in a peninsula's embrace, RWA (now RISE) began working with youth groups, hosting Living Classroom Programs in public schools, and building partnerships with educational institutions and its community of families, as well as hosting programs to rebuild dunes on the beach.
Fostering leadership among youth is a pillar of RISE's work, and tremendously successful as well, with 95% of the young people who take part in their programs going on to further their education focusing on careers in STEM related fields. You can find out more about some of these success stories here.
Another pillar for RISE Rockaway is creating spaces for the community to enjoy, or as they say, "see[ing] potential in places and people that are often overlooked, or marginalized." RISE Rockaway has proven a knack for bringing that potential to fruition. Their first community-led plan brought the opening of 28-acre Waterfront Park on Atlantic beachfront in 2011, on a lot that had been an illegal dumping ground. As Archinext describes it:
"Due to [RISE's] efforts, when Mayor Bloomberg unveiled PlaNYC, a long-term planning vision for the city that included $1.2 billion in new funding for projects city-wide. Far Rockaway Beach was included as one of five new regional parks envisioned by PlaNYC…. Extensive community consultations helped define important goals for the Park, primarily the need to reconnect the neighborhood with a renovated and revitalized beachfront through better access and increased amenities."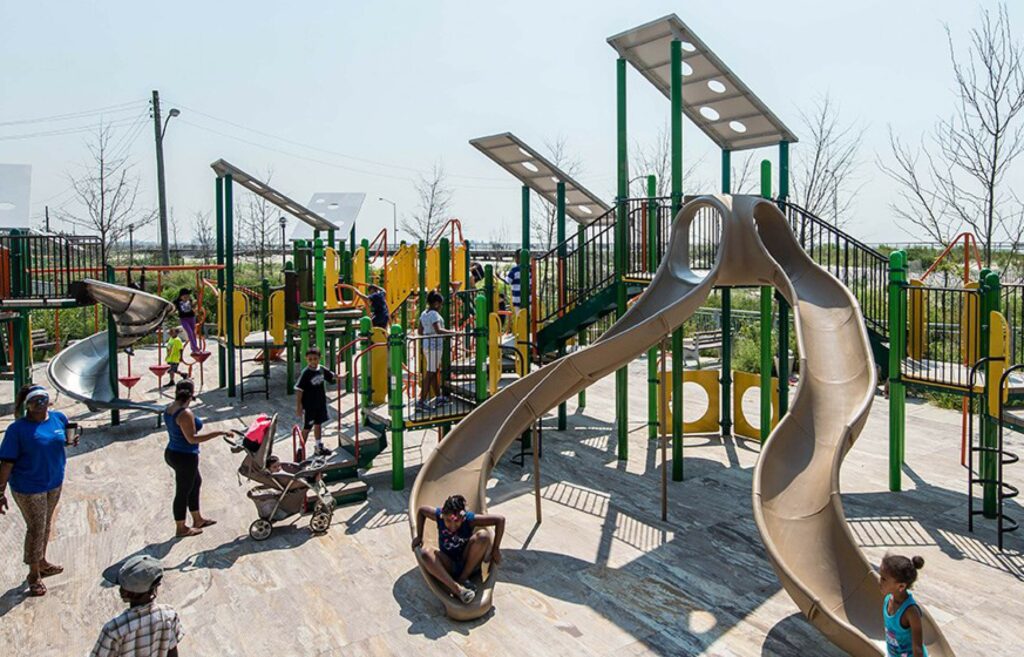 Then in October 2012, everything changed. Hurricane Sandy wasn't an average hurricane—it was a Superstorm with several storms actually wrapped together, which made it one of the most damaging hurricanes ever to make landfall in the U.S. At its largest, the storm measured more than 900 miles in diameter.
Sandy devastated the Rockaway peninsula. The Gothamist reports, "More than 1,000 structures were destroyed, and 10 feet of storm surge flooded the area. Queens residents lived for months without heat and with mold in their homes from the water damage." Hurricane Sandy ranked as one of the most costly natural disasters in the U.S. at more than $70 billion.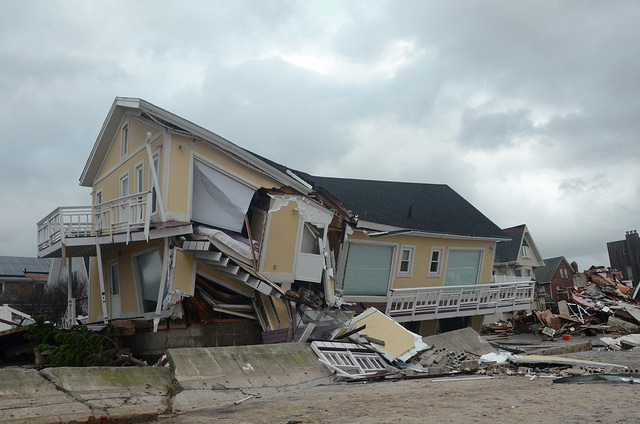 Jeanne Dupont recalled in a podcast a few years later that she had thought the attention Sandy had brought to how underserved the Rockaways community was would finally create an opportunity for change. But she feels that NYC didn't follow through on the solutions they talked about. This in turn strengthened her resolve—the people in the community have to be self-sufficient and determine for themselves what they want their community to look like. There was work to do.
For RISE Rockaway a time of reflection and reenvisioning began—looking at how the very streets, parks and indeed the shoreline that makes Rockaway, NY what it is, can enact a more equitable way of living for everyone in the community. With that reenvisioning came the name change in 2019 from Rockaway Waterfront Alliance to Rockaway Initiative for Sustainability and Equity (RISE), pointing more truly to the ultimate goal.
Plans to close roads to traffic, create bike and pedestrian paths as well as conducting plantings and cleanups took shape. Then those plans grew to vacant land being reclaimed and an outreach program for homeowners on the coast, arming them with flooding projections and ways to protect their property, and gain resilience.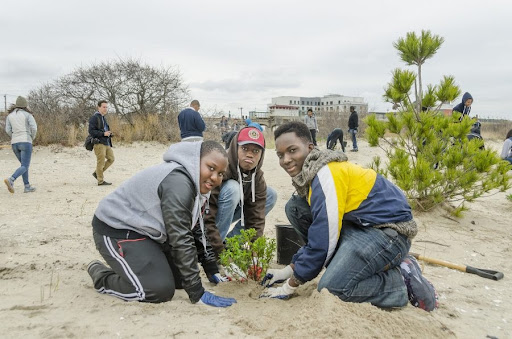 For 2021, RISE Rockaway is embarking on what may be its most ambitious project yet, aptly named the Greater Rockaway Community & Shoreline Enhancement Plan. The plan has engaged stakeholders across the diverse spectrum represented in the community from October 2020 to June 2021. It "is focused on the restoration of the dunes along the Atlantic shoreline of the Rockaway Peninsula and prioritizes local voices, biodiversity, and long-term stewardship." A final report will be released in the fall.
Find out about RISE Rockaway's Initiatives here. : https://www.riserockaway.org/rise/initiatives/
To learn more:
2021 RISE Presentation, Garden Club of Lawrence features RISE at GCA Zone III Conference, Video
Learning To Look With sketchRockaway!, The Wave, by Cara Cannella, July 9, 2021
Reimagining Place Together: Taconic Fellows and Rockaway Residents Envision Landfill's Future, Pratt Institute, June 19, 2019
BREAKING: Army Corps Announces Public Meetings for Rockaway Study, The Wave, September 19, 2018
Spring Planting at the Rockaway Dunes, Waterwire, April 13, 2018
How New York City is tackling a mental health crisis spurred by Hurricane Sandy, Grist, Justine Calma, December 20, 2017
From the Rockaway Waterfront Alliance – Hip Hop Halloween Party, October 12, 2017
Nassau Queens PPS and Rockaway Waterfront Alliance Partner to Improve Health in Rockaways, PR Newswire, October 24, 2017
Jeanne DuPont, Founder and Executive Director, Rockaway Waterfront Alliance, Creative Disturbance Podcast, November 12, 2015
Jamaica Bay by Rachael Bucci, EPA, August 1, 2012
PlaNYC Far Rockaway Park Masterplan and Parks Structures, Archinect
Rockaway Waterfront Alliance to develop Institute for Sustainable Environment in former firehouse, Waterfront Alliance, April 22, 2009
Written by Michele Gielis
Jeanne DuPont
jdupont@riserockaway.org
Air Pollution, Erosion-Subsidence, Flooding
Community Farm/Gardens, Nature-Based Solutions