Refuge: a place of safety; shelter; security; sanctuary.
That's what John Van Eyk envisioned for the Navajo youth of Fort Defiance, Arizona in 2017 when he founded Rez Refuge. The small non-profit acquired an abandoned house in the Rio Puerco Acres neighborhood and transformed it into a community center with the help of 35 local teenagers and young adults alongside hundreds of volunteers from around the United States.
Rez Refuge is devoted to empowering young people to learn and grow in a safe environment. When the community center opened, 15-25 young people came through each day. Now, with a focus on community building and an emphasis on mind, body, and spiritual health, 25-40 people attend daily and many more benefit from outreach programs.
The center offers myriad services for the community, including educational programming, Back to School supplies, student internships, summer teen retreats, garden kits, elder outreach, and a community greenhouse.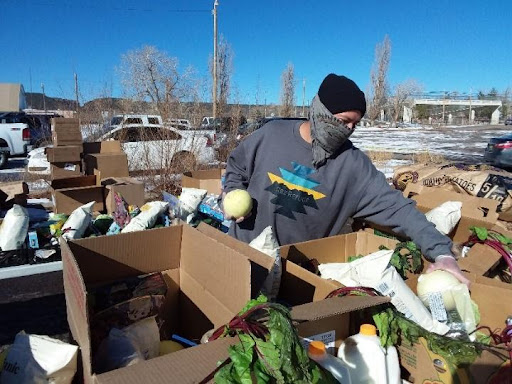 In 2020 when COVID-19 changed everything, the importance of community became even more acute. Rez Refuge continued educating through remote programming activity packs that include musical expression, reading, mindfulness, physical activity, S.T.E.A.M. packs, and family activities. Young people learned how to play guitar, practice yoga, and do garden-to-table cooking through YouTube videos created by Rez Refuge volunteers.
As well, they coordinated relief efforts and distribution of crucial supplies which included food, personal hygiene products, sanitation products, school supplies, and clothes alongside remote programming activities for participants and community members.
Executive Director Dimitra McCabe grew up in Fort Defiance, on the Navajo Reservation, and is passionate about educating people on living with — and on — the earth. In March 2021, she spearheaded the Community Environmental Responsibility Project with the objective of creating a more harmonious and environmentally-healthy community. The project came about after a profoundly teachable moment.
"We had youth-led community clean ups which motivated other young people to join in, resulting in bags and bags of garbage," McCabe said. "We realized no one knew where the garbage was going and then discovered many illegal dump sites which were ruining natural habitats."

The Community Environmental Responsibility Project works toward illegal trash dumping solutions; accessible trash removal initiatives; sustainable recycling programs; and soil restoration and permaculture projects with local entities.
Written by Kerri McLean
Learn more:
Rez Refuge & Rez Refuge Community Center | Facebook
Rez Refuge (@rezrefuge) • Instagram photos and videos
Faces of Arizona: Dimitra McCabe runs Rez Refuge in Fort Defiance (azcentral.com)
Grant Program To Increase Water Access On Navajo Nation Announces First Recipients
Alexandir Nakai
Operations Manager
alexnakai@rezrefuge.onmicrosoft.com
Air Pollution, Water Contamination, Wildfires
Affordable Housing, Community Farm/Gardens, Nature-Based Solutions