A Chicago South Side native, Lori Burns has come to understand urban flooding in a very personal way. She remembers growing up in the home she now owns, spending countless childhood hours in the basement where the toys were, as children do. But now the basement holds entirely different memories.
The Chicago Tribune described it best — "Her brick bungalow in the Chatham neighborhood was among thousands of Chicago homes swamped by another rainstorm that overwhelmed the city's aging sewer system. This particular downpour ended up as one of the worst on record. Two months' worth of rain fell in two days during April 2013 — a storm marked by geysers of human waste bursting out of manholes, and a torrent of sewage and runoff surging through the Chicago River into Lake Michigan."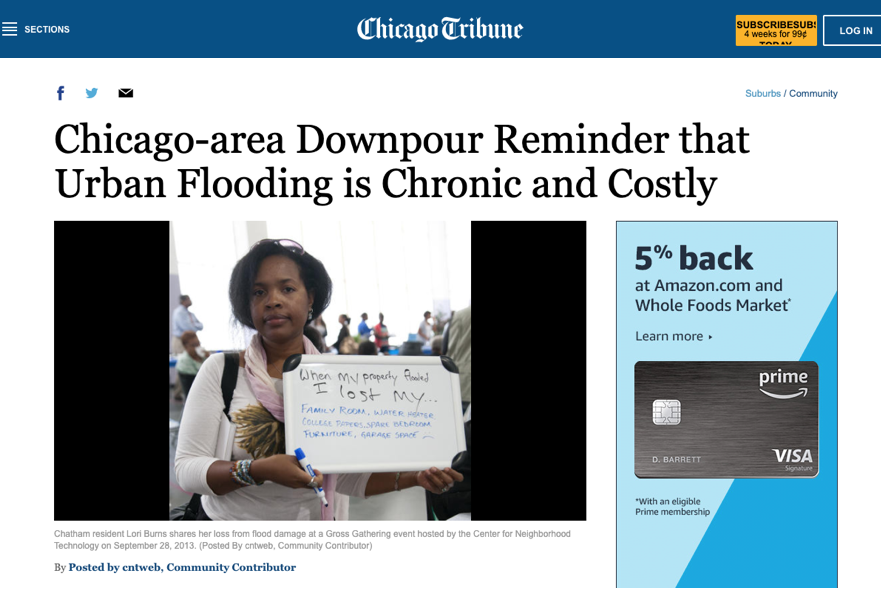 This was the third time Lori's basement flooded in five years. Each one left a disgusting mess. One time when she was shopping for supplies, she found long lines with people buying plastic gloves and waders, mops and buckets and realized it wasn't just her neighborhood. Her reaction was, "And it's like, wow, is this what we are looking at? This is the future? That we are having these storms where there is more than two to three inches of rain that falls in an hour? And this is just going to be what happens?"
Like most of the unexpected activists in our movement, Lori knew there had to be a better way and started searching. One night she found a notice for a meeting hosted by the Center for Neighborhood Technology (CNT) called "A Gross Gathering." It was going to be about all the gross things flooding can do to your home. Then she found out the City of Chicago and the Metropolitan Water Reclamation District were partnering to stop flooding issues in Albany Park, and thought that's great, but what about Chatham?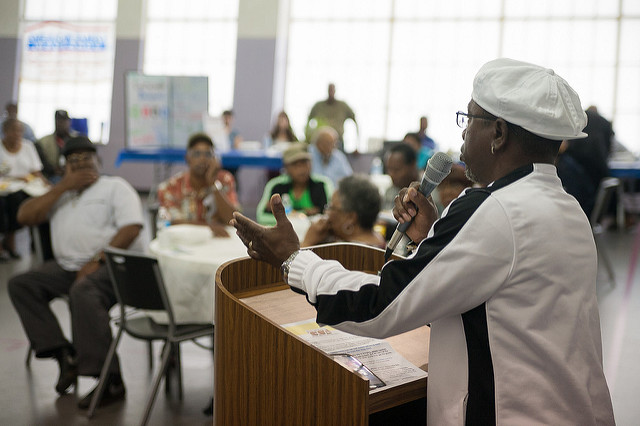 So Lori went back to the Center for Neighborhood Technology and together they started to organize. They collected data, finding Chatham had the highest number of flooding insurance claims in the city and knew they were on the right track. They started organizing neighbors, like Cheryl Watson and Ora Jackson and found a solution for Lori's house with a back-up valve to prevent sewage from flooding her home. But Lori knows that the sewage she is keeping out of her home flowing down the line into her neighbors' homes and so the work continues.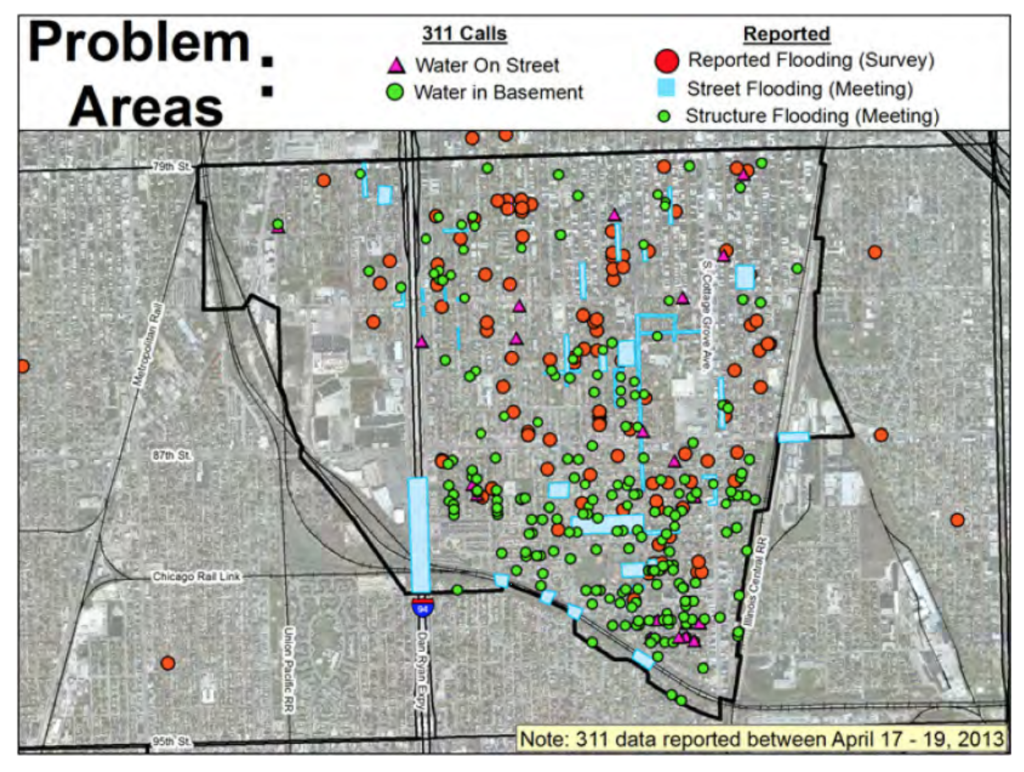 In a pilot program between the city of Chicago and the Metropolitan Water Reclamation District and aided by CNT, Chatham was supposed to be a model for flood-mitigation improvements in 2020, but was delayed by the pandemic. As 2021 moves forward, Lori and her neighbors work to help residents lead in the creation of solutions for urban flooding in their community.

Written by Michele Gielis

Links
Most Tenants Get No Information About Flooding. It Can Cost Them Dearly, KPCW Live Radio/NPR, October 22, 2020
Chicagoans swamp city with flood complaints after spring's record rain, Chicago Suntimes, July 20, 2020
Flooding in the Chicago area has been so bad in the past decade that only places ravaged by hurricanes sustain more damage, Chicago Tribune, May 6, 2019
Climate change could cause more sewage backups, Yale Climate Connections, October 24, 2018
SSW Radio: Flooding in Chatham, South Side Weekly, May 8, 2018
"It's bad". Basement flooding, Chicago, IL, December 10, 2017
RainReady Chatham Plan, THE CENTER FOR NEIGHBORHOOD TECHNOLOGY, February 2017
The Gross Gatherings: A climate fight on Chicago's South Side, WBEZ 91.5 Chicago – Heat of the Moment, by Shannon Heffernan, May 18. 2016
Flood Victims – The Trusted Voice on Urban Flooding, RainReady.org Blog.
TCR Talks: Saving homes from urban flooding, The Chicago Reporter, September 8, 2014
Attack of the Chicago climate change maggots, The Washington Post, July, 23, 2014