Oakfield Acres and Belle Meade Community Preservation Association
Escambia County, Florida
Monarch Lane in the Oakfield area of Escambia County (FL) has seen unprecedented flooding in the last few years, and resident Michelle Tyler has been leading the charge for improved drainage and against development responsible for exacerbating the problems.
On the same July day in 2021 as Tyler was preparing to speak at a community meeting on flooding and drainage issues in their neighborhood, a broken water main flooded the area.
"Let's talk about irony!" she said.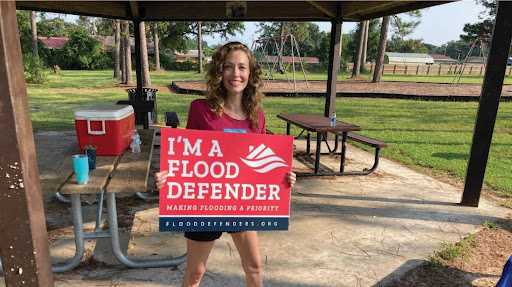 As a homeowner and the Communications Director of Oakfield Acres and Belle Meade Community Preservation Association, Tyler is adamant about making the community safe. The grassroots group is working with Flood Defenders, among other advocacy partners, to hold responsible parties accountable and to develop appropriate drainage projects. 
The fault of many of their problems, according to Tyler, falls squarely on Escambia County's failures to
ensure infrastructure could support the community's current needs as well as new development
ensure corrective measures were taken by new developers following flood events and damages/erosion that resulted from their failure to follow the "Best Management Practices" in their permit
address and remedy the ongoing needs for stormwater plans that were not initially present and are currently inadequate to support this neighborhood and new adjacent development.
As well, questionable construction of a nearby development has increased the frequency and severity of water inundating the area. Oakfield Acres and Belle Meade Community Preservation Association (OABMCPA) and supporters let county officials know through countless emails, commission meetings, and phone calls to the press that the situation is unacceptable. Escambia County staff and Commissioner Lumon May showed up onsite at the Monarch Place development and warnings were issued to the developer, who brought their project into compliance. Commissioner May promised that "everyone's going to be held accountable," and fellow commissioner Doug Underhill called the development of Monarch Place "the worst across the county."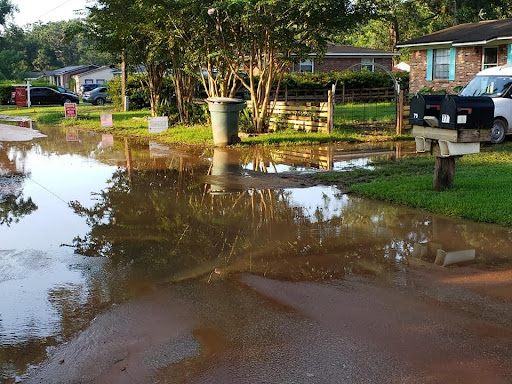 The OABMCPA continues to pressure Escambia County to make things right.  The County is now working on a master plan to address flooding issues in the Carpenter Creek Watershed, which includes the Oakfield Acres-Belle Meade neighborhood.  The County Commission approved $3 Million for the Oakfield-Belle Meade project on September 3, 2021, prioritizing the critical drainage needs to help stop flooding in Oakfield Acres.
Even so, much more needs to be done – and quickly. According to Tyler, nearby construction continues to destroy the natural surroundings and robust wildlife of the area. They have witnessed eight and a half months of clear cutting without a permit; four burn permit violations; two EPA violations for illegal discharge, drainage, and pumping; negligible adherence to flooding and sediment retention measures causing tens of thousands of dollars in damage to residents' private property; and Monarch Lane is regularly left full of red sediment which runs into the Carpenter Creek Watershed every time it rains.
The OABMCPA feels they, as taxpayers, are not well-served by most elected officials, "those whom our tax dollars pay." They urge voters to be more informed and to check out Recall Florida, a nonpartisan organization trying to give communities the right to recall elected officials when they are not serving their constituents.
Written by Kerri McLean
Contact
Michelle Tyler TylerSchoolHouse@gmail.com
Website/social media
Climate impacts
Water contamination
Flooding
Strategy
Halting bad development/industry
Fighting industrial contamination
Nature-based solutions
501c3 tax deductible
No
Accepting donations
No
Learn More:
Escambia neighborhood group seeks help from Flood Defenders | WEAR (weartv.com)
'Flood us all out:' Escambia County neighborhood says flooding is getting worse | WEAR (weartv.com)
Escambia County responds to flooding concerns residents blame on new development (msn.com)