New Mexicans are already experiencing the climate crisis, from the Rio Grande running dry to the two largest wildfires in New Mexico's history in 2022, burning homes and millions of acres. Frontline communities are also experiencing the health impacts of air pollution and water contamination from the extractive fossil fuel industries. Contamination has disproportionately affected Indigenous and communities of color in New Mexico. There is also a long history of organizing, grassroots actions, and community based solutions.
Using a robust social media platform, Anni Hanna, in her work with New Mexico Climate Justice (NMCJ), organizes the campaigns of individual communities into an allied network of frontline communities collectively fighting to secure a more just, equitable, and sustainable future. The New Mexico Climate Justice Instagram page reaches more than 20,000 followers and functions as a kind of clearinghouse for direct action campaigns, community events, climate news, and rapid response work. NMCJ also has a sister site, the Land Witness Project, which tells climate stories from New Mexico and has partnered in 2023 with University of New Mexico's Honors Eco-Arts class where students make short documentary videos of community leaders involved in climate justice work.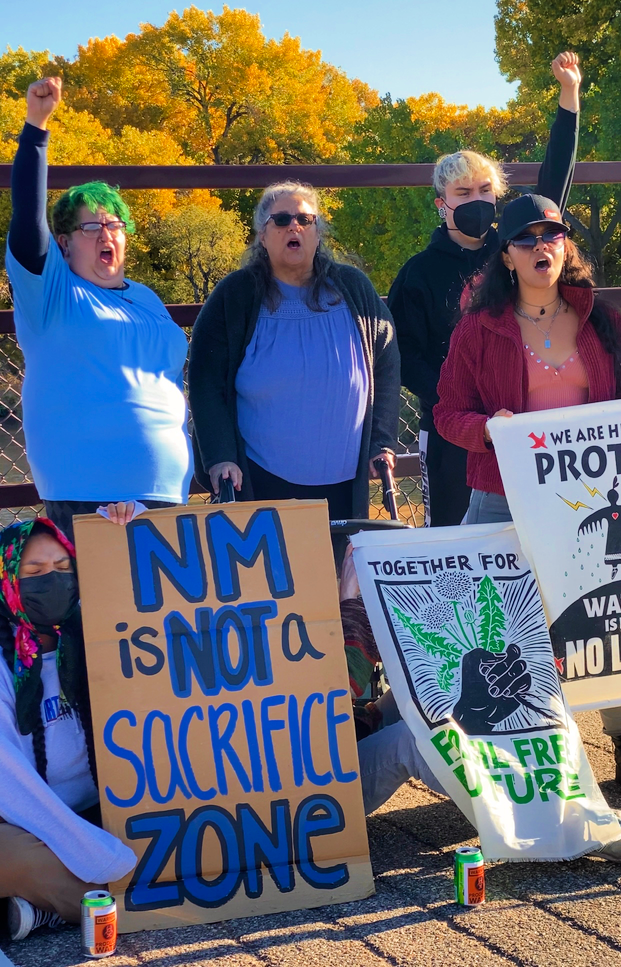 NMCJ faces many challenges in a state where the economy is in the stranglehold of the oil and gas industry. The state known as "The Land of Enchantment" has seen oil and gas production grow by 125 per cent since 2010 and is now the second largest producer in the nation. In Southeast New Mexico's Permian Basin, the hydraulic fracturing business model coupled with insufficient environmental regulation leads to massive amounts of methane gas vented and flared, making Permian oil and gas operations some of the dirtiest in the world.
According to Oil Change International, the intensity of drilling, water, sand, chemical use and the lack of regulatory oversight is turning the Permian Basin into an industrial wasteland. NMCJ's vigorous social media presence is particularly critical when it comes to amplifying the stories and struggles of New Mexico's rural and frontline residents and a just transition to renewables.
Current Campaigns: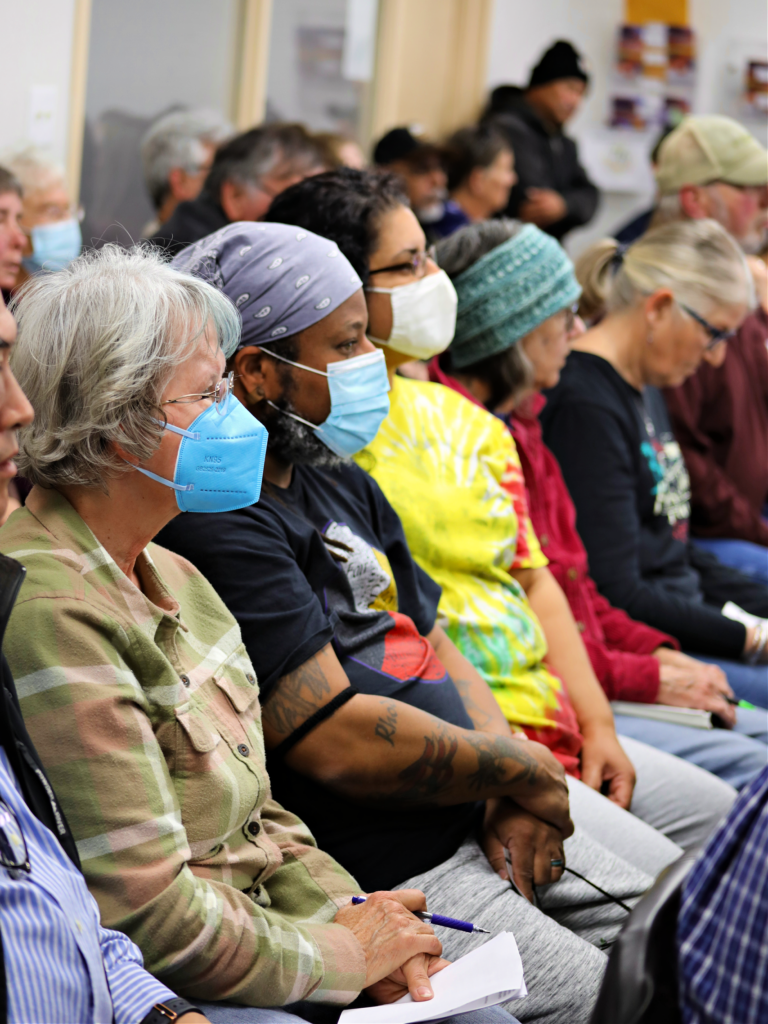 NMCJ is raising community awareness around a proposed Heavy Industrial rezone of 300 acres adjacent to residential homes in Rio Communities, a small town one hour south of Albuquerque. Heavy industry would expose residents to harmful air pollutants and potential water contamination. NMCJ is working in collaboration with Protect Rio Communities and Valencia Water Watchers to help spread the word about the proposed zoning changes, and use our social media platform to inform followers about important rapid response actions, including community meetings, petitions, and protests.
NMCJ is also working to build broader community support to pass a historic Health, Environment & Equity Impacts Regulation at the Albuquerque-Bernalillo County Air Quality Control Board. This new rule on cumulative impacts would allow the Air Board to deny emissions permits to facilities proposed in communities already bearing the disproportionate burden of air pollution. NMCJ is collaborating with the Mountain View Coalition and New Mexico Environmental Law Center, helping raise awareness by sharing petitions, conducting interviews with long-time organizers and providing event graphics for the public to participate in upcoming hearings in the Spring of 2023.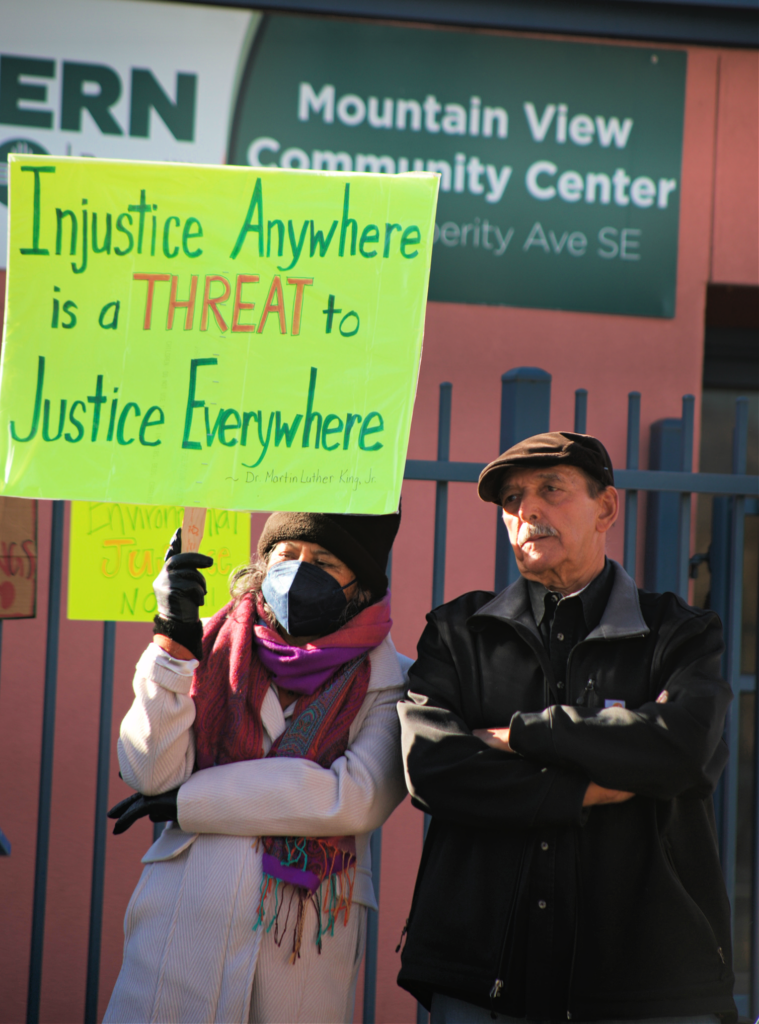 Recent Win: NMCJ is joining groups such as Demand Nuclear Abolition (DNA) that have spent 6 years in coalition with impacted communities around the state organizing to promote state bill SB53, legislation that effectively blocks Holtec International from building this facility until state consent is achieved and a permanent repository is built." The proposal is for an interim storage facility to store up to 10,000 spent nuclear fuel canisters and transport this high level nuclear waste from across the country, by rail, to southeast New Mexico.
There is a long history of nuclear colonialism in New Mexico — a term first coined by Indigenous environmentalists and scholar Ward Churchill — describing a systematic dispossession of indigenous lands, exploitation of cultural resources, and a history of subjugation and oppression of indigenous peoples by a government to further production of nuclear energy and proliferation of nuclear weapons. This has ranged from the White Sands Missile Range tests at the Trinity Site and uranium mining on the Navajo (Dine) Reservation, to large scale spills such as the Church Rock Uranium Spill of 1979 and the Jack Pile Mine toxic legacy that have still not been adequately cleaned up or addressed.
Upcoming Campaign: NMCJ is fighting a Liquified Natural Gas (LNG) storage facility in Rio Rancho, Albuquerque proposed by New Mexico Gas Company. LNG liquefaction requires immense energy in order to achieve the ultra low temperatures required for condensation, refrigeration, venting, leaks, and flaring which make LNG more energy intensive than conventional natural gas. This poses environmental health risks, as well as a continuing reliance on fossil fuel extraction. This storage project would also be estimated to pass on the cost of $180 million of facility construction to ratepayers.
Coalition Work: NMCL is part of People vs. Fossil Fuels, Stop the Money Pipeline and Protect Greater Chaco Coalitions bringing information on national issues to New Mexico, such as #StopWillow ConocoPhillips Alaska Drilling Project and planning small protest actions in partnership with local organizations at Chase Bank and Wells Fargo, which are among the leading financiers of fossil fuel extraction. As part of these coalitions, NMCL also organized against Enbridge's Line 3 pipeline in 2022.
By highlighting community leaders, youth, communities of color, justice events and actions to take in a single hub, New Mexico Climate Justice helps lay the foundation for concerned citizens to organize and mobilize against shared threats.
For more information:
Federal oil and gas reforms debated by New Mexico environmental, industry groups – 1/17/23
"We Can't Frack Our Way to a Safe Climate": Frontline Groups Slam Inflation Reduction Act – 8/8/22
Coalition Delivers nearly 80K+ Comments to Bureau of Land Management at Rally To "Truly Honor Chaco" – 5/6/22
Anni Hanna
Sign up: https://nmclimatejustice.org/contact-us-1
Drought, Heat, Water Contamination, Wildfires
Environmental Justice Concerns
Air Pollution, Fracking/Oil and Gas Development/Pipelines, Mining, Nuclear Power Plants, Superfund Sites
Fighting Industrial Contamination, Halting Bad Development, Policy Reform, Renewable Energy