"I remember the legacies of so many people whose lives were taken from distant lands and crossed a difficult sea to get to this shore. Their spirits were unbreakable. So, no matter what this company is trying to do, we're gonna keep fighting."

– Justin J. Pearson, Co-founder, Memphis Community Against Pollution (Vice, 2021)
The residents of Boxtown—a legacy neighborhood in South Memphis—have fought for their right to land, life and legacy for well over a century. In 1863, two years before the end of the Civil War, freshly emancipated African-Americans first settled the area. Lacking access to adequate building materials, they made homes from abandoned train cars and laid claim to rightful dignity as a free people.
Over the next 100 years, Boxtown residents and their Memphis kin fought to maintain that claim under the cruel hand of Jim Crow. By 1968, the Rev. Dr. Martin Luther King, Jr. asserted that the civil rights movement he helped launch against Jim Crow "…lives or dies in Memphis." Days later, King was murdered at the Lorraine Hotel, just ten miles from Boxtown—but the movement lives on.
Memphis Community Against Pollution formed in response to new attempts to deprive South Memphis residents of health and home. In 2019, Plains All American Pipeline and Valero Energy announced plans to develop the Byhalia Connection pipeline to transport crude oil directly through South Memphis neighborhoods. To advance their project, which would earn $7 billion yearly, the corporations took advantage of fast-track permitting and new Trump administration policies that made it easier for private companies to claim eminent domain. Residents soon received papers to sign over their hard-fought land, no questions asked.
"The word is always out: why don't they pull theyselves up by their bootstraps? Well, we tryin', but every time we get 'em almost up, here come something else."

– Batsell Booker, President, Boxtown Neighborhood Association (Vice, 2021)
Nine months after the project was announced, community members organized by MCAP challenged the project's approval despite a raging global pandemic. MCAP activists educated residents door to door on the project and its dangers. Protests and petitions followed en masse. Former Vice President Al Gore and Poor People's Campaign leader Rev. Dr. William J. Barber, II joined the fight. Facing true community power, Plains All American and Valero abandoned the project on July 21, 2021.
"This pipeline is one example of environmental racism that Westwood and Boxtown have faced for decades."

– Justin Pearson, MCAP (Vice, 2021)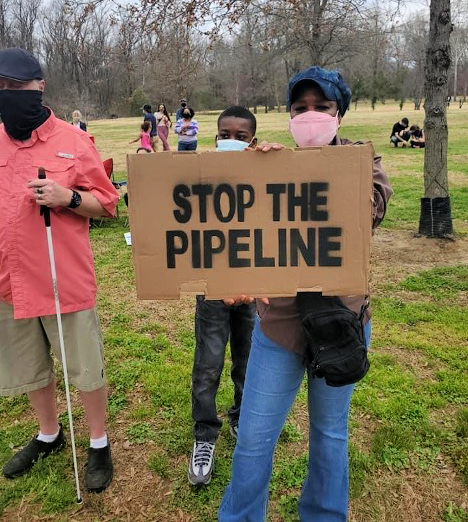 MCAP's movement remains and advances. Since the early-20th century, poor Black people in southwest Memphis have endured—and often perished—under racist industrial malfeasance. For decades, industry has raided the area to refine steel, process chemicals, produce energy and more. According to MCAP, the community is 95% Black, and residents' yearly income averages $24,000. Facing intersectional discrimination in employment, housing, industrial contamination, food security, healthcare, education and more, area residents are four times as likely as the national average to get cancer. Community asthma rates are well above normal. In sum, South Memphis life expectancy is twelve years shorter than average in Shelby County.
Since their Byhalia victory, MCAP has challenged numerous sources of pollution that threaten millions of citizens in Memphis and across the midsouth. Situated above the Memphis Sands Aquifer, Memphis draws all its water from a deep, massive groundwater lake. States and municipalities across the area do the same.
The Byhalia pipeline no longer threatens aquifer health with oil spills, but the water faces other dangers. The Tennessee Valley Authority has long stored coal ash in pools and landfills that are proven to poison local lands, waters and communities. MPAC joins with Protect Our Aquifer, a community organization on a mission to protect the Memphis Sands and those who rely on it, to bring transparency to TVA practices and save residents' lives. In late 2022, MPAC, POA and other community partners pressured local authorities to deny TVA a new, never-ending contract in Memphis.
MCAP looks for racial justice above ground, as well. In August 2022, the Environmental Protection Agency identified South Memphis at high risk for cancer due to ethylene oxide exposure from Sterilization Services of Tennessee. According to MCAP, the facility is one of "…more than 17 toxic release investor facilities nearby and 100s in the industrial park to the west polluting the air in South Memphis and contributing to the failing grade from the American Lung Association for air quality." MCAP calls for Shelby County to conduct thorough air quality tests and community health testing with a fully staffed and funded air program. MCAP continues to educate the public on the risks they face.
"In our neighborhood, we wake up in the morning and we can't breathe."

– Boxwood community resident (Vice, 2021)
Alongside POA, MCAP partners with Breach Collective, the Southern Environmental Law Center and the Tennessee Chapter of the Sierra Club to protect its communities. Together, they aim to promote advocacy and legislation that will end systemic abuse by corporation and state. Anthropocene Alliance offers MCAP with needed pro bono services to advance its living movement.
For more information:
Vice on Byhalia Pipeline fight—an essential video link
Daily Memphian editor supports MCAP
Pipeline abandoned (Greenmatters)
Pipeline tells Black Memphis landowners: sell us the rights to your land or get sued, The Guardian
Memphis rallies and marches draw attention to Byhalia Pipeline opposition, SELC
Yolonda Spinks
https://www.memphiscap.org/join
Air Pollution, Superfund Sites
Community Science, Fighting Industrial Contamination, Halting Bad Development, Policy Reform