Houston Residents Against Flooding
Houston, Texas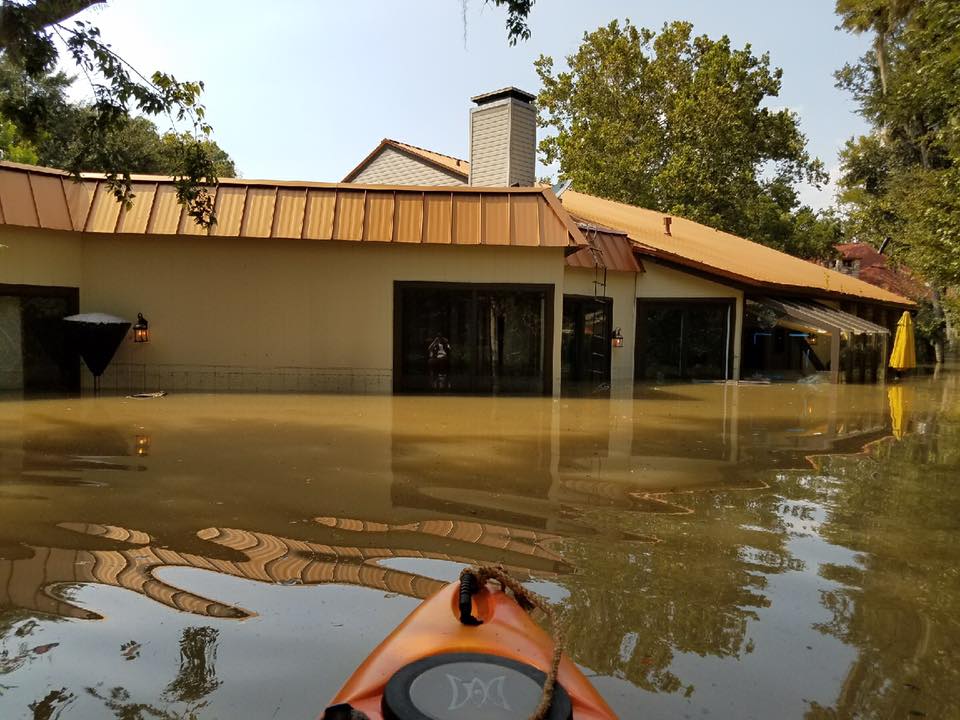 In late April of 2009, a slow-moving thunderstorm dropped 3.5 inches of rain in the Memorial City area of Houston, flooding neighborhood streets. The water receded, but under clear skies, hours after the storm, it returned in greater volume — inundating yards, cars, and 300 homes. Despite being told by county officials the flooding was typical for Houston and an "act of God," residents knew better. Founded by engineer Ed Browne, Residents Against Flooding set out to find answers, raise awareness, and prod officials to act.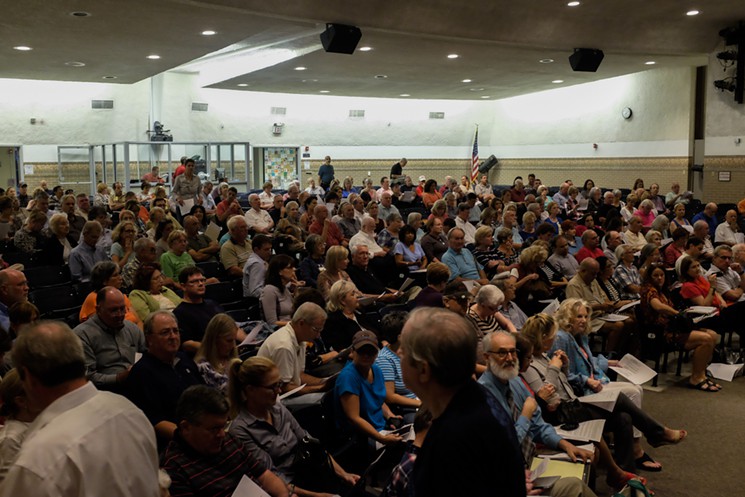 With the escalation of development and reconstruction of I-10, drainage systems and impermeable surfaces impact natural waterflow, making flooding worse. Building techniques such as Fill & Build gained traction, elevating new homes and communities without regard for how run off would impact surrounding areas. RAF pored over building permits, flood maps, and drainage infrastructure details. It was clear that what they were experiencing was not natural.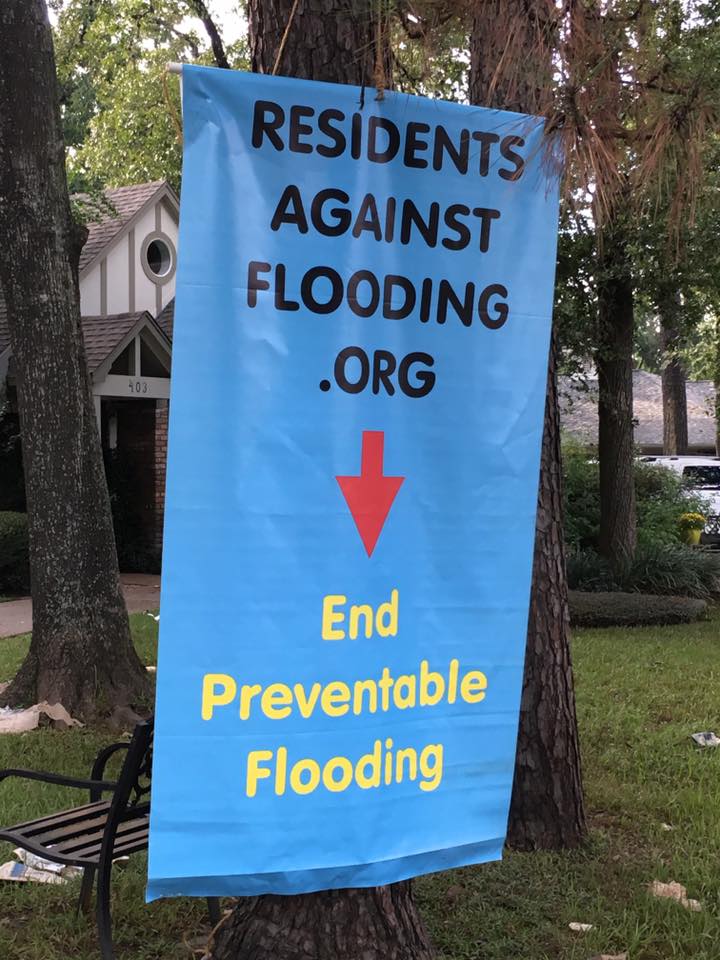 In 2016, RAF sued the City of Houston and Memorial City Redevelopment Authority to protect against future flooding, citing lax building codes and irresponsible development, permitted by the City, without proper flood mitigation. The case was dismissed, but the residents weren't giving up.
Anthropocene Alliance connected RAF with the Thriving Earth Exchange program of the American Geophysical Union. With their help, renowned hydrologist Dr. Steven Emerman, uncovered FEMA flood map corruption, showing maps altered to suit developers. According to the TEX findings, Dr. Emerman and RAF members "determined that the maps, approved by Harris County Flood Control District, were fraudulent: the applicant falsely claimed that the Base Flood Elevation was two feet lower and that the property no longer belonged in the 100-year floodplain. This allowed developers to fast-track a development of 900 homes on the 116-acre lot–in an area that once absorbed a significant amount of stormwater. This stormwater (if not properly held on site through improved drainage) will very likely flood downstream homes and businesses."
RAF has filed a complaint with the Homeland Security Office of the Inspector General which oversees FEMA. As well, they have submitted evidence and Dr. Emerman's expert testimony to U.S. Representatives Dan Crenshaw and Lizzie Fletcher.
The grass roots flood survivor group's current focus is on educating the public through their new website, posting relevant news, resources, insurance information, and flood maps.
Group member Cynthia Neely is proud of the work they've done and the awareness they've raised.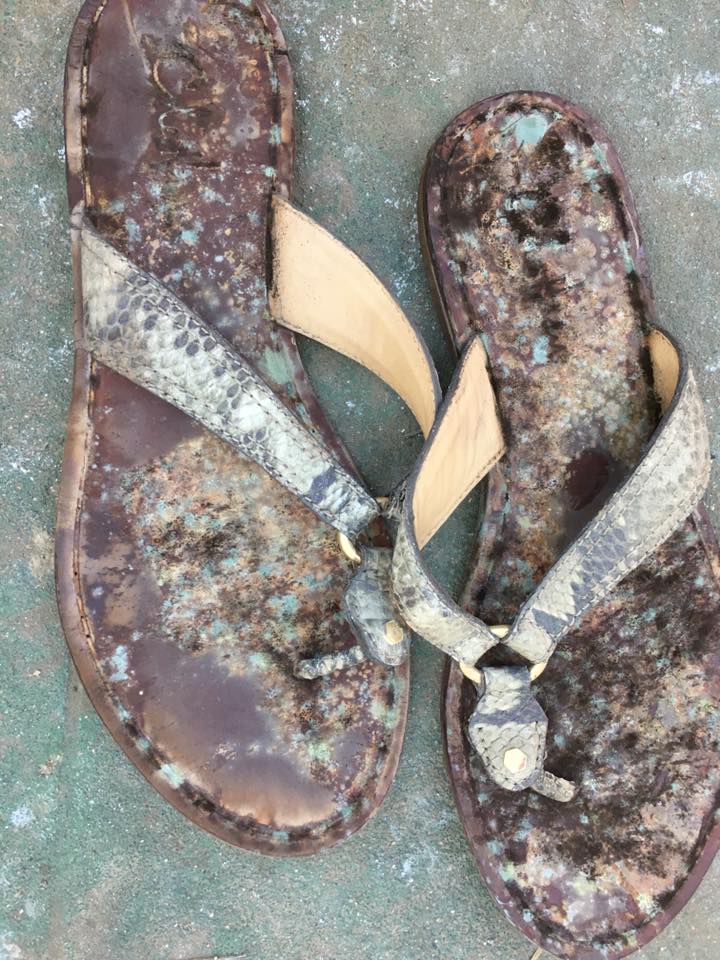 "We do research, stay involved, and reach out to local, state, and national legislators to make sure they understand our plight. We want to help people recognize what is actually happening. The fact that any portion of flooding agony could be prevented keeps us going."

Written by Kerri McLean
Links
Citizen's Petition to Stop Houston Flooding « Ed Browne's Blog (drainagecoalition.com)
Falsified Houston Flood Map? Looks Like It | by Sam Oser | Medium
City in a Swamp: Houston's Flood Problems Are Only Getting Worse – Inside Climate News
Residents-Against-Flooding-v.-Reinvestment-Zone-No.-17.pdf (600camp.com)
'Residents Against Flooding' demand action from the city | khou.com
Residents Against Flooding Launch Donation Campaign to Pay for Lawsuit Against City
Contact
Cynthia Neely
Website/social media www.HoustonFloodingNews.com
Climate impacts
Flooding
Strategy
Halting bad development
501c3 tax deductible
No
Accepting donations
No