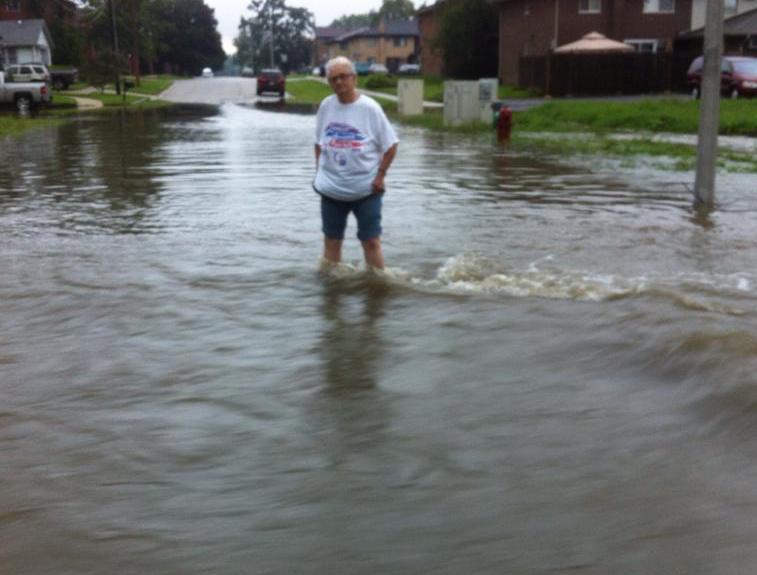 Having your home flooded out once is one thing. But after fifteen floods in 20 years, with the last being the record-breaking, catastrophic flooding in Midlothian, IL, in April 2013, Helen Lekavich had reason to find her voice. And in 2014, when her home was flooded an additional nine times in 14 weeks, and she found herself telling a CBS reporter, "And I'm not on a flood plain. Isn't that hysterical?" she knew she needed more voices to join hers.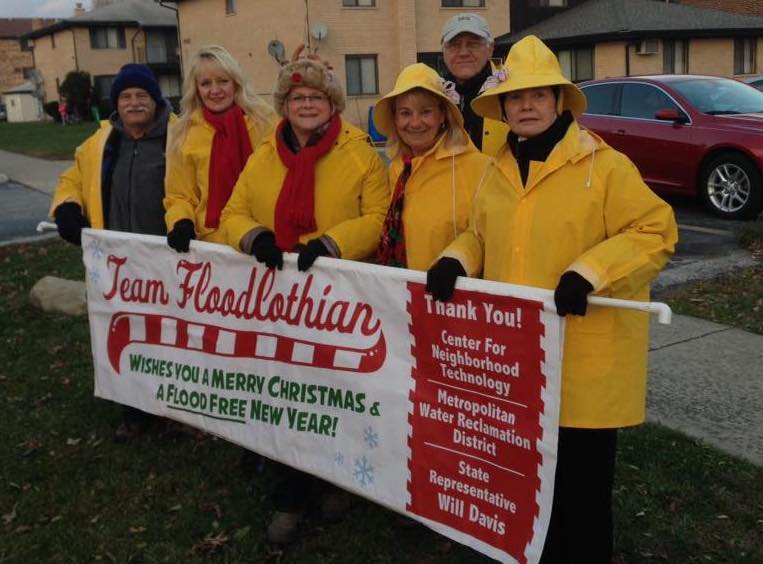 This is how Floodlothian Midlothian or the Floodlothian Five came to be. Helen knew she wasn't alone in the damage being done to her home, that it was a systemic problem and that the entire community had to come together to address it. So she knocked on her neighbors' doors. Together with the neighbors who joined her, she educated her community to understood the flooding was due to poor city planning and they could do something about it.
Five households made up the group: Helen Lekavich, her mother, Jackie Hill, since deceased, Theda Reed, Laura and Andy Marlin, Marihelen and Ed Brinker-Neu, and Ruben and Sharon Pessina. The team would meet in Helen's garage to begin their work advocating for flood relief in their community. They documented the flooding, found the source in a creek 10 blocks away, attended city meetings and land development hearings, wearing identical t-shirts with rotating slogans, marched in parades, showing up in rain hats and coats; their sense of humor and passion created an indelible energy that could not be diverted, much like the water they were fighting against. They even voted out their unsupportive mayor and several trustees in landslide elections.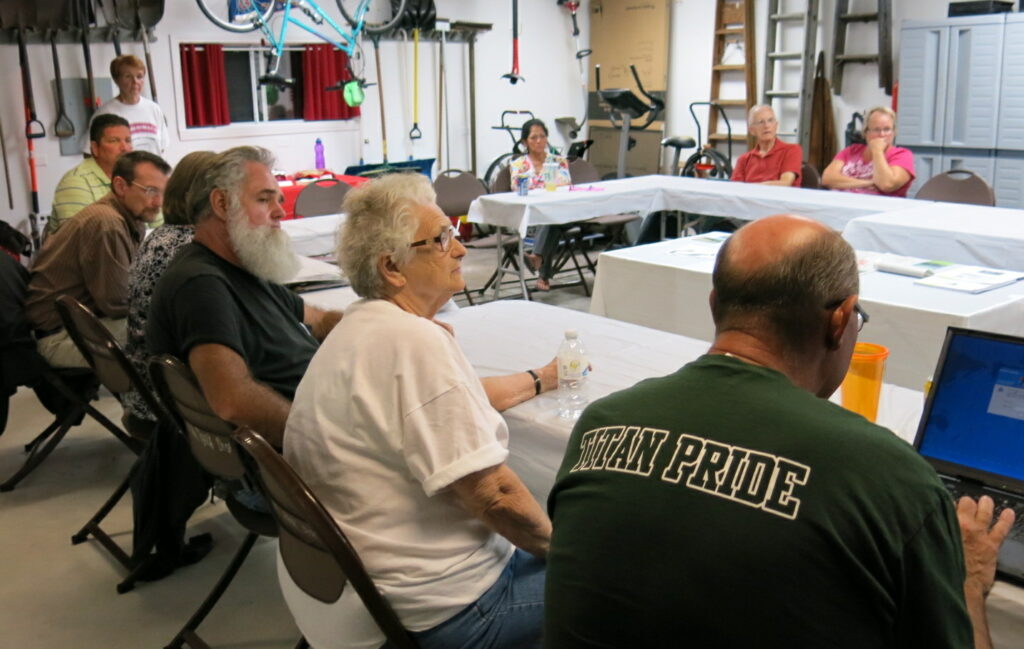 In September 2014, Rep. Will Davis arranged a meeting with regional, state and federal flood control agencies in Midlothian and the problem started to receive attention. The work took on momentum. Midlothian joined the community rating system for reduced flood insurance rates, and worked for grants in order to build nature-based solutions to flooding, including rain gardens, which became the talk of the town. In 2016, Midlothian became a RainReady community thanks to a collaboration with the Chicago-based Center for Neighborhood Technology.
A big break came in 2015, when Floodlothian Midlothian connected with Metropolitan Water Reclamation District who agreed to develop a nearly $9 million project to reduce flooding on Natalie Creek and neighboring Oak Forest. The project broke ground in 2018 and as the Chicago Tribune reported, "Midlothian Mayor Gary L'Heureux said at the ceremony that it is a 'much-needed project,' and praised the 'tenacity' of Lekavich and the "Floodlothian Five. 'It's been an inspiration to watch these residents do what they do,' he said.'"
On March 22, 2021, Helen wrote on her facebook page: "Approaching the 8 year anniversary of forming the resident action group Team Floodlothian, we celebrate the MRWD flood control project nearing completion on Natalie Creek which will provide relief for approximately 240 properties!!!"
Although Helen remembers the neighbors who had to leave their devastated properties, it is the guiding belief that every human being deserves a quality of life that keeps her moving forward. The Floodlothian Midlovian movement has shown us how far that belief can take us, bringing solutions to community flooding through collaboration and solid persistence.
Written by Michele Gielis
Links
Helen Lekavich Of Floodlothian Midlothian Speaks Live About The Flooding In Illinois, Anthropocene Alliance, Video Interview, May 26, 2020
30 minutes with Helen Lekavich, Floodlothian Midlothian, Anthropocene Alliance, Video Interview, April 28, 2020
Flood control work gets underway in Midlothian, Oak Forest, Chicago Tribune, November 20, 2018
The Suburb That's Reinventing Resilience, RainReady.org
Floodlothian Midlothian makes waves in 2015, Metropolitan Planning Committee, January 20, 2015
Midlothian Residents Fed Up With Chronic Flooding, CBS Local Chicago, July 17, 2014
Halting Bad Development, Nature-Based Solutions