From Birmingham, AL in 1963, the Rev. Dr. Martin Luther King Jr. confessed he had "almost reached the regrettable conclusion" that a moderate status quo hindered his movement more than the Ku Klux Klan. Born of his immediate experience with city firehoses and attack dogs, King's confession scandalized Birmingham.
For fifteen years prior to King's campaign, Birmingham residents had witnessed a campaign of domestic terrorism shocking in its scale and regularity. Over two decades, from the late-1940s on, racist extremists bombed more than 40 black-owned or -occupied properties in the city—home, church and business. Death threats and drive-by shootings were more common. In occasional coverage, national press redubbed the city Bombingham. The city's most-targeted district came to be known as Dynamite Hill.
Dynamite Hill—Smithfield Community Land Trust (DH-SCLT) applies King's insight and pursues his legacy in 21st-century Birmingham. Organized by Susan Diane Mitchell in 2015, DH-SCLT builds a thriving community that provides food security, housing for all and civic education to five neighborhoods of the historic Smithfield Community, home of Dynamite Hill. DH-SCLT plans and organizes assets-based development, regenerative agriculture and community engagement to, in Mitchell's words, "honor the bravery of the black families who defended their homes and community under oppression…."
DH-SCLT applies its legacy to solve enduring and novel problems. In this century, Smithfield residents face threats from systemic disinvestment and gentrification, a double-sided blade that cleaves assets from black families to enrich developers and predominantly-white home buyers. DH-SCLT offers an alternative vision for community development that creates thriving residential and business districts to benefit Smithfield's rightful inheritors: the communities that already live there. DH-SCLT plans and develops a cooperative, localized economy led by the community for the benefit of the community—and as honor to those who came before them.
DH-SCLT first organized with support from the Magic City Agricultural Project (MCAP), a non-profit that provides communities with assistance to establish land trusts; to foster cooperative business and democratic institutions; and to develop sustainable agribusiness. Mitchell applies MCAP's model and strategies to address Smithfield's unique circumstances and serve its historic community.
Since 2015, DH-SCLT has developed urban farms to produce food for Smithfield residents otherwise deprived of access to convenient groceries. Crops then sustain community merchants and artisans who had value to the produce in sustainable local businesses. DH-SCLT has worked with the City of Birmingham to purchase and own its properties outside. In late 2022, the organization received generous funds to purchase its first farm outright.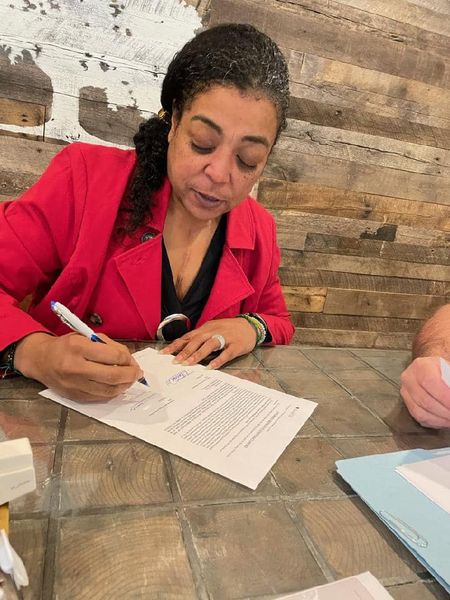 The purchase is a first step in a long march to stabilize and redistribute community wealth through community-powered institutions. Mitchell envisions a future where DH-SCLT organizes land trusts not only for agribusiness, but just as importantly for affordable community housing for all residents. Smithfield's proximity to downtown Memphis threatens gentrification, a fixture of 21st-century American cities. DH-SCLT plans to defend its neighborhoods from this most recent wave of discriminatory development.
Over seven decades ago, the first bomb of a tragic campaign to come rocked a plot in Smithfield, near Dynamite Hill. Today, that plot is a farm operated DH-SCLT. In 1963, King sat in jail mere miles from the bombed site, well aware of the explosions that had followed it. Yet, from prison in shellshocked Birmingham, King railed at greatest length against moderates' defense of the status quo. He insisted that love for order over tension betrayed a shallow understanding, however good-intentioned, that was more frustrating than absolute misunderstanding, ill-willed.
King imagined instead a community united in love for justice, free from disciplined conformity and secure in ultimate victory, despite temporary defeats. He called for Birmingham—and the nation—to create that community. DH-SCLT answers that call in the 21st century. A2 has supported DH-SCLT with a community organizing grant to subsidize its local work. In the coming year, A2 aims to support the Smithfield community with expert science, legal and policy aid, advocacy efforts and organizational fundraising.
For more information:
Shelter plan not ready if World Games displaces Birmingham homeless in security zone, AL.com, June 2022
Bessemer, Alabama, community rallies for Amazon workers' union, Liberation News, Feb.. 2021
Alabama wrote the book on Black Lives Matter, but today's challenges to defund police have Freedom Fighters back at the drawing board, Scalawag Magazine, Aug. 2020
Reviving the urban planning wisdom of Birmingham's 1925 Olmsted plan with the Red Rock Trail System, Bham Now, March 2019
Turning a KKK Bombing Ground Into an Urban Farm, In these times, Oct. 2018
Susan Diane Mitchell
dynamitehillclt@gmail.com
Donations at Venmo @dynamitehillclt and Cash App $dynamitehillclt
Air Pollution, Flooding, Heat, Superfund Sites
Affordable Housing, Community Farm/Gardens, Community Land Trusts/Land Conservation, Community Science, Direct Relief and Aid, Green Infrastructure, Nature-Based Solutions