Duwamish River Cleanup coalition
Seattle, Washington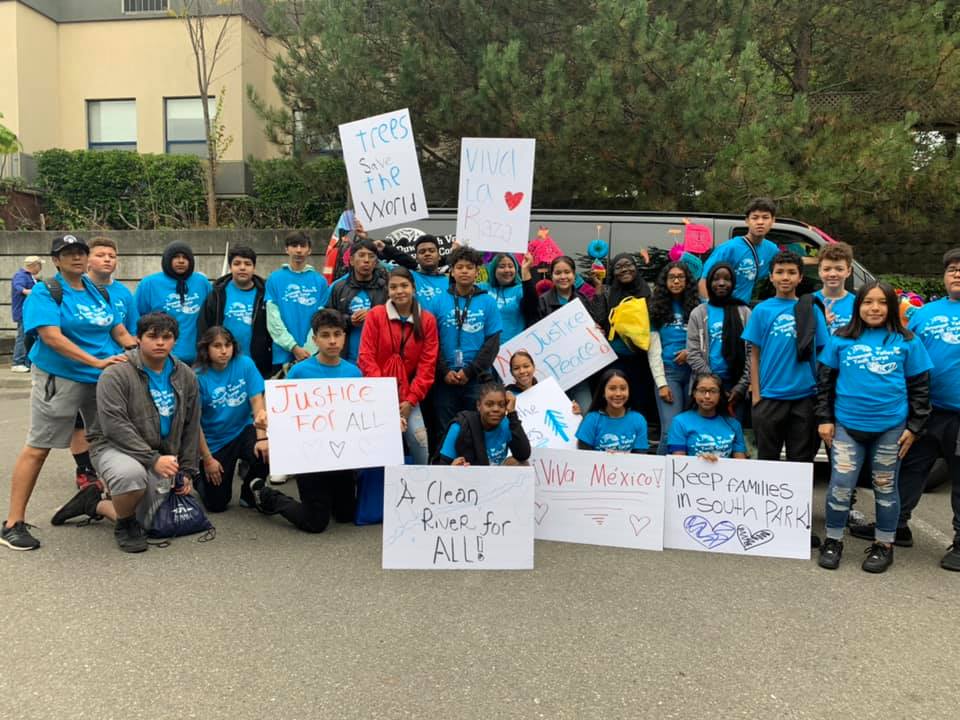 When a river runs through a community, county or state, everything that goes into its waters and everything that flows through it impacts everyone who lives on it, or near it.
The Duwamish River is the name of the lower 12 miles of Washington state's Green River, and it is the only river in the city of Seattle. Carrying the name of the Duwamish People, whose name means "the way in," the river flows through South Seattle, past Georgetown and South Park, through an industrial area, under the West Seattle Bridge and empties into Elliott Bay. Unless visitors and residents put some effort into it, they may rarely see the river.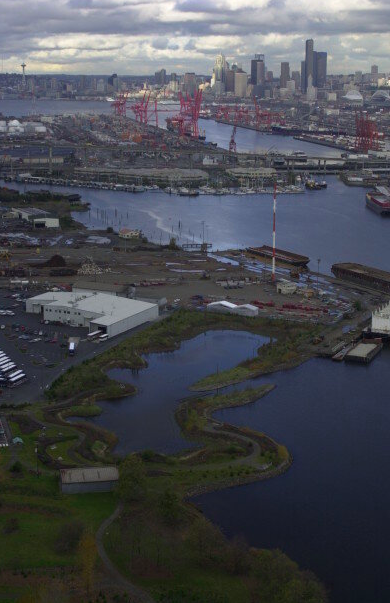 Over the last century, the Duwamish river has shaped Seattle and in turn, Seattle's industries have shaped the Duwamish River. After settlers arrived in 1850 and began to build, the river was dredged and straightened in 1913, providing space for industry to move in. By 1920, most of the Duwamish Waterway had been dredged to a depth of 50 feet. "The shallow, meandering, nine-mile-long river was transformed into a five-mile engineered waterway capable of handling ocean-going vessels."
And with that change came the inevitable cost to the communities that call the river and Seattle home. 100-years of industrial pollution, runoff and sewage overflow brought the river to be designated a Superfund Site by the U.S. Environmental Protection Agency (EPA) in 2001 who called it one of the nation's most toxic hazardous waste sites. The clean up plan includes 5.5 miles of the Duwamish River and 412 acres of land. More than 40 chemicals are in the river bed and need to be removed, including cPAHs which are the most harmful to people.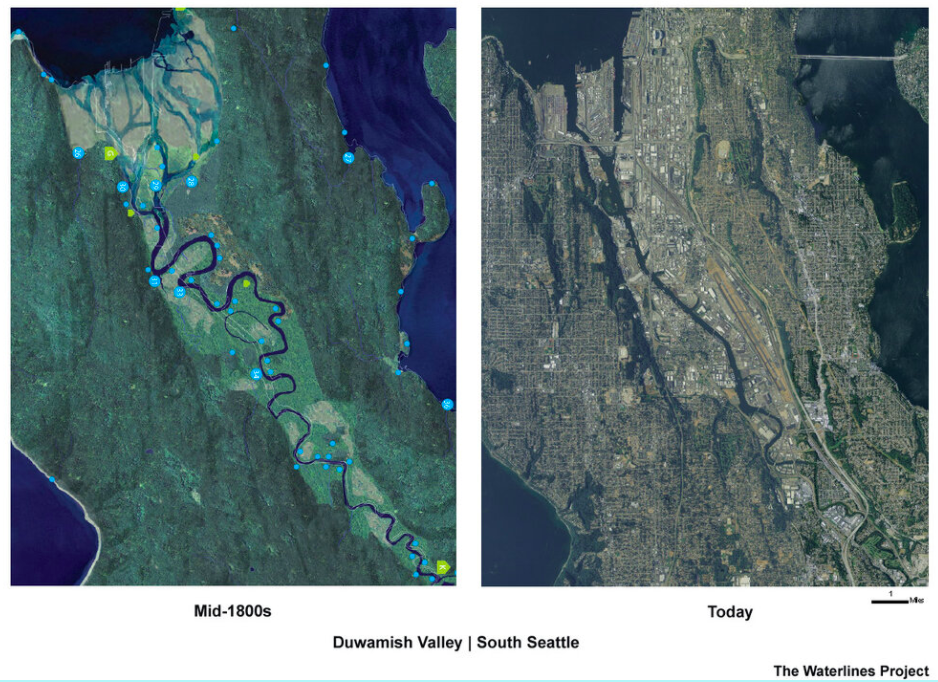 In that year, 2001, the Duwamish River Cleanup Coalition formed. Their mission for this program, as described on their website, is to be "involved in all aspects of the cleanup of the Duwamish River. We are working to ensure the cleanup meets community standards by restoring environmental health and protecting the fishers and families who use the river as well as reflecting the priorities, values and will of the people who live and work in the region."
The last part of that statement is the cornerstone of the organization. They envision a representative body of African-Americans, Native Americans, Cambodian, Latinx, Vietnamese, and Somali immigrants and refugees, all governing for themselves how the resources that impact their lives so thoroughly are managed.
The same principle applies to work with The Clean Air Program. In addition to toxic chemicals polluting their waters, the industries and the traffic that goes with them has caused "Beacon Hill, Georgetown, and South Park (zip code 98108) [to have] the highest ranking for air pollution compared to other neighborhoods in Seattle," according to a health impacts analysis. It was discovered that the highest concentration in the city of diesel and benzene particles was in those communities. Incidents of asthma are statistically high among children and adults in these communities.
Together with data collection through surveys, community and youth-led research, and mapping of assets and threats to the communities' health, the Clean Air Stakeholders Group has created a draft list of actions for each prioritized strategy as their work continues in 2021.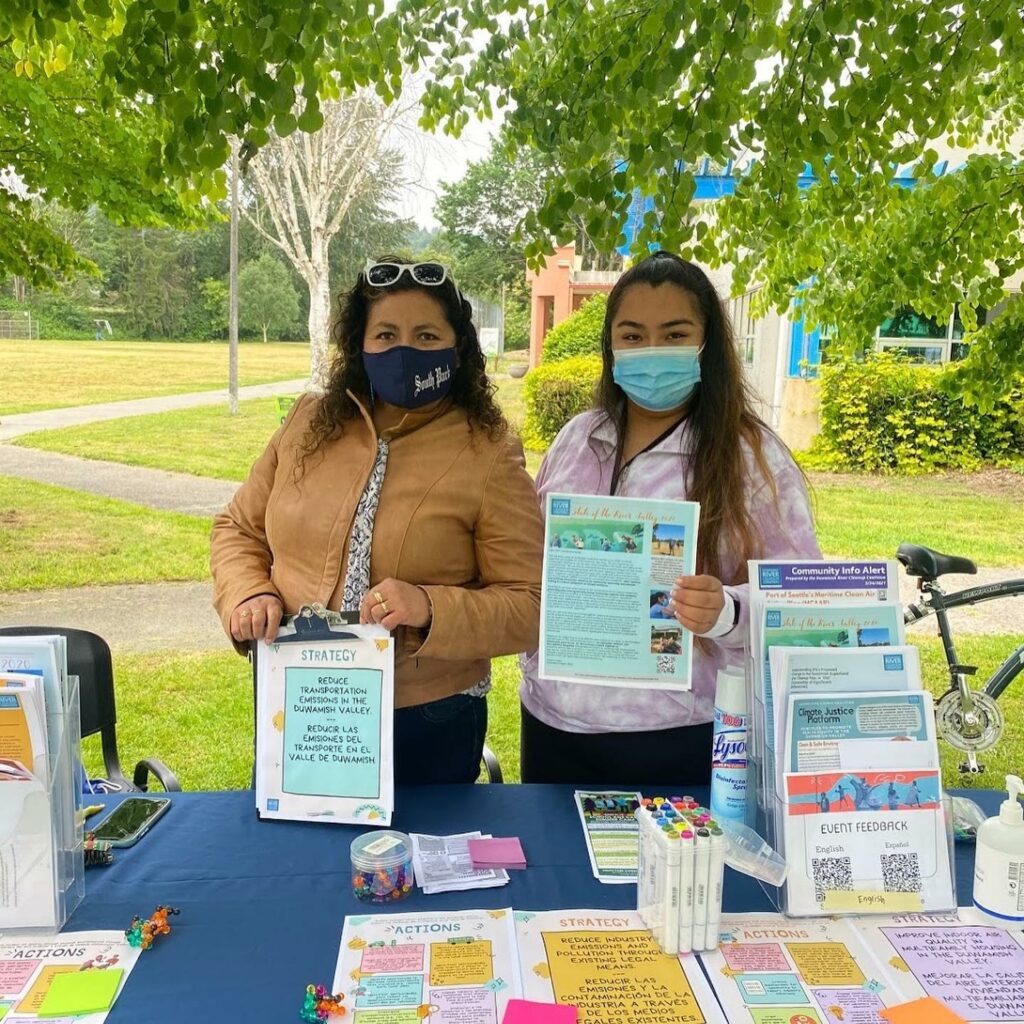 In a recent bill signing for the HEAL Act, Governor Inslee lifted up the work of organizations such as the Duwamish River Cleanup Coalition in his comments. For those who love and protect the river, the reasons for doing so are clear, but perhaps Executive Director, Paulina López, said it best in an interview in early 2021:
"I look at the eyes of our youth that we work with every week," said Lopez. "I look at the eyes of my kids. I really am not going to give up until I know they can breathe better air and have access to all the opportunities other youths and other neighborhoods have given to them."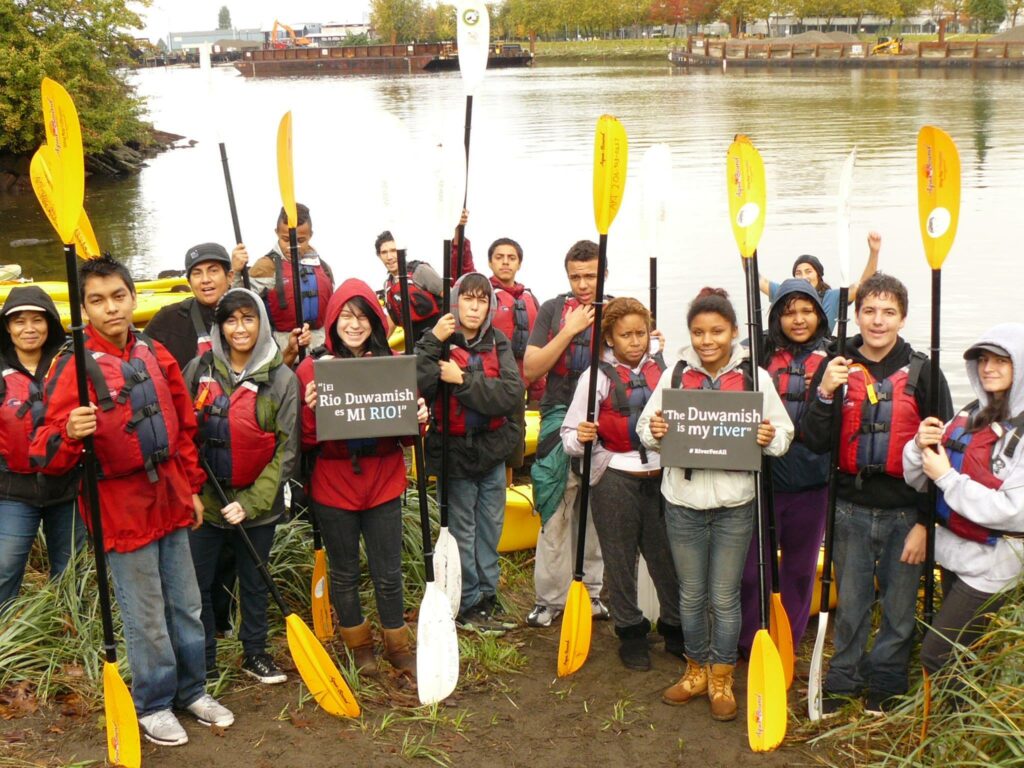 Written by Michele Gielis
Links
HEAL Act, Requiring Environmental Justice in State Agencies, Signed at Duwamish Longhouse, South Seattle Emerald, May 20, 2021
Gov. Inslee signs flurry of anti-pollution laws, but draws ire with vetoes, KUOW.org, May 18, 2021
UPDATE: Duwamish Tribe hosts Gov. Inslee's bill signing for HEAL Act | West Seattle Blog, May 17, 2021
VIDEO: The questions people keep asking, what's next on the road to repairs, low-bridge data and more @ West Seattle Bridge Community Task Force's May meeting | West Seattle Blog, May 12, 2021
Shape Our Water: Magdalena 'Maggie' Angel–Cano, South Seattle Emerald, May 6, 2021
Community Groups Oppose Slated Change to Duwamish River Cleanup, South Seattle Emerald, April 19, 2021
Dangerous air: Duwamish Valley residents highlight concerns over the air they breathe, Kiro 7, March 26, 2021
A note of thanks to West Seattle & Duwamish Valley Communities
OPINION: Clean Air Everywhere, for Everyone in Washington, South Seattle Emerald, February 28, 2021
After a year of hardship, let 2021 be an 'answering year' of justice and hope, Seattle Times, by Paulina Lopez, December 28, 2020
SoDo's Duwamish River Is Visibly Healing, Seattle Met, October 21, 2020
In South Seattle, teens collect moss to help ID air quality, KNKX.org, June 29, 2020
In Seattle's polluted valley, pandemic and particulates are twin threats, KUOW.org, May 15, 2020
Contact
Paulina Lopez
Website/social media
https://www.duwamishcleanup.org
Climate impacts
Flooding
Water contamination
Strategy
Nature-based solutions
Halting bad development
Fighting industrial contamination
501c3 tax deductible
Yes
Accepting donations
Yes – donate here.