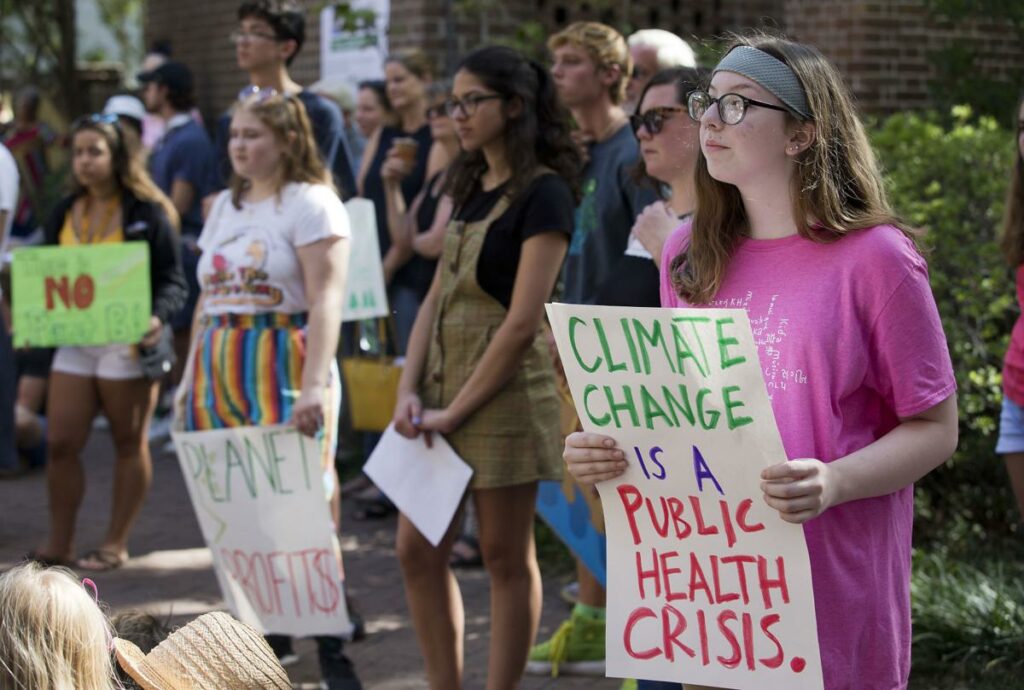 In 2019, a group of young leaders in Charleston, SC were tired. They were tired of not seeing any action on climate change in their city. The danger was real, but there weren't any local groups rallying people to the cause.
"There was a void in Charleston. There was not a climate activism group active. There wasn't a sunrise movement or a 350 action or anything. So all the people who are concerned about climate change and want our elected officials to be doing more, want to be working with their friends and neighbors to be doing more; there wasn't really an outlet for that energy."

– Belvin Olasov, co-chair of the CCC
So they did it themselves. Inspired by the Swedish activist Greta Thunberg, they called for a rally at the College of Charleston for the Global Climate Strike. In the process, they brought together a few dozen people and got started. By February 2020, they had their name: Charleston Climate Coalition (CCC). They chose "Coalition" to reflect their goal of bringing all the people of the Lowcountry together to push for the change that was needed.
In a remarkably short time and by immersing themselves in local politics, CCC was able to get two climate resolutions passed in James Island and Charleston County, were successful in pushing back on Dominion attempting to kill rooftop solar, and advocated for Charleston's Climate plan.
In their first issue of the online magazine, Surge, published in March 2022, CCC identifies its three central tenets:
Climate activism should be joyful (given the darkness of the issue and the urgency)
Climate action must mend injustice (those impacted most will be on the fault lines in Charleston)
We need to build a mass movement (we are social beings and must rely on each other to face this crisis.)
In the spirit of those tenets, CCC actively cultivates partnerships that cross boundaries, co-hosting biking events with allies, collaborating with educational institutions, and sustainable businesses to keep getting the word out, build momentum and continue to push for and publicly debate and pass climate resolutions, one by one.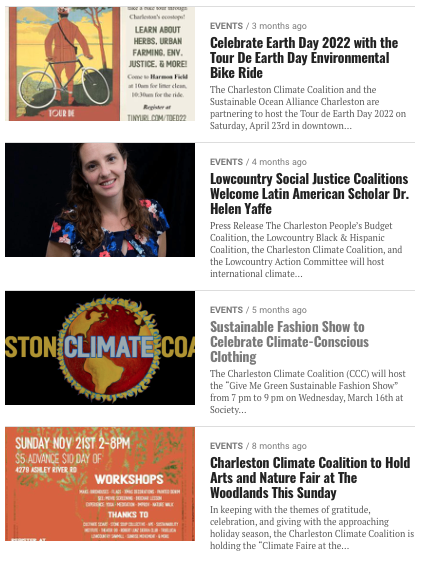 Ongoing projects include:
Quarterly Lowcountry Surge climate magazine in 2022 (Issue I, rel. March)
Climate Action Plan campaign for every municipality in Charleston County
Climate Alliances with restaurants, farms, green businesses, coffee shops, wellness groups, fashion retailers, teachers, churches, social justice groups, etc.
Comprehensive "environmental justice profile" to assess the unique hazards and vulnerabilities of communities on a case-by-case basis
Events for education and mobilization
The vision they work towards can be found tucked into the first issue of their new magazine, Surge, in March 2022:
"It's all to build towards that bright green future, one where we've made our systems and society just and whole — and finally liberated ourselves from the specter of the climate crisis. To join in that movement is one of the great calls to adventure of our lifetimes. We hope you'll join us."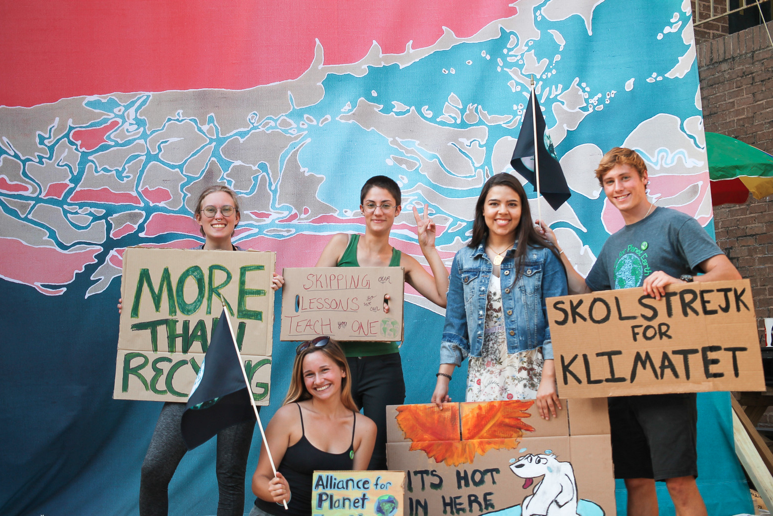 Written by Michele Gielis
For more information:
Will Magnolia be the Neck's jewel or an environmental wart?, Charleston City Paper, June 2022
Surge: The Lowcountry Climate Magazine, Issue 1, March 2022
Charleston Climate Coalition Presents: Sustainable Fashion Show to Celebrate Climate-conscious Clothing, Charleston Daily, March 2022
Queen Quet, Chieftess of the Gullah/Geechee Nation to present at "Surge Sessions" (Hosted by CCC), Nov. 2021
Local climate coalition aims to make Charleston the climate action leader of Southeast, ABC News 4, Jan 2021
Climate group pushes SC towns to tackle climate change, Washington Times, Jan. 2021
New climate group in Charleston pushes towns to tackle causes of global warming, Post and Courier, Jan. 2021
Some SC voters prioritize presidential candidates by climate change platforms, ABC News 4, Feb. 2020
Jennifer Wright
charliemackpowell@gmail.com
Air Pollution, Drought, Erosion-Subsidence, Flooding, Heat, Hurricanes, Sea Level Rise, Water Contamination, Wildfires
Affordable Housing, Art Activism, Direct Relief and Aid, Nature-Based Solutions, Policy Reform, Renewable Energy