In 2005, Hurricane Katrina devastated the 9th Ward of New Orleans. The 9th Ward is bordered by the Mississippi river on the south and Lake Pontchartrain to the north. It is divided into three main sections: the Upper 9th Ward, the Lower 9th Ward and East New Orleans, which together make up the largest area of the 17 wards of the city.
During Katrina, the Lower 9th was utterly destroyed and received most of the news coverage (and still does), while the Upper 9th and New Orleans East also experienced catastrophic flooding damage. Residents in this neighborhood fall into the category of most underserved, and that was especially true after the storm.
Kathrine Perry Prevost, who lives in the Upper 9th, had evacuated with her family to ​​Williamsburg, Virginia. After the storm, all they could think about was getting home, but when they did, they found no one was there. Their community was still dispersed, with many finding it difficult to come home. They began going to city council meetings, working with the Upper 9th Ward Rep. Charmaine Marchand-Stiaes, putting fliers up, and hosting neighborhood meetings once a month.
For Katherine, the mission ahead was clear. Home was worth fighting for. It was time to rebuild and apparently it was going to be left to the residents to do it. So be it. Katherine began The Upper 9th Ward Bunny Friend Neighborhood Association in March 2006. By 2008, the organization had received its 501c3 tax exempt status. The mission of Bunny Friend is to stimulate the revitalization and rebuilding of the Upper 9th Ward through a comprehensive approach focused on neighborhood rebuilding and residential assistance.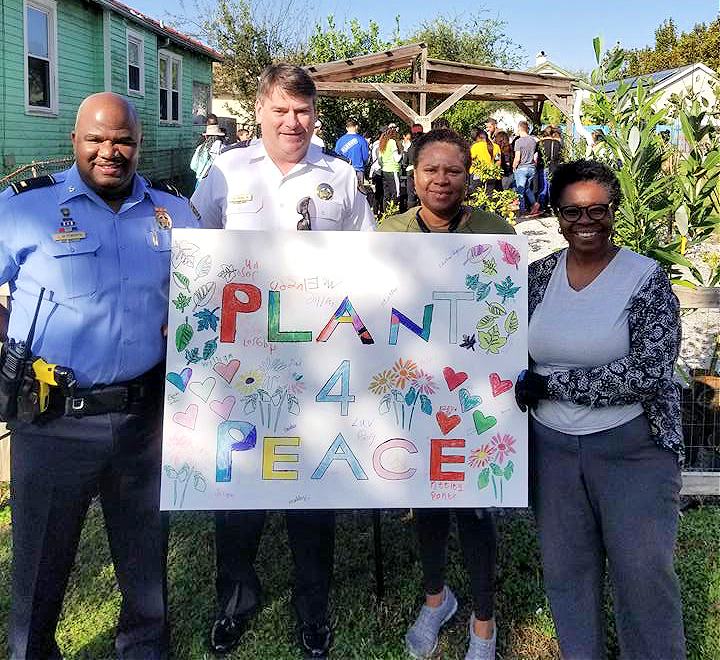 "Bunny Friend's work has made a lasting impact on restoring morale among residents, and moving along the slow process of rebuilding the area. Residents look toward Bunny Friends as an ongoing resource to help them with restoration."

– Katherine Prevost
Part of that is building the resilience of the infrastructure that people live with. The Upper 9th Ward Bunny Friend Neighborhood Association has a collaborative partnership with Water Wise Gulf South. Together they are building programs to educate the community on green infrastructure and its benefits. This process of empowerment has helped with implementing green infrastructure inside the Upper 9th ward community to address flooding, such as french drains, rain gardens, bioswales, permeable pavers and rain barrels.
"In the three-pronged program, participants begin with a Water Wise Neighborhood Workshop to learn about green infrastructure and do-it-yourself green infrastructure projects that people can install in their own yards or gardens. Over 500 people have taken one of these workshops."

– People Power Stopping Flooding in New Orleans, Next City, Nov. 2021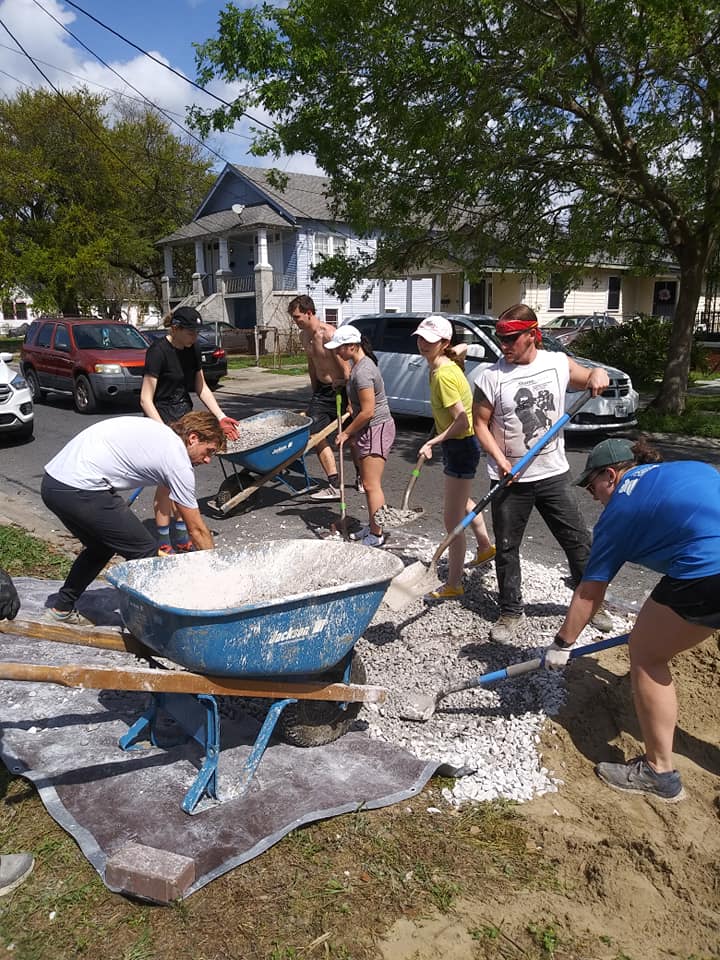 Other partners include Treme, Healthy Community Services and Lower 9th ward homeowners' association. In addition, Bunny Friend works with a youth and advocacy group surrounding green Infrastructure. The goal is a sustainable and holistic community that can endure natural disasters and the impacts of climate change. An ongoin project includes a network of disaster solar shelters.
A triple garden lot thrives, with an orchard of citrus, complemented by okra and collard greens, creating opportunities for giving back to the community and building the bonds that brought everyone back home and make them stronger.
"These are environmentally unjust neighborhoods" already, Ms. Prevost says of existing hyperlocal risks, like the area's heat-dome effect, in which an excess of concrete increases the temperature. "If we don't do it, who's going to do it? You have to care about where you live at."

– 'We can't wait," Christian Science Monitor
Written by Michele Gielis
For more information:
Angry Entergy customers protest rising bills outside utility's New Orleans headquarters, Fox 8 Live, Aug. 2022
'We can't wait': Grassroots solutions ease flooding in New Orleans, Christian Science Monitor, May 2022
People Power Stopping Flooding in New Orleans; A Black-led collaborative isn't just planting trees and building green infrastructure. It's showing neighbors how to do it themselves, Next City, Nov. 2021
Communities of color lead the way to a resilient future — Congress should follow, The Hill, Nov. 2021
Water Wise Gulf South Look Book
Assessing the ecosystem services of trees in the Upper Ninth Ward of New Orleans: quantifying air quality and temperature, Thriving Earth Exchange
Air Pollution, Flooding, Heat, Hurricanes
Community Farm/Gardens, Green Infrastructure, Nature-Based Solutions, Policy Reform