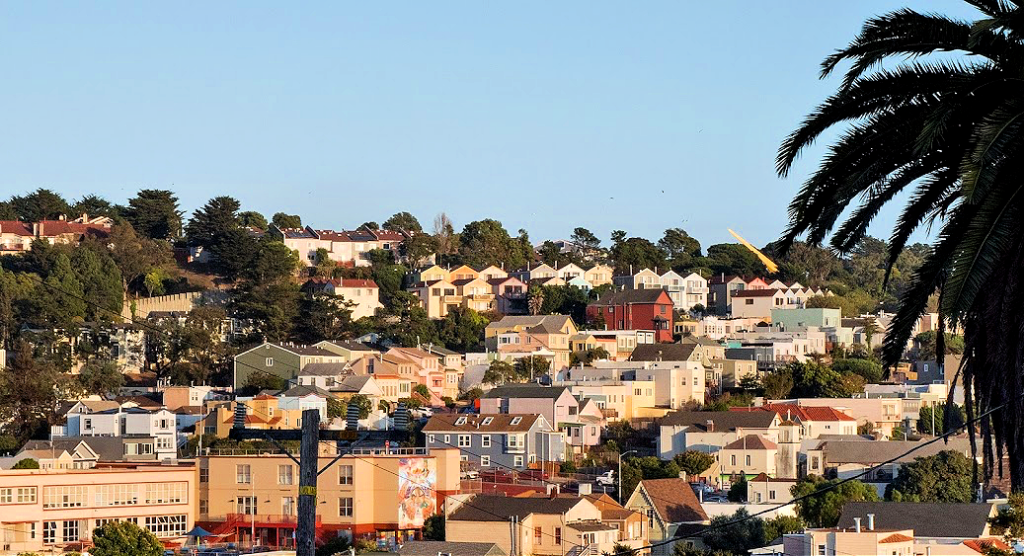 Bayview Hunters Point Community Advocates (BVHPCA) began in 1994 as a stalwart group of grassroots volunteers, who were long-term members of the Bayview-Hunters Point neighborhood in San Francisco. Their mission came out of community organizing, with education, advocacy and direct services driving their work.
Bayview-Hunters Point has been a neighborhood under siege for 200 years from industrial and chemical pollution. It hosts one of the first Superfund sites in the country; the 866-acre Hunters Point Naval Shipyard, home to a shipyard from 1945 to 1974, the Naval Radiological Defense Laboratory (NRDL) from 1948 to 1960, and finally declared a Superfund site in 1989. Reports of the cleanup work indicate that some of the progress was faked, allowing housing construction to begin too soon.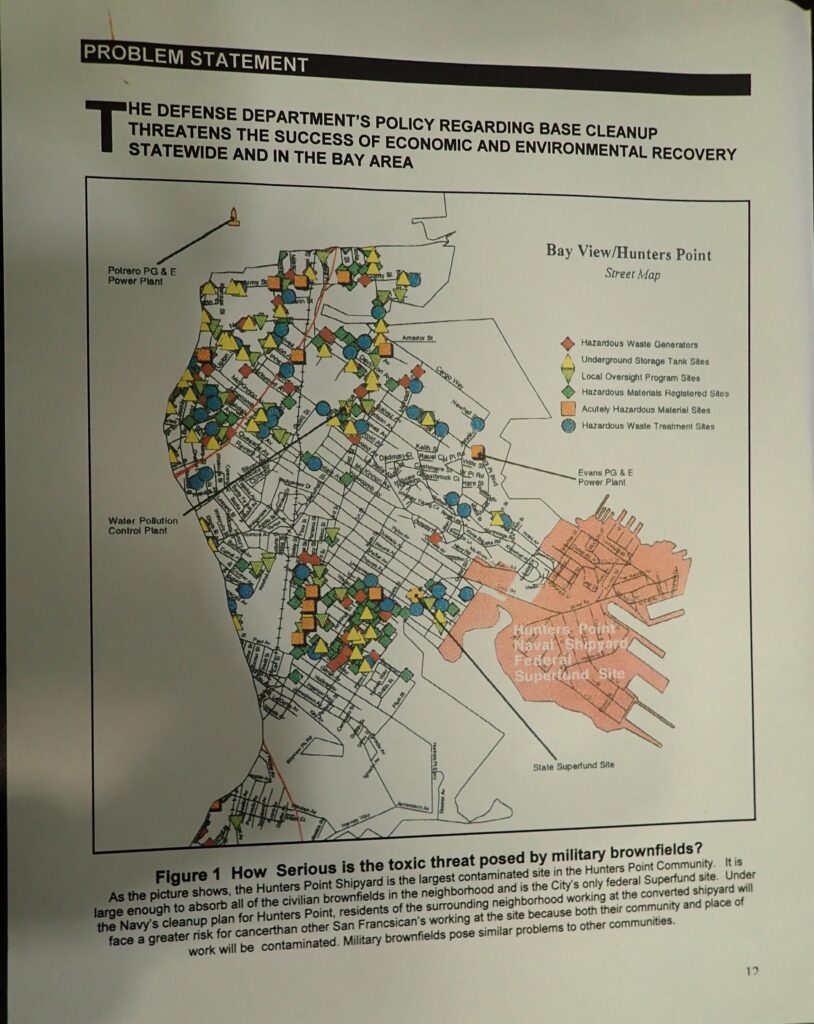 In addition, this community has a sewage plant, a recycling and garbage processing plant and is hemmed in by freeways in every direction, limiting access and exposing the neighborhoods to constant vehicle emissions.
Faced with these and other challenges, in 2019, the BVHPCA regrouped, reorganized and renewed their commitment to environmental justice advocacy, launching several new programs:
A Southeast Community Council for policy advocacy and organizing, following environmental justice principles;
Updating a Community Toxic Index, cataloguing neighborhood sites under environmental agency monitoring;
An online library of documents regarding the Navy's toxic waste dump at the Hunters Point Naval Shipyard
A new Community Hub – a development program for cooperative and public-serving enterprises;
Multiple community outreach programs during the ongoing COVID-19 pandemic, supporting marginalized, immigrant, and unhoused neighbors and distributing PPE, food, and public health information;
Planning for a community-owned co-op grocery store.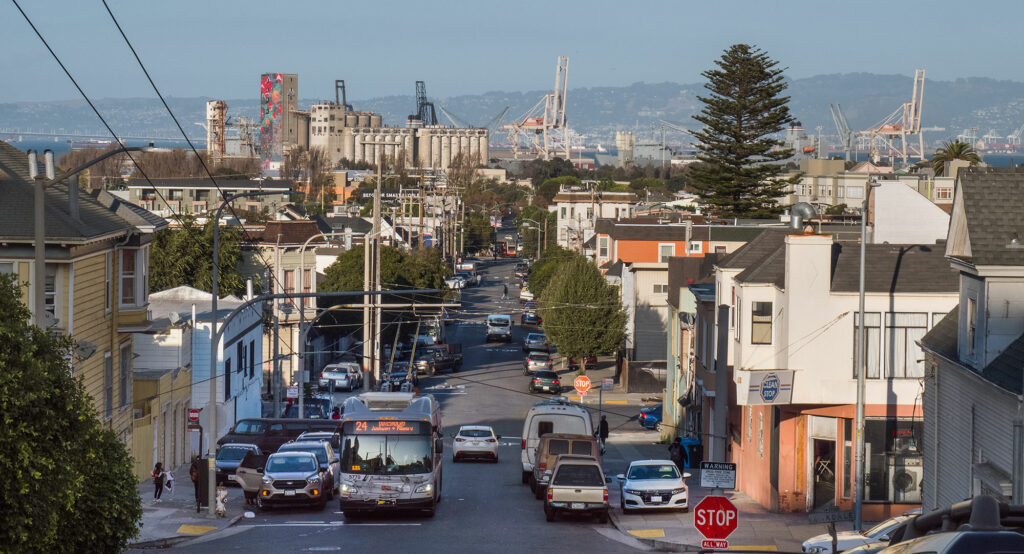 Then in 2020, as it did in so many parts of the country, the pandemic brought all of Bayview-Hunters Point vulnerabilities into full view. Because of the relationships they have in the community and the dire need they saw as the city shut down and Bayview Hunters Point became isolated, BVHPCA was enlisted to do neighborhood outreach to the unhoused population. As Michele Pierce, the Executive Director, said, "Did I know that food security was a problem ahead of time? Yes. But did I understand how deep it was, or the fact that there were so many structural barriers to getting fresh food? I had no idea."
And so at a call from Gloria Berry SF Democratic County Central Committee, Michelle and Gwendolyn Westbrook of Mother Brown's Dining Room pulled together to help the people of southeast San Francisco with cooked meals, grocery distribution—feeding 1,400 people per day during one week in March—and COVID-19 tests. In this community of disenfranchised people, a new approach built on trust and input from community organizers and advocates helped reach those who are often unreachable. "'It's a very fraught, very interesting relationship,' Pierce said [in an interview]. To overcome that, 'you need community in the lead,' she added. 'You need to have them driving the process and you need to stop and listen to them.'"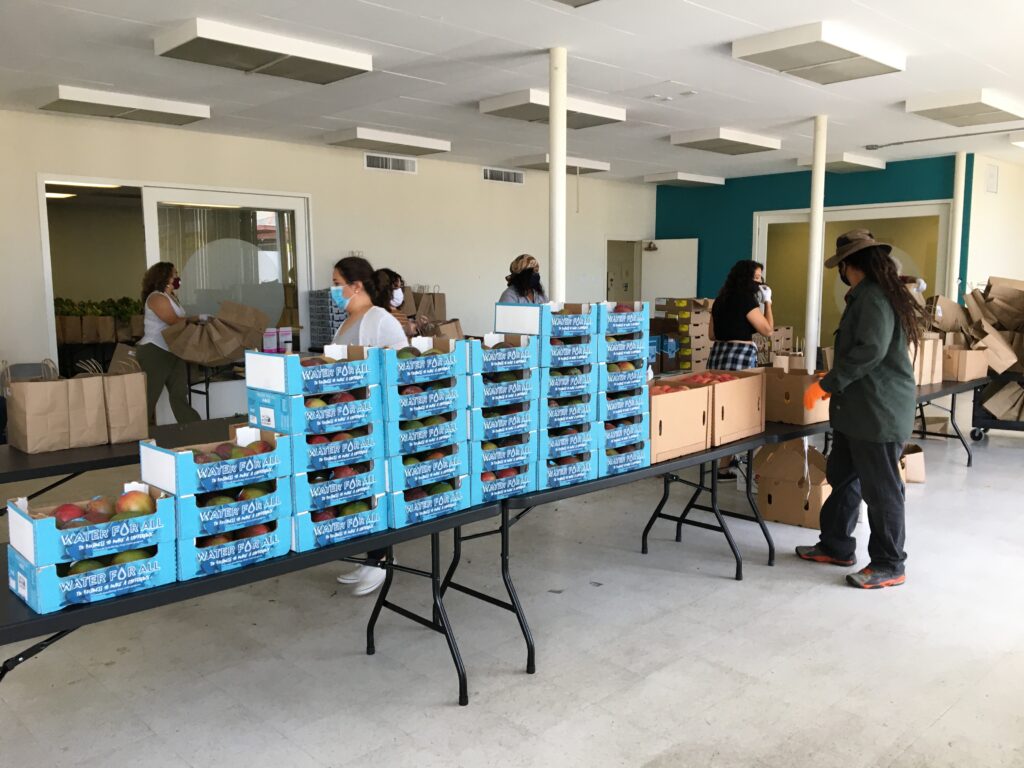 In May 2021, the Bayview Hunters Point Community Advocates was one of the organizations awarded by the city of San Francisco as part of a "$3.75 million investment will support training, technical assistance, and neighborhood revitalization in San Francisco's historically Black communities."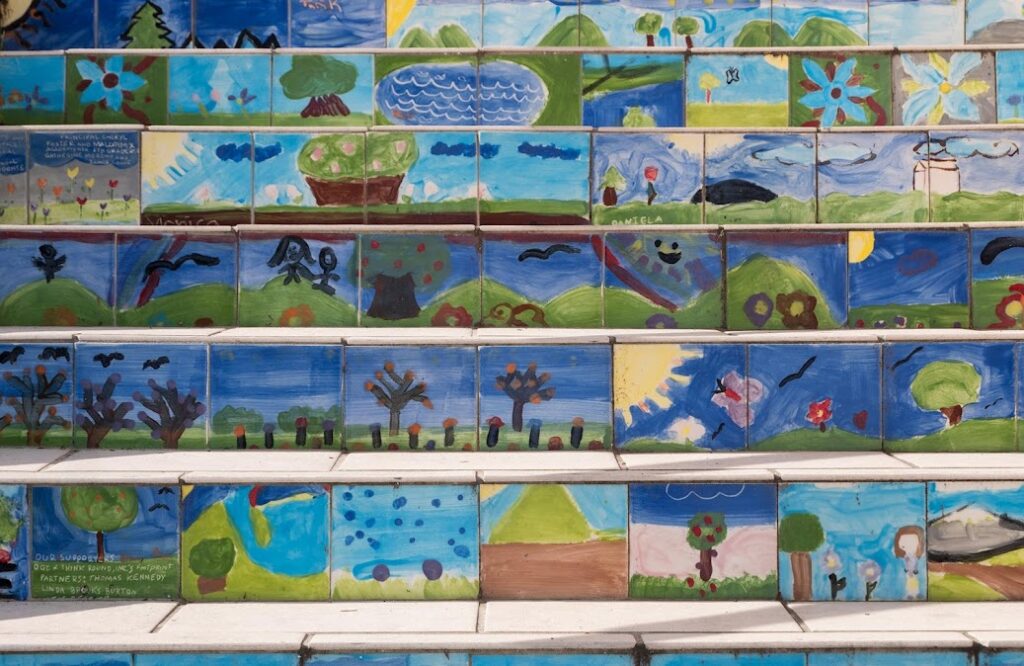 Written by Michele Gielis
Links
Mayor London Breed Announces Awards for Black and African American Small Businesses and Entrepreneurs as part of the Dream Keeper Initiative, Office of the Mayor | News Release, May 5, 2021
Who's leading Covid-19 outreach among the homeless? The homeless themselves., Mission Local, by Hayden Manseau, November 12, 2020
Panelists discuss Hunters Point history, radioactivity, and future for Bayview engagement, Mission Local, by Annika Hom, October 14, 2020
Meet the Women Fighting COVID-19 and Feeding Folks in Bayview-Hunters Point, The FRISC, August 28, 2020
Pandemic exacerbates food insecurity for San Franciscans in need, San Francisco Examiner, by Carly Graf, August 2, 2020
Community-Led Effort Brings Free COVID-19 Testing to SF's Bayview, Visitacion Valley, KQED, by Nina Sparling, June 2, 2020
Power concedes nothing without a demand: Community demands reinstatement of Hunters Point Shipyard RAB, San Francisco Bay View, by Ahimsa Porter Sumchai, MD, October 12, 2019
San Francisco residents were sure nearby industry was harming their health. They were right., Grist, by Greta Jochem, June 20, 2018
Racial Justice in the Nuclear Age: Community-based Knowledge Infrastructures for Environmentally Just Futures
Neighborhood Group Sues City over Bayview Hunters Point Biodiesel Plant, SF Weekly, by Joe Eskenazi, March 9, 2009
Tony Kelly
https://www.linkedin.com/in/tony-kelly-5627a17/
Air Pollution, Water Contamination, Wildfires
Community Farm/Gardens, Fighting Industrial Contamination, Halting Bad Development, Nature-Based Solutions, Renewable Energy