350 Wisconsin
Madison, Wisconsin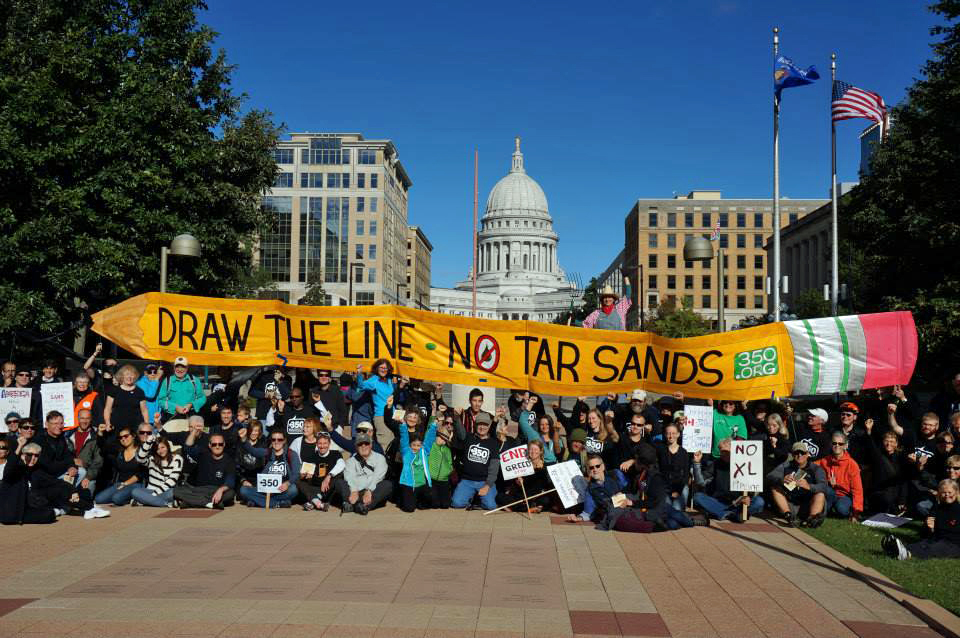 350 Wisconsin (formerly 350 Madison) is the local action group for Madison, WI of the international organization 350.org. Since January 2012, when a group of local climate activists came together to found the organization, they have been bringing the community together to take action on climate change; increasing awareness and connecting people to their agency to make a meaningful difference. In their own words from their mission statement:
"We mobilize grassroots power to change hearts and minds, laws and policies, and humanity's massive systems to make transformational progress toward environmental justice and solving the climate crisis by 2030."
Their creative tactics, grounded in community power, and their ensuing growth has made that change possible. In the words of a supporter during a video interview, "350 Madison has the courage to confront the fossil fuel industry, a sound plant for doing so and the tenacity to stay with it."
With that tenacity, 350 Wisconsin has:
pushed the City of Madison to create a fossil fuel divestment plan
worked with the Dane County Zoning and Land Regulation Committee to attach tough restrictions to the permit that Enbridge needed in order to expand the capacity of Line 61
helped local landowners take Enbridge to court when the company tried to evade those restrictions
collaborated with 80 Feet Is Enough! and the Wisconsin Safe Energy (WiSE) Alliance to help landowners along the line unite to protect their property rights when Enbridge looks for a new easement
collaborated with other 350 organizations for national campaigns:

showing up to support marches and rallies across the country,
providing aid and support to the Standing Rock protest,
pressuring President Obama to act on the Oregon-based children's climate lawsuit, which asserts that the federal government has violated young people's constitutional rights through its inaction on climate change.
And that's a partial list…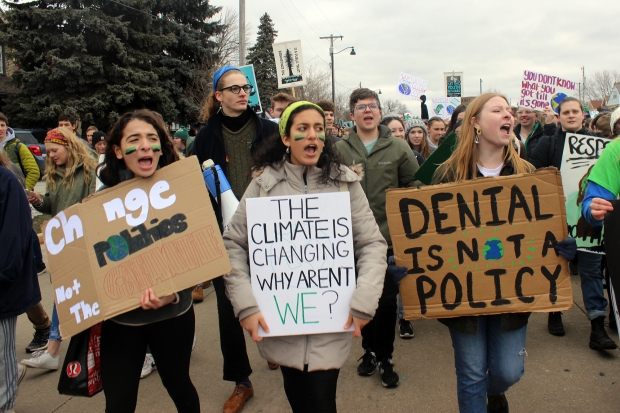 In 2021, 350 Wisconsin is focused on 4 action steps:
Primary mission is to help area municipal- and county-level governments and educational institutions achieve their climate goals on time or ahead of schedule. A second mission is to broaden and deepen citizen climate awareness and action across the region
Working to stop new pipelines from being built as well as decommissioning and removing existing pipelines. Their 2021 priorities are the Enbridge Lines 3 and 5. Learn more about the Line 5 campaign here and their support of Line 3 resistance here.
Creating a joint public pressure campaign to #StopTheMoneyPipeline that funds the fossil fuel industry through loans, insurance and investments.
Written by Michele Gielis
Learn More:
We must respond to climate report — Ken Skog, Wisconsin State Journal, 8/13/21
Garage sale encourages reusing, recycling, Channel 3000, 7/31/21
Flash mob protests pipeline loans in Madison, WKOW.com, 7/17/21
Endres Foundation announces grants, Waunakee Tribune, 6/25/21
ONLINE: Build Back Fossil Free Week of Action Kickoff, Isthmus, 3/30/21
350 Madison thinks globally, acts locally: Group demands more of lawmakers, Madison Magazine, 11/21/19
Following through on the climate strike in Madison and Wisconsin, Tone Madison, 10/29/19
Global climate strike calls for change: Thousands march to call for climate attitude reform and change, Exponent (University of Wisconsin-Platteville), 9/27/19
Global Climate Strike: Groups band together to demand change, Daily Cardinal, 9/26/19
Climate Strike Draws Hundreds to Downtown Madison, Madison Commons, 9/24/19
Youth-led protest calls on Gov. Tony Evers, MGE to take action on climate change, Madison.com, 9/21/19
Lead with hope, but panic, Isthmus, 9/20/19
Photos: Madison climate change rallies, Wisconsin State Journal, 9/20/19
Wisconsin Youth Strike Against Climate Change, Wisconsin Public Radio, 9/20/19
Madison climate strike: Hundreds join world in global march, Daily Cardinal, 9/20/19
Retirees, grandparents, 'gray hairs' join Madison climate strike at Capitol, Cap Times, 9/20/19
Protesters from Madison take part in global climate strike, WMTV, 9/20/19
The Global Climate Strike And Youth Organizing With YCAT, WORT 89.9 FM, 9/19/19
Climate strike Friday includes rally outside MG&E, march to Capitol, Cap Times, 9/19/19
Friday: A Day Of Climate Change Protests!, WORT 89.9 FM, 9/18/19
Running out of time: Wisconsin's youth are leading activism against climate change, Isthmus, 9/12/19
Madison Students Plan to Join International Climate Strike, WORT FM, 3/12/19
Madison students prep for Youth Climate Strike on Friday, Cap Times, 3/11/19
Local students lead on climate change action, Isthmus, 3/8/19
Evers nominates utility lawyer to PSC, Isthmus, 2/28/19
Contact
Stephanie Robinson stephanie.robinson@350madison.org
Website/social media
 https://350madison.org/
Climate impacts
Water contamination
Flooding, Heat
Strategy
Pipeline Resistance Fossil Fuel Divestment Renewable Energy
Climate and racial Justice

501c3 tax deductible
Yes
Accepting donations
Yes – donate here.